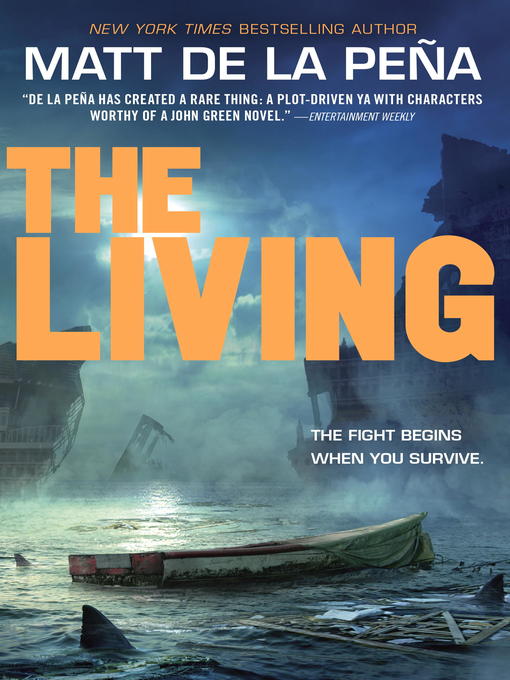 The living
Format:

Kindle Book

2013

2013

Adobe EPUB ebook

OverDrive Read

Availability:

Unavailable

0 of 1 copy
Summary
After an earthquake destroys California and a tsunami wrecks the luxury cruise ship where he is a summer employee, high school student Shy confronts another deadly surprise.

Published Reviews
Booklist Review:
"Much of the fun of de la Pena's latest is how unexpectedly he blends genres, making this, in a sense, four books in one: a finely observed social-class drama, an on-the-sea survival adventure, a global-disaster book, and a contagion thriller. So be warned: spoilers ahoy. Shy Espinoza is 11 days into his summer job on a luxury cruise line when the Big One hits California, hurling massive tsunamis into the ocean and tearing our contemporary romantic plotline to bits, as Shy and an unexpected companion are forced to survive in churning, shark-infested waters. The tsunami sequence is a straight-up tour de force, a breathless, horrifying dash into the void. The book's final act a conspiracy plot upon a mysterious island is yet another narrative jolt. Can a book withstand this many resets? Mostly, yes, and that's due to de la Pena's narrative restraint and commitment to his unusually believable protagonist. Shy's no superhero, and that's a relief. What tonal bumps do exist may very well be smoothed out in the 2014 sequel this story deserves a broader canvas.--Kraus, Daniel Copyright 2010 Booklist"
From Booklist, Copyright (c) American Library Association. Used with permission.
Publisher's Weekly Review:
"De la Pena (I Will Save You) delivers near-constant action, a high body count, and a compelling cast of characters in this socially aware thriller. Shy Espinoza's summer gig working on a luxury cruise ship is not going as planned. On his first voyage, he witnesses a suicide up-close and personal; now he's having nightmares, and a mysterious man in black wants to know what the dead man told Shy before he slipped through his fingers into the ocean. Back in California, Shy's nephew has been diagnosed with the mysterious, border-jumping disease that killed his grandmother. Then, in the wake of a massive environmental catastrophe, Shy struggles to survive in a waterlogged life raft with Addie, a spoiled rich girl who just a few days earlier was out of his league; what follows only deepens the mystery about the events battering Shy's life. De la Pena injects his hybrid natural/medical disaster novel with sharp commentary on social injustice, classism, and discrimination, and the effects of the story's many calamities set the stage for a planned sequel. Ages 14-up. Agent: Steven Malk, Writer's House. (Nov.) (c) Copyright PWxyz, LLC. All rights reserved."
(c) Copyright PWxyz, LLC. All rights reserved
Additional Information