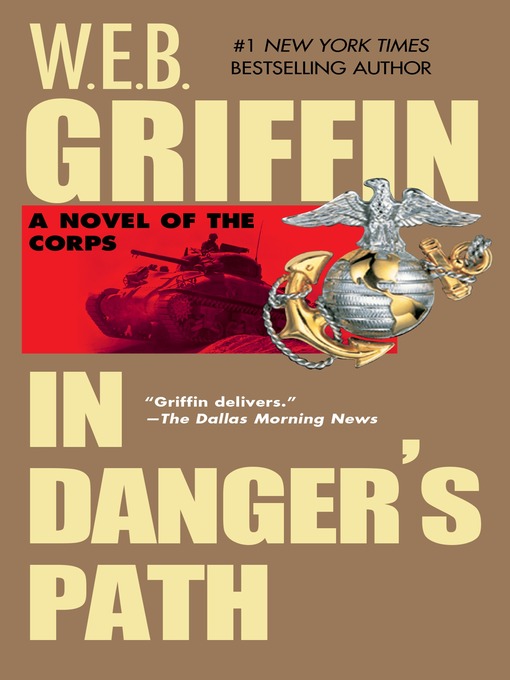 In danger's path
Format:

Kindle Book

1999

1999

Adobe EPUB ebook

OverDrive Read

Availability:

Unavailable

0 of 1 copy
Summary
FDR puts Brigadier General Fleming Pickering in charge of the OSS's Pacific operations.

Published Reviews
Booklist Review:
"For those readers who are counting, this is Griffin's twenty-seventh novel and the eighth in his Marine Corps series. Brigadier General Fleming Pickering, head of the OSS' Pacific operations during World War II, is the hero, and such wartime leaders as Admirals Nimitz and Leahy, General Douglas MacArthur, President Roosevelt, and OSS Director William Donovan are included in the cast of characters. Pickering is a can-do kind of guy, whose assignments include the rescue of some American ex-servicemen and their families who are fleeing the Japanese in the Gobi Desert, and the setting up of a weather station in the desert to aid in air attacks on the Japanese. As in Griffin's other novels, this one is packed with adventure: secret missions, coded messages, warlords and bandits, and aircraft-submarine rendezvous on the high seas. Griffin's favorite word is still sonofabitch, and this new story seems to have the ring of familiarity, but so what? It will undoubtedly be another best-seller. --George Cohen"
From Booklist, Copyright (c) American Library Association. Used with permission.
Publisher's Weekly Review:
"The gung-ho Marines familiar to readers of Griffin's seven Corps novels (Behind the Lines, etc.) return for an eighth adventure'and not their best. Young Marine officers and enlisted men with high morale and low morals such as Ed Banning, Ken McCoy and Ernie Zimmerman are perfect for a secret (but remarkably improbable) OSS operation behind enemy lines in the Gobi Desert of Mongolia in 1943. Their mission: to establish a clandestine weather station and rescue a wayward group of Americans who fled China after the Japanese invasion in 1941 and have been lost in Mongolia for nearly two years. While the plot teases with a promise of suspense in an exotic and forbidding locale, the reality is that not a shot is fired, not a cliffhanger is encountered and three-fourths of the narrative is set safely back in the States, where the characters spend most of their time drinking, womanizing, disobeying orders and wringing their hands over how they can rejoin the war. Under the leadership of fatherly Brigadier General Fleming Pickering, a kind of Marine den daddy, they do return, although the result is anticlimactic. Numerous side plots provide color and historical perspective, but overwrought dialogue, flat narrative and soap-operatic storytelling leave this lengthy tale without snap. (Jan.) (c) Copyright PWxyz, LLC. All rights reserved"
(c) Copyright PWxyz, LLC. All rights reserved
Additional Information