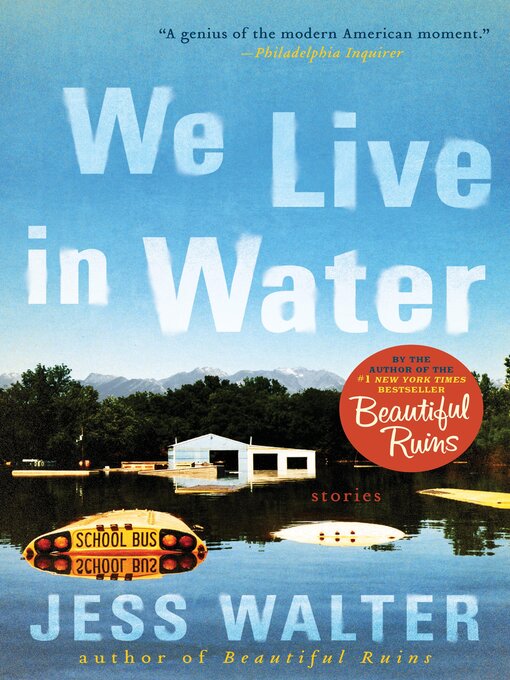 We live in water stories
Format:

Kindle Book

2013

2013

Adobe EPUB ebook

OverDrive Read

Availability:

Available from OverDrive

1 of 1 copy
Summary
"We Live in Water, the first collection of short fiction from New York Times bestselling author Jess Walter, is a suite of diverse, often comic stories about personal struggle and diminished dreams, all of them marked by the wry wit and generosity of spirit that has made him one of our most talked-about writers. In "Thief," a blue-collar worker turns unlikely detective to find out which of his kids is stealing from the family vacation fund. In "We Live in Water," a lawyer returns to a corrupt North Idaho town to find the father who disappeared thirty years earlier. In "Anything Helps," a homeless man has to "go to cardboard" to raise enough money to buy his son the new Harry Potter book. In "Virgo," a local newspaper editor tries to get back at his superstitious ex-girlfriend by screwing with her horoscope. And the collection's final story transforms slyly from a portrait of Walter's hometown into a moving contemplation of our times."--from cover, p. [4]

Contents
Anything helps
We live in water
Thief
Can a corn
Virgo
Helpless little things
Please
Don't eat cat
The new frontier
The brakes
The wolf and the wild
Wheelbarrow kings
Statistical abstract for my hometown of Spokane, Washington.
Published Reviews
Booklist Review:
"*Starred Review* This is the first collection of short stories, all of which have appeared previously in Harper's and McSweeney's, among other literary publications, from the much-acclaimed, best-selling Walter (Beautiful Ruins, 2012). With their visceral depictions of the homeless, the bereft, and the marginalized, often presented with a signature blend of wicked humor and heartbreaking tenderness, Walter's intense stories speak directly to the contemporary American experience. In Anything Helps, a homeless father has lost his wife to a heroin overdose and his son to social services. Determined to buy the latest Harry Potter novel for his son, he brings a practiced eye to his begging, opting to go to cardboard. In the title story, Walter expertly uses the tropes of crime fiction to tell the grim story of an unrepentant gambler who steals from the wrong person, and his young son, who is forever haunted by his father's disappearance. In Don't Eat Cat, Walter turns to zombie fiction to unleash a hilarious satire of political correctness (I'm not one of those reactionaries, but hiring zombies for food service? I just think that's wrong ). Wildly entertaining and thought-provoking fiction from a prodigiously talented writer.--Wilkinson, Joanne Copyright 2010 Booklist"
From Booklist, Copyright (c) American Library Association. Used with permission.
Publisher's Weekly Review:
"Title notwithstanding, most of the characters in Walter's short stories live in Spokane, Ore., but they are often under water, or nearly so. Spokane, as Walter makes clear, bears little relationship to Portland or Seattle, the Pacific Northwest's name-brand cities. There are no locavores here, and the one potential latte drinker is stuck in Spokane doing his court-mandated community service and prefers scotch, anyway. Walter (Beautiful Ruins) writes-beautifully-about hard luck divorced dads, addicts, con artists, working men trying to keep things together, and a few zombies who've made the Seattle of the future look a lot like the Spokane of the present, which Walter describes as a place where, no matter how big your house is, "you're never more than three blocks from a bad neighborhood." Both "Anything Helps" and "Don't Eat Cat" (rule #1 for zombies trying to hold down a job and an apartment) are included in 2012 best-of anthologies, but good as they are, the star is the title story, a heartbreaker set in a formerly seedy, now touristed part of Idaho. Darkly funny, sneakily sad, these stories are very, very good. You know the way Web sites recommend books by saying if you liked this, you'll like that? The algorithm for this debut collection is straightforward: if you like to read, you'll like this book. Agent: Warren Frazier, John Hawkins and Associates. (Feb. 12) (c) Copyright PWxyz, LLC. All rights reserved."
(c) Copyright PWxyz, LLC. All rights reserved
Additional Information