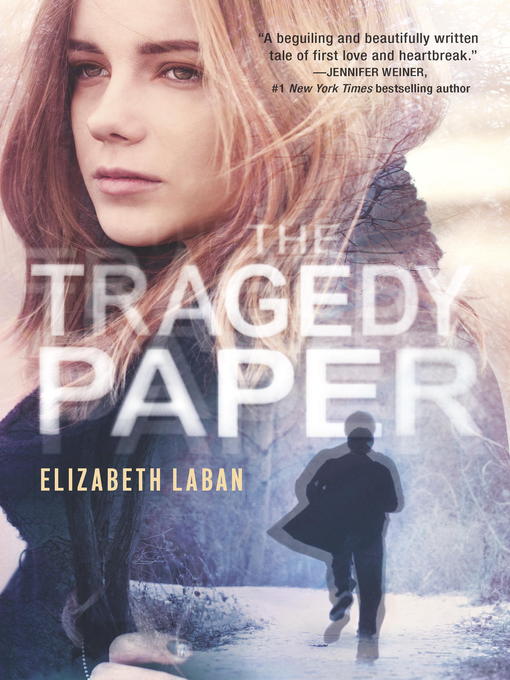 The Tragedy Paper
Format:

Kindle Book

2013

2013

Adobe EPUB ebook

OverDrive Read

Availability:

Available from OverDrive

5 of 6 copies
Summary
While preparing for the most dreaded assignment at the prestigious Irving School, the Tragedy Paper, Duncan gets wrapped up in the tragic tale of Tim Macbeth, a former student who had a clandestine relationship with the wrong girl, and his own ill-fated romance with Daisy

Published Reviews
Booklist Review:
"*Starred Review* It's an Irving School tradition: each graduating senior chooses the incoming senior who will inherit his dorm room and leaves a treasure for the new occupant. Duncan hardly expects his treasure to be life changing. After all, it's just a stack of CDs narrated by Tim, the strange albino student who came to Irving for the first time last year. Yet as Duncan becomes more obsessed with each successive CD, he also becomes more determined to make the most of his senior year opportunities with fellow student Daisy and as the organizer of this year's senior game. Debut novelist LaBan takes us into private-school culture as well as the heads of two charming yet very different teenage boys and their parallel love stories. Eventually, LaBan's ever-building suspense reaches a harrowing climax. The private school aura heightens the book's fascination. Nonexistent parents; well-intentioned, likable faculty on the periphery; elaborate dorm rooms with overstuffed closets; and even the romantic, snow-covered campus all contribute to a setting that adds heft and intrigue. Finally, LaBan weaves a single underlying thread through both boys' narratives the tragedy paper. A senior-year requirement possessing its own myths and legends and assigned by the very exacting, personable Mr. Simon, the paper must answer for both the Irving graduate and the reader the ultimate question: how do you define tragedy?--Bradburn, Frances Copyright 2010 Booklist"
From Booklist, Copyright (c) American Library Association. Used with permission.
Publisher's Weekly Review:
"The legend of a curse "that every year a senior would leave for some unforeseen reason" provides an eerie backdrop to this story set at Irving, a prestigious, tradition-laden boarding school. Foreshadowing and dramatic tension build through alternating, parallel narratives of two seniors in consecutive years, as details of a tragedy involving both boys gradually unfold. Duncan, occupying a room previously inhabited by recent graduate Tim, inherits Tim's CD recordings describing "the words, the music, my downfall, as well as your perceived or actual role in it." Tim's first-person voice is a compelling combination of compassion and analysis, revealing his lifelong challenge of albinism, the unexpected romantic triangle he enters into, and choices that set in motion unfortunate events. Narrative transitions to Duncan's third-person viewpoint are occasionally jarring; like Duncan, readers will likely find Tim's senior year trials more interesting. As the relationship between the two characters becomes clearer, however, Duncan's tale conveys greater dramatic resonance. A playful element infuses the story as tragic themes described in English class play out in the characters' dramas, adding texture to this strong debut. Ages 12-up. Agent: Uwe Stender, TriadaUS Literary Agency. (Jan.) (c) Copyright PWxyz, LLC. All rights reserved."
(c) Copyright PWxyz, LLC. All rights reserved
Additional Information