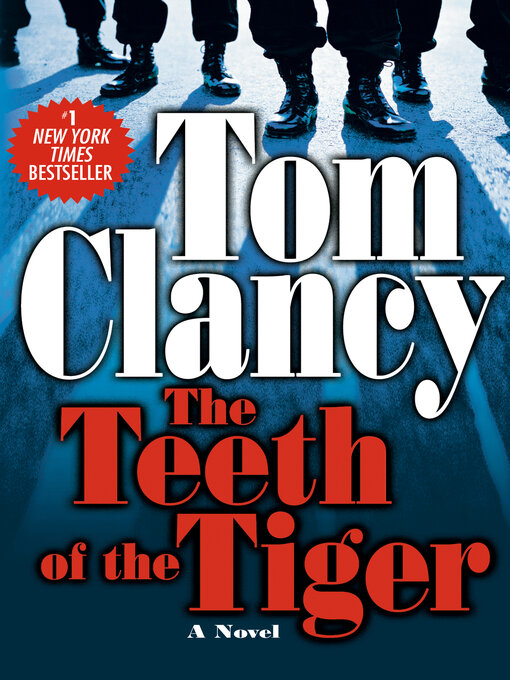 The teeth of the tiger
Format:

Kindle Book

2004

2004

Adobe EPUB ebook

OverDrive Read

Availability:

Unavailable

0 of 1 copy
1 person on waitlist
Summary
When a terrorist leader and a drug warlord form a dangerous alliance, three new Hendley Associates agents--FBI agent Dominic Caruso, his Marine captain brother Brian, and their cousin, Jack Ryan, Jr.--encounter unexpected dangers. A man named Mohammed sits in a cafe in Vienna, about to propose a deal to a Colombian. Mohammed has a strong network of agents and sympathizers throughout Europe and the Middle East, and the Colombian has an equally strong drug network throughout America. What if they were to form an alliance, to combine all their assets and connections? The potential for profits would be enormous-and the potential for destruction unimaginable. In the Brave New World of terrorism-where anybody with a spare AK-47, a knowledge of kitchen chemistry, or simply the will to die can become a player-the old rules no longer apply. No matter what new governmental organizations come into being, the only truly effective ones are those that are quick and agile, free of oversight and restrictions...and outside the system. Way outside the system. In a nondescript office building in suburban Maryland, the firm Hendley Associates does a profitable business in stocks, bonds, and international currencies, but its true mission is quite different: to identify and locate terrorist threats, and then deal with them, in whatever manner necessary. Established with the knowledge of President John Patrick Ryan, "the Campus" is always on the lookout for promising new talent, its recruiters scattered throughout the armed forces and government agencies-and three men are about to cross its radar. The first is Dominic Caruso, a rookie FBI agent, barely a year out of Quantico, whose decisive actions resolve a particularly brutal kidnap/murder case. The second is Caruso's brother, Brian, a Marine captain just back from his first combat action in Afghanistan, and already a man to watch. And the third is their cousin...a young man named Jack Ryan, Jr. Jack was raised on intrigue. As his father moved through the ranks of the CIA and then into the White House, Jack received a life course in the world and the way it operates from agents, statesmen, analysts, Secret Service men, and black ops specialists such as John Clark and Ding Chavez. He wants to put it all to work now-but when he knocks on the front door of "the Campus," he finds that nothing has prepared him for what he is about to encounter. For it is indeed a different world out there, and in here...and it is about to become far more dangerous.

Published Reviews
Publisher's Weekly Review:
"While last year's Clancy novel, Red Rabbit, hit #1 first week out, sales reportedly were down from previous books, as were the thumbs of critics, who found the book slow, talky and lacking in action. In an effort to repair the damage as well as to revitalize his long-running Jack Ryan series, Clancy has scrapped his usual one-novel-every-two-years cycle to deliver a shorter, swifter tale featuring not Ryan but Ryan's son, also known as Jack, as well as two of young Jack's cousins, fraternal twins Dominic and Brian Caruso, the former an FBI agent, the latter a Marine. All three are recruited to a privately funded vigilante organization, Hendley Associates, that aims to strike at America's enemies-particularly, terrorists-when the Feds can't or won't. The narrative divides into two parts. The first concerns the training of the three, with young Ryan basically pushing his way into the organization while Dominic is signed on after taking the law into his own hands by shooting a child killer, and Brian after demonstrating smarts during combat in Afghanistan. Their grapplings with the moral and logistical demands of their new jobs alternate with a villains' plot, as Islamic terrorists cut a deal with Colombian drug smugglers, sneak into the U.S. and move toward their killing-field objectives, four shopping malls in mid-America. The plot strands tie up in a terrifically exciting sequence, the novel's highlight, as Dom and Brian, by chance shopping at one mall, take down four of the terrorists. But the terrorists kill scores of innocents, so the rest of the novel details American vengeance-the teeth of the tiger-as the twins fly to Europe, followed by Jack, to take out several of the terrorists' handlers. This isn't Clancy's strongest novel, but it's a big improvement over Red Rabbit. Geopolitical analysis and operational details overwhelm the few action sequences, perhaps to the chagrin of many Clancy fans, but the author knows this stuff like no one else and delivers it all in his inimitable clipped manner. Clancy's smart flag-waving and targeting of terrorists will please many, of course, and leaves plenty of room for sequels. Expect generally satisfied fans and huge sales. (On sale Aug. 11) (c) Copyright PWxyz, LLC. All rights reserved"
(c) Copyright PWxyz, LLC. All rights reserved
Additional Information