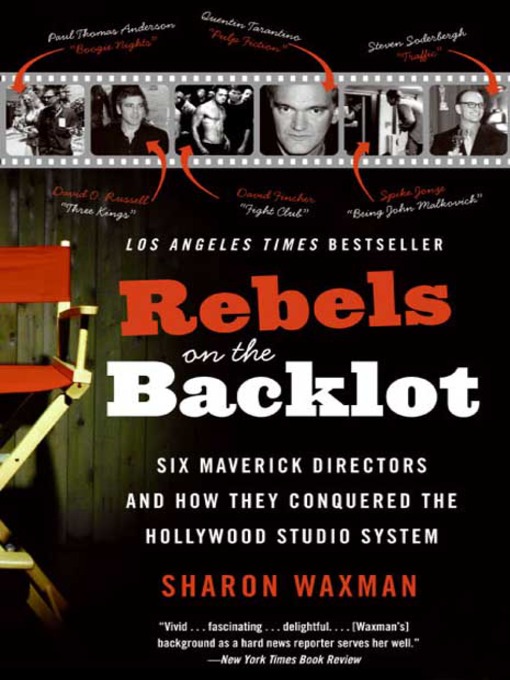 Rebels on the backlot six maverick directors and how they conquered the Hollywood studio system
Format:

Adobe EPUB ebook

2011

2011

OverDrive Read

Availability:

Available from OverDrive

1 of 1 copy
Summary
Chronicles the rise of six influential directors, including Quentin Tarantino, David Fincher, and Spike Jonze, in a portrait of contemporary Hollywood that focuses on the development, shooting, and release of each director's major film.

Contents
Quentin Tarantino
Steven Soderbergh
David Fincher
Paul Thomas Anderson
David O. Russell
Spike Jonze.
Published Reviews
Booklist Review:
"In the 1990s, a group of young directors roiled Hollywood in much the way that Coppola, Scorsese, and their peers shook up the establishment two decades earlier. New York Times 0 correspondent Waxman traces the careers of six of those next-generation rebels--Quentin Tarantino, Paul Thomas Anderson, David Fincher, Steven Soderbergh, Spike Jonze, and David O. Russell--from Tarantino's groundbreaking and influential Reservoir Dogs0 in 1992 to Soderbergh's success, Traffic0 , in 2000. 0 The '90s had more than its share of innovative and challenging films, ranging from Anderson's Altmanesque Boogie Nights0 and Fincher's brutal Fight Club0 to Russell's prescient Three Kings0 and Jonze's unclassifiable Being John Malkovich0 . 0 Waxman details the shooting of those films and others, and the corporate barriers their directors had to overcome. The young turks of the '90s didn't change the course of the film industry the way the '70s rebels did, but if they evaded the self-destructive lifestyles that sabotaged many of their earlier counterparts, their self-indulgences were manifested in their films instead, as Waxman's sympathetic but clear-eyed account shows. --Gordon Flagg Copyright 2005 Booklist"
From Booklist, Copyright (c) American Library Association. Used with permission.
Publisher's Weekly Review:
"New York Times Hollywood correspondent Waxman has written a gritty, truthful study of six boundary-breaking young directors who revolutionized 1990s filmmaking and still represent a refreshing alternative to "cookie cutter scripts and cheap MTV imagery." Her full-blooded profiles introduce Quentin Tarantino (Pulp Fiction), Paul Thomas Anderson (Boogie Nights), David Fincher (Fight Club), Steven Soderbergh (Traffic), David O. Russell (Three Kings) and Spike Jonze (Being John Malkovich). Waxman shows these auteurs, who "wreaked havoc with traditional narrative form" and combined brutality with humor, as eccentric, frequently antisocial and hardheaded. Their stories make for compelling reading: Waxman dramatizes Russell's erratic, explosive nature in the book's most blistering episode, where the director loses his temper and has a fistfight with actor George Clooney on the set of Three Kings. Other chapters depict Tarantino's penchant for jettisoning close friends after achieving success and Soderbergh's unswerving loyalty to pals. These men possess a daring vision, which the author skillfully depicts, simultaneously offering an illuminating view of motion picture politics. Most of all, Waxman proffers assurance to artists with original voices that their ideas can reach the public if they maintain Fincher's attitude-"Take me or leave me. My way or the highway"-and possess a little luck. Photos. Agent, Andrew Blauner. (Feb.) (c) Copyright PWxyz, LLC. All rights reserved"
(c) Copyright PWxyz, LLC. All rights reserved
Additional Information