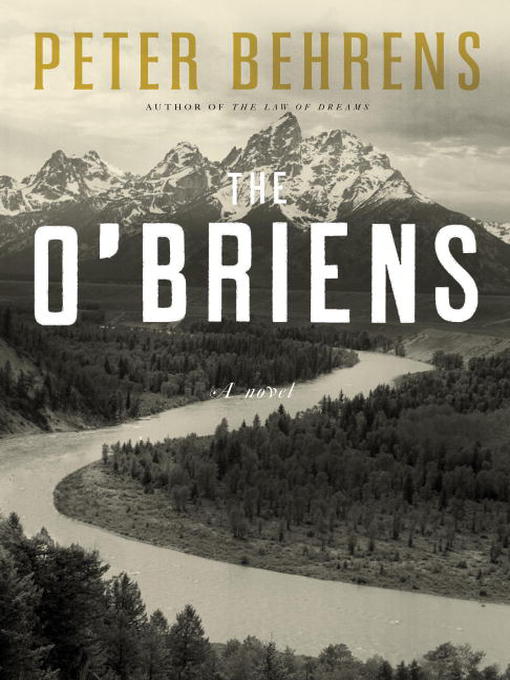 The O'Briens a novel
Format:

Kindle Book

2012

2012

Adobe EPUB ebook

OverDrive Read

Availability:

Available from OverDrive

1 of 1 copy
Summary
"A family saga spanning half a century in the lives of a restless and ambitious clan starts with the story of backwoods youth-turned-railroad magnate Joe O'Brien, who after leaving the Canadian wilds and sharing a passionate courtship with Iseult, becomes the patriarch of a family that sees the first airplanes, two world wars and the election of JFK. By the award-winning author of The Law of Dreams"--From publisher

Published Reviews
Booklist Review:
"Behrens makes it clear early on in his latest historical novel that the O'Brien men are a restless group. What follows is the story of railroad magnate Joe O'Brien and his marriage and family, from the late nineteenth century in the Canadian wilderness to John F. Kennedy's run for president. Behrens chooses illuminating segments of the characters' lives to present, skipping years to the next significant period and switching the focus to different family members without losing the thread of the story. The novel is an epic along the lines of Middlesex in the way it follows a family through time and examines the results of their actions. Also the author of the award-winning novel The Law of Dreams (2006), Behrens keeps dialogue at a minimum, instead exploring the internal lives of the characters amid richly imagined surroundings. A brooding novel, engrossing in its scope and detail, The O'Briens keeps sight of the family's personal stories amid the larger history of much of the twentieth century.--Thoreson, Bridget Copyright 2010 Booklist"
From Booklist, Copyright (c) American Library Association. Used with permission.
Publisher's Weekly Review:
"Afamily saga spans the 20th century, from Pontiac County, Quebec, to Venice Beach, Calif., and beyond, through two world wars and countless intimate tragedies, in Behrens's powerful second novel (after The Law of Dreams). Joe O'Brien, the eldest of five children, takes on the role of patriarch at age 13 when his father is killed in the Boer War and his family struggles to make a life in harsh northern Quebec. Joe's business savvy, the power he feels in his bloodline, a strong work ethic, and a mentor in a well-traveled local priest help Joe build a lumber business by the time he's 15. But difficulties remain: their new stepfather, who married their mother six months after their father's death, molests Joe's little sisters and hardens all the O'Briens-to his own detriment. This is a family possessed of a "strange, rough beauty," as the priest describes them, and it's this dichotomy that keeps them struggling internally long after they leave Pontiac County. Joe wins a construction contract for a railroad project that takes him to the Selkirk mountains of British Columbia and then to Venice, Calif., where, en route to Mexico, he visits his brother, Grattan, and meets Iseult Wilkins, who has just taken the first risk of her life by moving into her own apartment near the Beach. Iseult is soon on friendly terms with not only Grattan and Joe but also their gruff sister Elise, who sells the young woman a camera. By choosing Joe, Iseult welcomes a riskier, messy existence, and what follows, as their children age and the couple grows apart, is just that. Moments of grace and romance are rocked by cruel words and violence in this epic, a piece of rough beauty itself. Agent: Sarah Burnes, the Gernert Company. (Mar.) (c) Copyright PWxyz, LLC. All rights reserved."
(c) Copyright PWxyz, LLC. All rights reserved
Additional Information