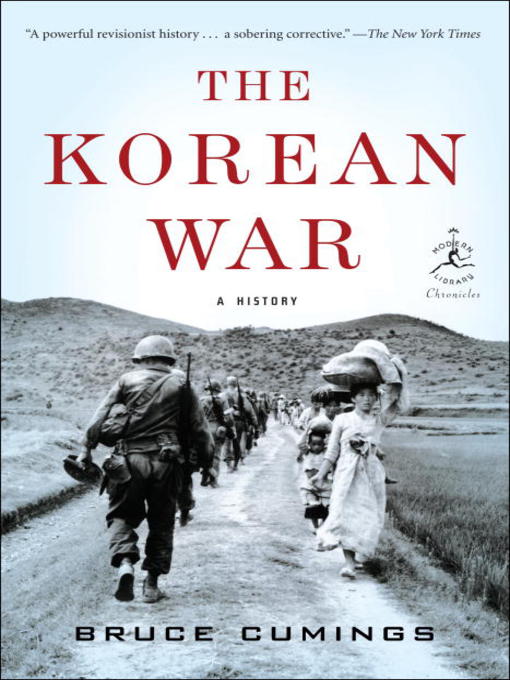 The Korean War a history
Format:

Kindle Book

2010

2010

Adobe EPUB ebook

OverDrive Read

Availability:

Available from OverDrive

1 of 1 copy
Summary
As Cumings eloquently explains, for the Asian world the Korean War was a generations-long fight filled with untold stories of bloody insurgencies and rebellions, massacres and atrocities. He incisively ties America's current foreign policy back to this remarkably violent war that killed as many as four million Koreans, two thirds of whom were civilians.

Contents
The course of the war
The party of memory
The party of forgetting
Culture of repression
38 degrees of separation : a forgotten occupation
"The most disproportionate result" : the air war
The flooding of memory
A "forgotten war" that remade the United States
Requiem : history in the temper of reconciliation.
Published Reviews
Booklist Review:
"An academic specialist on Korean history, Cumings believes Americans have amnesia about the Korean War of 1950-53. Or is it the Korean War of 1931 to the present? Cumings goes back that far for an origin to hostilities, seating them in the Japanese invasion of Manchuria and characterizing what happened in June 1950 as an intensification of a Korean civil war, though one definitely escalated by North Korea. These contexts, including the American occupation of South Korea from 1945-48, are more important in Cumings' treatment than the specifically military history of the war, which is dominant in popular American memory of the war. The picture Cumings presents does not flatter American policies, which take hits for supporting a ruthless South Korean government and for destroying North Korean cities. Chronicling atrocities perpetrated by the South, Cummings does not exonerate those committed by the North; the comparison serves his proposition that America intervened in a civil war, to its detriment. Cumings' historical expertise will be highly informative background material for those watching the current explosive potential of the North Korean situation.--Taylor, Gilbert Copyright 2010 Booklist"
From Booklist, Copyright (c) American Library Association. Used with permission.
Publisher's Weekly Review:
"For many, the Korean War is remembered more for Hawkeye and Klinger than General MacArthur and Syngman Rhee. But for Cumings (Korea's Place in the Sun), professor at the University of Chicago, the critical issue is not one of memory, but of understanding. In this devastating work he shows how little the U.S. knew about who it was fighting, why it was fighting, and even how it was fighting. Though the North Koreans had a reputation for viciousness, according to Cumings, U.S. soldiers actually engaged in more civilian massacres (including dropping over half a million tons of bombs and thousands of tons of napalm, more than was dropped on the entire Pacific theatre in World War II, almost indiscriminately). Cumings deftly reveals how Korea was a clear precursor to Vietnam: a divided country, fighting a long anti-colonial war with a committed and underestimated enemy; enter the U.S., efforts go poorly, disillusionment spreads among soldiers, and lies are told at top levels in an attempt to ignore or obfuscate a relentless stream of bad news. For those who like their truth unvarnished, Cumings's history will be a fresh, welcome take on events that seemed to have long been settled. (Aug.) (c) Copyright PWxyz, LLC. All rights reserved."
Additional Information