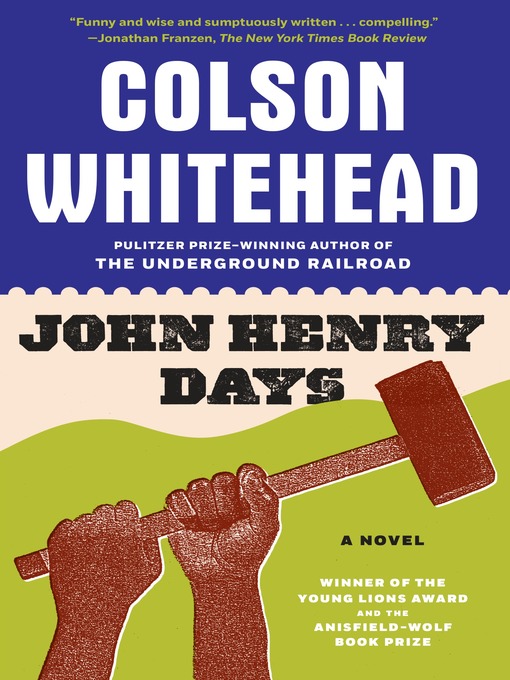 John Henry Days a novel
Format:

Kindle Book

2009

2009

Adobe EPUB ebook

OverDrive Read

Availability:

Unavailable

0 of 1 copy
Summary
From the #1 New York Times bestselling author of The Underground RailroadColson Whitehead's triumphant novel is on one level a multifaceted retelling of the story of John Henry, the black steel-driver who died outracing a machine designed to replace him. On another level it's the story of a disaffected, middle-aged black journalist on a mission to set a record for junketeering who attends the annual John Henry Days festival. It is also a high-velocity thrill ride through the tunnel where American legend gives way to American pop culture, replete with p. r. flacks, stamp collectors, blues men , and turn-of-the-century song pluggers. John Henry Days is an acrobatic, intellectually dazzling, and laugh-out-loud funny book that will be read and talked about for years to come.

Published Reviews
Booklist Review:
"Whitehead's accomplished debut, The Intuitionist (1998), earned him a Whiting Writers' Award, and he now presents an even more sagacious tale, an inventive, funny, and bittersweet inquiry into the significance of folk hero John Henry. An African American rail worker who allegedly triumphed over a steam-powered drill in a contest of man against machine only to die on the spot in a dramatic foreshadowing of the impact of the Industrial Revolution, Henry is the subject of a 1996 commemorative stamp that is about to be unveiled at an elaborate celebration in Talcott, West Virginia. A gaggle of sharp-tongued, mercenary New York hacks are on the scene, including J. Sutter. The only black writer present, he is staging a contest of his own by going for a record of back-to-back press junkets. Also in attendance is Pamela Street, whose late father obsessively collected John Henry memorabilia. Looping back in time, Whitehead brings John Henry himself into the mix, as well as an intriguing set of characters inspired by his story, including the creator of "The Ballad of John Henry" and Paul Robeson, who played John Henry on Broadway. Masterfully composed and full of myth and magic, Whitehead's great American novel considers such dualities as nature and civilization, legend and history, black and white, and altruism and greed, while deftly skewering the absurdities of the information age. Donna Seaman"
From Booklist, Copyright (c) American Library Association. Used with permission.
Publisher's Weekly Review:
"Death knells toll alike at the dawn of the machine age and the digital age, proclaiming an exhausted general collapse in this impressive, multilayered second novel by Whitehead (The Intuitionist). Seizing on the story of American folk hero John Henry, the black railroad worker who beat a steam drill in a one-on-one contest and died in the act, Whitehead juxtaposes it with the soulless saga of 21st-century freelance writer J. Sutter, member of a junketeering tribe whose mores and speech are rendered with anthropological enthusiasm. J. and his fellow junketeers notably Dave Brown, a former gonzo Rolling Stone journalist whose best days were in the late '60s, and jittery One Eye, whose paranoia infects J. descend on Talcott, W.Va., John Henry's supposed resting ground, to report on the U.S. Postal Service's release of a commemorative John Henry stamp. They coincide there with Pamela Street, the daughter of a deceased John Henry obsessive who opened a mad private museum in Harlem to celebrate the man, and Alphonse Miggs, a collector specializing in train stamps, whose secret agenda involves his newly purchased pistol. The debased countercultural cynicism of the junketeers, J.'s compulsive collection of factoids and receipts to fuel the print media machine, and the warped nostalgic longings of Pamela and Alphonse are funneled into a tornado-like narrative storm, bits and pieces of the John Henry myth spinning in the updraft. Whitehead (recipient of a 2000 Whiting Writers' Award) has the early DeLillo's sense for the sinister underside of Americana, combined with historical consciousness of the African-American middle-class in the post-civil rights era. Smart, learned and soaringly ambitious, his second novel consolidates his position as one of the leading writers of serious fiction of his generation. (May 15) Forecast: Strong reviews, word-of-mouth, a national reading tour and comparisons to DeLillo, Jonathan Franzen and other writers of novels on the large scale (perhaps by the junketeer manufacturers of buzz Whitehead captures so ably but that's only appropriate) will do much for this important, deserving work. (c) Copyright PWxyz, LLC. All rights reserved"
(c) Copyright PWxyz, LLC. All rights reserved
Additional Information