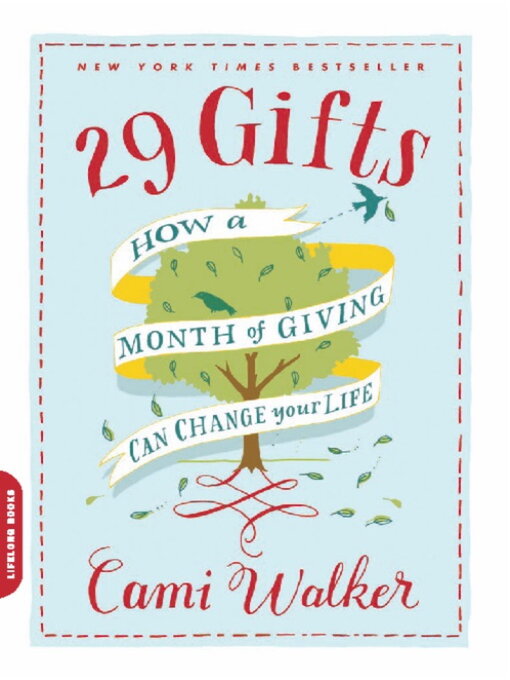 29 gifts how a month of giving can change your life
Format:

Adobe EPUB ebook

2009

2009

OverDrive Read

Availability:

Available from OverDrive

2 of 2 copies
Summary
This is the powerful story of the author's struggle with multiple sclerosis and how a healer's unusual prescription of mindful altruism--to "give away 29 gifts in 29 days"--Ignited her energy, her happiness, and invited more abundance into her life.

Contents
Preliminaries; Contents; Desperate Times Desperate Measures; Gift 1 The Call; Gift 2 Breakdancing Tip; Gift 3 More than One Way to Dance; Gift 4 Compassion and Cake; Gift 5 Giving It Together; Gift 6 A Simple Mantra; Gift 7 Small Offerings; Gift 8 The Clothes off My Back; Gift 9 Thanks Mama Thanks; Gift 10 Bright Ideas; Gift 11 Blooming Recommitment; Gift 12 Birthday Poem; Gift 13 Meter Maid; Gift 14 Dish and Dinner Duty; Gift 15 Cane and Able; Gift 16 Love Letter; Gift 17 100 I'd Like to Keep; Gift 18 Grandma's Gift; Gift 19 Celebrating Steps; Gift 20 Thirty Extra Minutes
Published Reviews
Publisher's Weekly Review:
"Just a month after her wedding, 31-year-old Walker was diagnosed with multiple sclerosis; two years later, she was bitter, isolated, and addicted to both pain medication and self-pity. In need of help beyond drug detox, Cami takes the advice of a South African healer: give away something every day, for 29 days. Walker soon learns that being mindful of giving also means being open to gifts from others, and that gratefulness and mutual generosity is the key to a better, more rewarding life. Glimpses into Walker's day-to-day difficulties-work, family life, constant therapeutic treatment and addiction recovery among them-crop up among the stories of her daily gifts, grounding the work (based on Walker's Web site) in personal details. But the meat, an admirable reworking of The Secret (in that it should actually help someone, at least gift recipients), speaks largely to those already initiated into the cult of positivity. (Oct.) Copyright 2009 Reed Business Information."
Additional Information