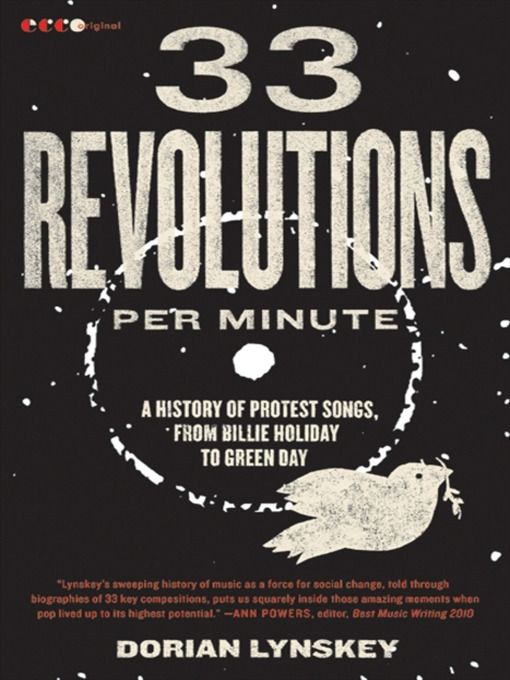 33 revolutions per minute a history of protest songs, from Billie Holiday to Green Day
Format:

Kindle Book

2011

2011

Adobe EPUB ebook

OverDrive Read

Availability:

Available from OverDrive

2 of 2 copies
Summary
A history of protest music embodied in 33 songs since the 1930s.

Contents
1939-1964. Billie Holiday, "Strange fruit" ; Woody Guthrie, "This land is your land" ; Zilphia Horton, Frank Hamilton, Guy Carawan, and Pete Seeger, "We shall overcome" ; Bob Dylan, "Masters of war" ; Nina Simone, "Mississippi Goddam"
1965-1973. Country Joe and the Fish, "I-feel-like-I'm-fixin'-to-die-rag" ; James Brown, "Say it loud, I'm Black and I'm proud" ; Plastic Ono Band, "Give peace a chance" ; Edwin Starr, "War" ; Crosby, Stills, Nash, and Young, "Ohio" ; Gil Scott-Heron, "The revolution will not be televised" ; Stevie Wonder, " Living for the city"
1973-1977 (Chile, Nigeria, Jamaica). Victor Jara, "Manifiesto" ; Fela Kuti and Afrika 70, "Zombie" ; Max Romeo and the Upsetters, "War ina Babylon"
1977-1987. The Clash, "White riot" ; Carl Bean, "I was born this way" ; Linton Kwesi Johnson, "Sonny's lettah (Anti-Sus poem)" ; The Dead Kennedys, "Holiday in Cambodia" ; Grandmaster Flash and the Furious Five feat. Melle Mel and Duke Bootee, "The message" ; Crass, "How does it feel?" ; Frankie Goes to Hollywood, "Two tribes" ; U2, "Pride (In the name of love)" ; The Special AKA, "Nelson Mandela" ; Billy Bragg, "Between the wars" ; R.E.M., "Exhuming McCarthy"
1989-2008. Public Enemy, "Fight the power" ; Huggy Bear, "Her jazz" ; The Prodigy feat. Pop Will Eat Itself, "Their law" ; Manic Street Preachers, "Of walking abortion" ; Rage Against the Machine, "Sleep now in the fire" ; Steve Earle, "John Walker's blues" ; Green Day, "American Idiot"
Appendices. Protest songs before 1900 ; Songs and albums mentioned in the text ; One hundred recommended songs.
Published Reviews
Booklist Review:
"*Starred Review* The protest song has had the dual challenge of appealing to musical tastes and arousing social change. British music critic Lynskey offers a completely absorbing look at 33 such songs, spanning seven decades and haling from five continents. He explores the stories behind the songs, including the debut of Billie Holiday singing the antilynching song Strange Fruit and Woody Guthrie's writing and rewriting of the leftist anthem This Land Is Your Land. Among the other songs he features are Bob Dylan's Masters of War, Pete Seeger's (and others') We Shall Overcome, and Nina Simone's Mississippi Goddam. Lynskey traces the protest song through labor movements, antiwar and antiapartheid protests, the civil rights movement, and the gay pride movement. He highlights artists from Country Joe to Gil Scott-Heron, from Bob Marley to U2, from Bruce Springsteen to Rage against the Machine. Progressing through the decades, Lynskey examines the movement of protest songs from picket lines and folk schools to the pop-music arena. Pondering the impact of changes in society, politics, music, and technology on the art of creating, launching, and sustaining a protest song, he laments the lack of protest songs about more recent wars. Comprehensive and beautifully written.--Bush, Vanessa Copyright 2010 Booklist"
From Booklist, Copyright (c) American Library Association. Used with permission.
Publisher's Weekly Review:
"The protest song reached its zenith in 1960s America when Bob Dylan, Buffalo Springfield, Country Joe and the Fish, Jimi Hendrix, and Joan Baez wrote popular songs to protest American involvement in the Vietnam War and the mistreatment of social and economic groups. In some cases-Dylan's "Masters of War," P.F. Sloan's "Eve of Destruction," Country Joe McDonald's "I-Feel-Like-I'm-Fixin'-to-Die Rag"-the songs became anthems that defined a generation, confirming the idea that popular music could indeed bring people together to promote a common cause for the common good. Sadly, British music critic Lynskey doesn't capture the deep significance of the protest song or the cultural moments that created them. Although he admirably attempts to isolate the personal and cultural contexts of 33 protest songs, from Billie Holiday's "Strange Fruit" and James Brown's "Say It Loud-I'm Black and I'm Proud" to the Clash's "White Riot," Public Enemy's "Fight the Power," and Steve Earle's "John Walker's Blues," Lynskey doesn't fully demonstrate the reasons that each song qualifies as a protest song in the first place, or why the songs he gathered provide the best examples of a protest song. (Apr.) (c) Copyright PWxyz, LLC. All rights reserved."
(c) Copyright PWxyz, LLC. All rights reserved
Additional Information