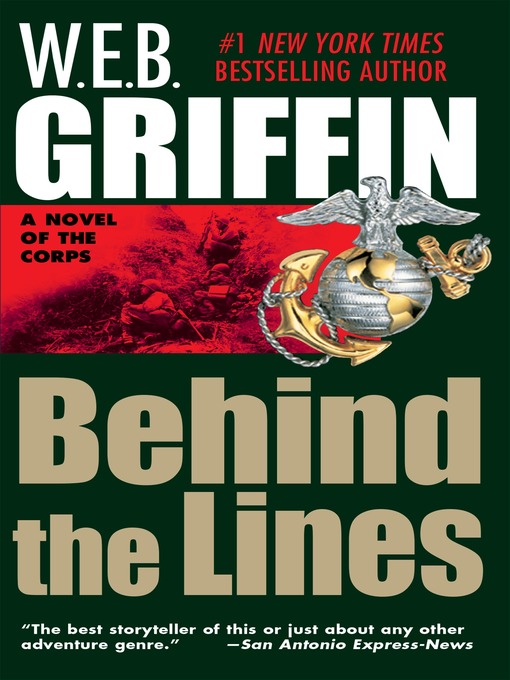 Behind the lines
Format:

Kindle Book

1996

1996

Adobe EPUB ebook

OverDrive Read

Availability:

Unavailable

0 of 1 copy
Summary
"Behind the Lines" is W.E.B. Griffin's powerful novel of World War II, and the courage, patriotism, and sacrifice of those who fought it. By 1942, the Japanese have routed the outnumbered American forces and conquered the Philippines. But deep in the island jungles, the combat continues. Refusing to surrender, a renegade Army officer organizes a resistance force and vows to fight to the last man. A Marine leads his team on a mission through the heart of enemy territory. And the nation's proudest sons fight uncelebrated battles that will win, or lose, the war.

Published Reviews
Booklist Review:
"Griffin's twenty-second novel is the seventh in his Marine Corps series. It is set on the island of Mindanao in the Philippines during World War II. The hero is Lieutenant (and later captain) Ken McCoy, a tough marine who speaks fluent Chinese and Japanese. It's his job to lead a group behind enemy lines to check on General Fertig, who has set himself up as a guerrilla leader to harass the Japanese. Griffin mixes fact and fiction, weaving into the plot such World War II personalities as General Douglas MacArthur, Admiral Chester Nimitz, and Colonel Bill Donovan (head of OSS). As always for Griffin, the dialogue is filled with military jargon, and the action is all derring-do. One would think that readers would tire of the genre, but as long as there are wars, there will be war novels and popular war novelists. (Reviewed December 1, 1995)0399140867George Cohen"
From Booklist, Copyright (c) American Library Association. Used with permission.
Publisher's Weekly Review:
"Griffin's seventh novel in The Corps series (after Close Combat) continues the author's breezy look at the Marine Corps during WWII. Here, he uses guerrilla action behind the lines in the Philippines as foreground to tell the behind-the-lines tale of the power struggle among Marine General Fleming Pickering, General Douglas MacArthur and Bill Donovan of the fledgling OSS, all of whom are galvanized into action by a radio message from a self-proclaimed general named Wendell Fertig, who has established himself as a guerrilla leader against the Japanese. As far as the Marines are concerned, once the message is verified, a team of men with supplies will be sent in to evacuate any sick or wounded and evaluate Fertig as a potential leader. Complicating matters, however, are MacArthur's public declaration that guerrilla activity on the Philippines is impossible, and therefore nonexistent, and Bill Donovan's desire to get the operation under OSS control. Focusing on a variety of characters involved in the proposed mission, Griffin tells an absorbing story with his usual attention to dialogue rather than description, relying frequently on his favored device of moving the plot along through copies of memos, radio messages and telegrams. The boy's club aura of Griffin's primarily male world, where everything'even death'seems clear, sunny, bright and uncomplicated, is in full force here; and that should please his fans just fine. (c) Copyright PWxyz, LLC. All rights reserved"
(c) Copyright PWxyz, LLC. All rights reserved
Additional Information