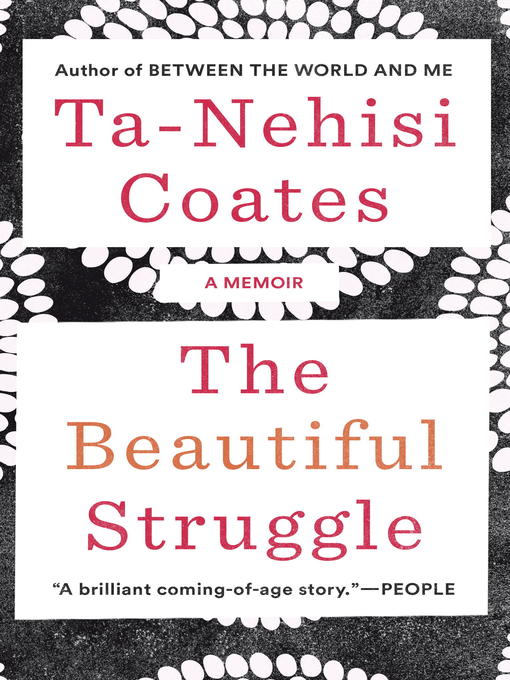 The beautiful struggle a father, two sons, and an unlikely road to manhood
Format:

Kindle Book

2008

2008

Adobe EPUB ebook

OverDrive Read

Availability:

Unavailable

0 of 3 copies
1 person on waitlist
Summary
Paul Coates was an enigmatic god to his sons: a Vietnam vet who rolled with the Black Panthers, an old-school disciplinarian and new-age believer in free love, an autodidact who launched a publishing company in his basement dedicated to telling the true history of African civilization. Most of all, he was a wily tactician whose mission was to carry his sons across the shoals of inner-city adolescence--and through the collapsing civilization of Baltimore in the Age of Crack--and into the safe arms of Howard University, where he worked so his children could attend for free. Among his brood of seven, his main challenges were Ta-Nehisi, spacey and sensitive and almost comically miscalibrated for his environment, and Big Bill, charismatic and all-too-ready for the challenges of the streets.

Published Reviews
Booklist Review:
"*Starred Review* Coates grew up in a tough Baltimore neighborhood, subject to the same temptations as other young black boys. But he had a father in the household, a man steeped in race consciousness and willing to go to any lengths including beatings to keep his sons on the right path. With sharp cultural observations and emotional depth, Coates recalls an adolescence of surreptitiously standing on corners eying girls, drinking fifths, and earning reps, mindful of his father's admonition about the Knowledge. Central to the Knowledge was the need to confront fears and bullies and beat them in order to live in peace. For a while, his own style was to talk and duck ; later he found places to be himself in African drumming and writing. The Knowledge focused on alternative paths for race-conscious black men, respectful of the broader culture, but always a bit on the margins. His father had balanced his own life between square jobs and a black book publishing enterprise. As Coates grew up, he replaced his comic books with his father's collection of classic literature on the race struggle and found his own way. A beautifully written, loving portrait of a strong father bringing his sons to manhood.--Bush, Vanessa Copyright 2008 Booklist"
From Booklist, Copyright (c) American Library Association. Used with permission.
Publisher's Weekly Review:
"West Baltimore, where Coates, a former Village Voice and Time staff writer, spent his formative years, was an environment ravished by crack and beset with deadbeat fathers. But his own father (and his mother, to whom he dedicates the book) fought hard to keep him and his half-brother, Bill, from succumbing to the destiny awaiting many of their peers. Their father, Paul Coates, found his own purpose as a young man in the Black Panther movement, only to become disillusioned by the internal politics, but he never lost the foundational beliefs he found there. From this basis, he instills in his sons a pride in their cultural inheritance which, as they mature, plays a significant role in their developing sense of self and is credited in part with keeping them from surrendering to the streets. Though the bookish Coates and his street-wise half-brother travel different paths toward manhood, they find freedom in the lessons of their father. Ultimately, Coates brings the struggle of the streets to the page in language, verging on poetic, that is brutal in its honesty. (May) Copyright 2008 Reed Business Information."
Additional Information