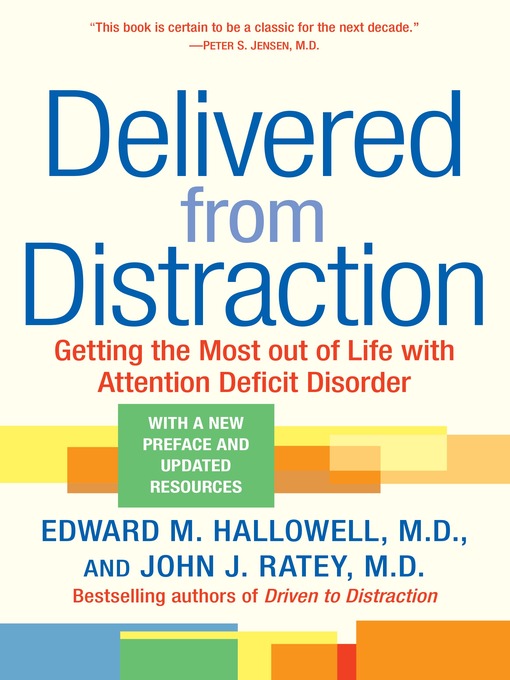 Delivered from distraction getting the most out of life with attention deficit disorder
Format:

Kindle Book

2005

2005

Adobe EPUB ebook

OverDrive Read

Availability:

Unavailable

0 of 4 copies
20 people on waitlist
Summary
A guide to living with attention deficit disorder examines a variety of treatment options, medication and alternative therapies, and how to take advantage of the disorder while avoiding the problems.

Contents
A note on authorship
How to read this book
Introduction : Welcome to the world of ADD, where landing is learned in midair
pt. 1. What's it like to have ADD?
1. The skinny on ADD : read this if you can't read the whole book
2. The feel of ADD
3. The seven habits of highly effective ADD-ers
4. ADD self-assessment quizzes for adults : a screening test
5. Won't pay attention, or can't? : the crux of the matter
6. An evil, an illness, or a kind of mind? : from stigma to science
7. The itch at the core of ADD
pt. 2. Three stories that tell the story
8. The Benevians : how this diagnosis can change your life for the better, at any age
9. Joey : when there's more than ADD
10. The O'Brien family : a household of ADD
pt. 3. Making the diagnosis of ADD
11. The steps to diagnosis
12. The qEEG and the SPECT scan : two useful new tests not widely used
13. How do you tell a child about the diagnosis of ADD?
14. Conditions that coexist with ADD
15. Bipolar disorder or ADD? : how to tell the difference
16. ADD, reading problems, and dyslexia
17. Genetics : if I have ADD, what are the odds my child will too? and other interesting questions
18. Are we training our children to have ADD?
19. ADD, addictions, and a new use of the 12 steps
pt. 4. Mastering the power and avoiding the pitfalls : the treatment of ADD
20. The treatment of ADD : what works best
21. The key to treating ADD : find the buried treasures
22. How to find the buried treasures : five steps that lead to lasting joy
23. How to find the buried treasure in school : one shining example that all schools should follow
24. Major danger alert : college and ADD
25. Nutrition and ADD : a cornerstone of good treatment
26. Omega-3 fatty acids : a nutrition-based treatment for ADD
27. Physical exercise : a great treatment for ADD and a magic tonic for your brain
28. Powerful exercises for the brain that improve attention
29. Cerebellar stimulation : a specific kind of physical exercise that can be used to treat ADD
30. To try medication or not : some reasoning guidelines
31. If you choose to try medication, which should you choose?
32. Don't SPIN
33. And don't SLIDE
34. The big struggle revisited : ADD in families
35. Living through the pain of ADD
36. How to get rid of piles : the kudzu of ADD
37. Worry and ADD
38. Sex and ADD
39. Hallowell & Ratey's top tips for adult ADD
40. What kind of mate is best if you have ADD?
41. What can you do if your mate has ADD?
42. Getting Well enough organized : the Hallowell approach
43. What the best treatment must include
Appendix : A compendium of resources
Index.
Published Reviews
Publisher's Weekly Review:
"This follow-up to the authors' 1994 manual, Driven to Distraction, has the advantage of personal testimony regarding adult Attention Deficit Disorder (ADD)-the authors themselves have ADD-as well a very readable presentation of the latest research in the field. Defining ADD as a collection of traits, some positive, some negative, the authors intend to encourage those who have this condition or are raising children with it and advise on how to maximize their abilities and minimize characteristics, such as procrastination, that may hinder them at school or work. In a comprehensive overview, Hallowell and Ratey provide a new screening questionnaire for adults and list methods that physicians, parents and educators can use to diagnose and treat the ADD child. Of primary importance to readers are the recommended steps for living a satisfying life with ADD; these include developing personal relationships and engaging in creative activities that will foster self-esteem. The authors also separate nutrition fads from what is known about how diet can affect brain functioning and discuss whether to take medication. Overall, this is an excellent resource. Agent, Jill Kneerim. (Dec.) Forecast: Driven to Distraction has sold more than one million copies over 10 years; the market should be equally promising for this sequel. (c) Copyright PWxyz, LLC. All rights reserved"
(c) Copyright PWxyz, LLC. All rights reserved
Additional Information