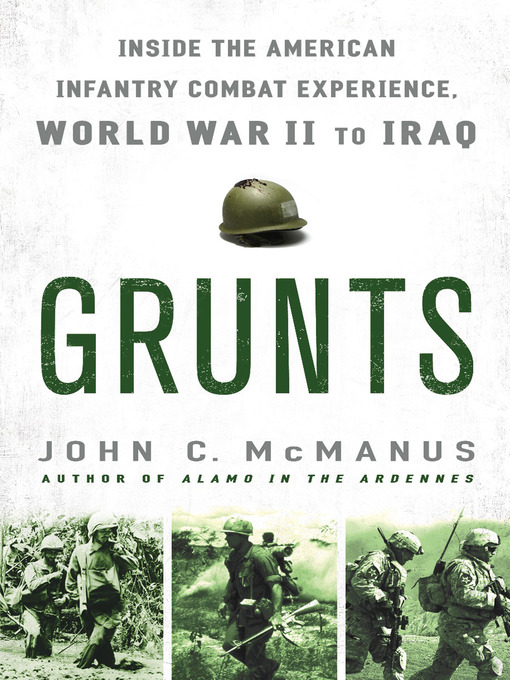 Grunts inside the American infantry combat experience, World War II through Iraq
Format:

Kindle Book

2010

2010

Adobe EPUB ebook

OverDrive Read

Availability:

Available from OverDrive

1 of 1 copy
Summary
"A superb book—an American equivalent to John Keegan's The Face of Battle. I sincerely believe that Grunts is destined to be a classic."—Dave Grossman, Author of On Killing and On CombatFrom the acclaimed author of The Dead and Those About to Die comes a sweeping narrative of six decades of combat, and an eye-opening account of the evolution of the American infantry.   From the beaches of Normandy and the South Pacific Islands to the deserts of the Middle East, the American soldier has been the most indispensable—and most overlooked—factor in wartime victory. In Grunts, renowned historian John C. McManus examines ten critical battles—from Hitler's massive assault on U.S. soldiers at the Battle of the Bulge to counterinsurgency combat in Iraq—where the skills and courage of American troops proved the crucial difference between victory and defeat.   Based on years of research and interviews with veterans, this powerful history reveals the ugly face of war in a way few books have, and demonstrates the fundamental, and too often forgotten, importance of the human element in serving and protecting the nation.

Contents
Guam, July 1944 : amphibious combat against a self-destructive enemy
Peleliu, September 1944 : amphibious combat against a clever, defensive-minded enemy
Aachen, 1944 : knocking 'em all down on a politically unrestrained urban battlefield
Scenes from the northern shoulder of the bulge : men against tanks and everything else
Operation Masher/White wing : air mobility, attrition, and the big-unit grunts of Vietnam
Counterinsurgency from the barrel of a gun : the marine combined action platoons
Attrition and the tears of autumn : Dak To, November 1967
Eleven mikes and eleven bravos : infantry moments in the ultimate techno-war
Grunts in the city : urban combat and politics : Fallujah, 2004
"Watch out for IEDs!" : twenty-first-century counterinsurgent warfare through the eyes of one infantry regiment in Iraq.
Additional Information