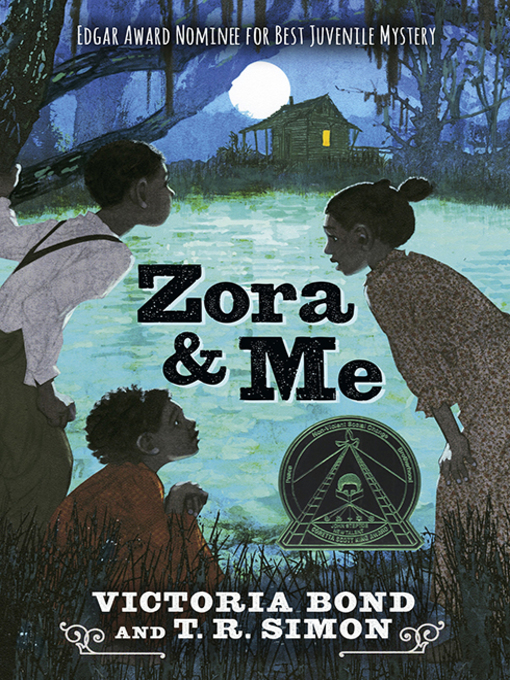 Zora and me
Format:

Kindle Book

2010

2010

Adobe EPUB ebook

OverDrive Read

Availability:

Available from OverDrive

1 of 1 copy
Summary
A fictionalized account of Zora Neale Hurston's childhood with her best friend Carrie, in Eatonville, Florida, as they learn about life, death, and the differences between truth, lies, and pretending. Includes an annotated bibliography of the works of Zora Neale Hurston, a short biography of the author, and information about Eatonville, Florida.

Published Reviews
Booklist Review:
"*Starred Review* Told in the immediate first-person voice of 10-year-old Carrie, Zora Neale Hurston's best childhood friend, this first novel is both thrilling and heartbreaking. Each chapter is a story that evokes the famous African American writer's early years in turn-of-the-last-century Eatonville, Florida, and the sharp, wry vignettes build to a climax, as Carrie and Zora eavesdrop on adults and discover secrets. Family is front and center, but true to Hurston's work, there is no reverential message: Carrie mourns for her dad, who went to Orlando for work and never came back; Zora's father is home, but he rejects her for being educated and acting white, unlike her favored sister. Racism is part of the story, with occasional use of the n-word in the colloquial narrative. Like Hurston, who celebrated her rich roots but was also a wanderer at heart, this novel of lies and revelations will reach a wide audience, and some strong readers will want to follow up with Hurston's writings, including Their Eyes Are Watching God (1937). The novel's back matter includes a short biography of Hurston, an annotated bibliography of her groundbreaking work, and an endorsement by the Zora Neale Hurston Trust.--Rochman, Hazel Copyright 2010 Booklist"
From Booklist, Copyright (c) American Library Association. Used with permission.
Publisher's Weekly Review:
"Debut authors Bond and Simon do their subject proud, spinning a tale about the childhood of writer Zora Neale Hurston, who "didn't have any trouble telling a fib or stretching a story for fun." So says her friend Carrie Brown, who narrates this novel as an adult looking back on a tumultuous and momentous autumn. Set at the beginning of the 20th century in Hurston's childhood home of Eatonville, Fla., one of the nation's first all-black towns, the story follows Carrie and Zora as events-including the gruesome deaths of two men-fuel Zora's imagination and love of storytelling; the truth behind one of the deaths proves more difficult for Carrie to accept than Zora's frightening yet mesmerizing stories of the supernatural man-gator she claims is responsible. The maturity, wisdom, and admiration in Carrie's narration may distance some readers from her as a 10-year-old ("The bad things that happen to you in life don't define misery-what you do with them does"). Nevertheless, the authors adeptly evoke a racially fraught era and formative events-whether they're true or true enough-in Hurston's youth. Ages 10-up. (Oct.) (c) Copyright PWxyz, LLC. All rights reserved."
(c) Copyright PWxyz, LLC. All rights reserved
Additional Information