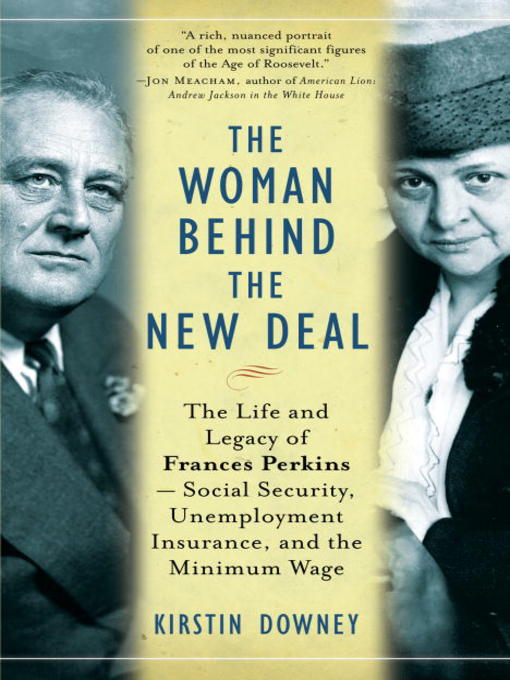 The woman behind the New Deal the life of Frances Perkins, FDR's Secretary of Labor and his moral conscience
Format:

Kindle Book

2009

2009

Adobe EPUB ebook

OverDrive Read

Availability:

Available from OverDrive

1 of 1 copy
Summary
Frances Perkins is no longer a household name, yet she was one of the most influential women of the twentieth century. Frances Perkins was named Secretary of Labor by Franklin Roosevelt in 1933. As the first female cabinet secretary, at the height of the Great Depression, she spearheaded the fight to improve the lives of America's working people while juggling her own family responsibilities. Perkins's ideas became the cornerstones of the most important social welfare legislation in the nation's history, including unemployment compensation, child labor laws, the forty-hour work week, and Social Security. Also, as head of the Immigration Service, she fought to bring European refugees to safety. Based on eight years of research, extensive archival materials, new documents, and exclusive access to family and friends, this is the first complete portrait of a devoted public servant with a passionate personal life, a mother who changed the landscape of American business and society.--From publisher description.

Contents
Childhood and youth
Becoming Frances Perkins
The young activist hits New York
The Triangle Shirtwaist fire
Finding allies in Tammany Hall
Teddy Roosevelt and Frances Perkins
A good match
Married life
Motherhood
The indomitable Al Smith
FDR and Al Smith
With the Roosevelts in Albany
FDR becomes president
Frances becomes Secretary of Labor
The pioneer
Skeletons in the Labor Department closet
Jump-starting the economy
At home with Mary Harriman
Blue Eagle: a first try at "civilizing capitalism"
Refugees and regulations
Rebuilding the house of labor
Labor shakes off its slumber
The union movement revitalizes and splits apart
Social Security
Family problems
Court-packing, wages, and hours
Impeachment
War clouds and refugees
Frances and Franklin
Madness, misalliances, and a nude bisexual water sprite
The war comes
Last days of the Roosevelt administration
Harry Truman
The Truman administration
Communism
End of the Truman era
Many transitions
Last days.
Published Reviews
Booklist Review:
"*Starred Review* Much of the social reform that has made President Franklin D. Roosevelt so beloved Social Security, fair labor practices, minimum wage were actually ideas conceived and pushed by his labor secretary, Frances Perkins, the first female cabinet member and a woman constrained by the sexism of the era as well as her personal circumstances. Drawing on extensive archival research, Downey offers a riveting portrait of a determined social reformer who pushed a shrewd politician to make substantive changes in the American workplace. Early in her career as a social worker, Perkins witnessed the Triangle shirt factory fire that killed 146 workers. It was a pivotal point for her as she went on to lobby in Albany on behalf of workers, very consciously adopting a plain and dour look to remind the male legislators of their mothers and win more sympathy for her cause. Perkins was a politically savvy woman, able to adapt to Tammany Hall, New York Governor Al Smith, and, later, Governor Roosevelt, all along managing the boss's wife as well as the boss himself. As part of FDR's cabinet, she championed workers' rights through the Great Depression and World War II, helping to keep alive the International Labor Organization. As the nation struggles through its current economic crisis, this compelling biography is particularly timely.--Bush, Vanessa Copyright 2009 Booklist"
From Booklist, Copyright (c) American Library Association. Used with permission.
Publisher's Weekly Review:
"No individual--not even Eleanor Roosevelt--exerted more influence over the formulation of FDR's New Deal or did more to implement the programs than Frances Perkins (1880-1965). As former Washington Post staff writer Downey makes plain in this deeply researched biography, the first female Cabinet member was the primary shaper of such new concepts as unemployment insurance, the 40-hour work week and--last but not least--Social Security. At a time when the United States stands at the brink of another economic meltdown calling for sweeping federal interventions, Downey provides not only a superb rendering of history but also a large dose of inspiration drawn from Perkins's clearheaded, decisive work with FDR to solve urgent problems diligently and to succeed in the face of what seemed insurmountable odds. Confronting family issues--a frequently institutionalized husband with severe psychiatric problems; a deeply secret lesbian relationship with Mary Harriman Rumsey (sister of Averell Harriman); a daughter from whom she was often estranged--Perkins nevertheless exhibited tireless grace under pressure again and again, always rising to the occasion in the name of every and any progressive cause. (Mar. 3) (c) Copyright PWxyz, LLC. All rights reserved"
(c) Copyright PWxyz, LLC. All rights reserved
Additional Information