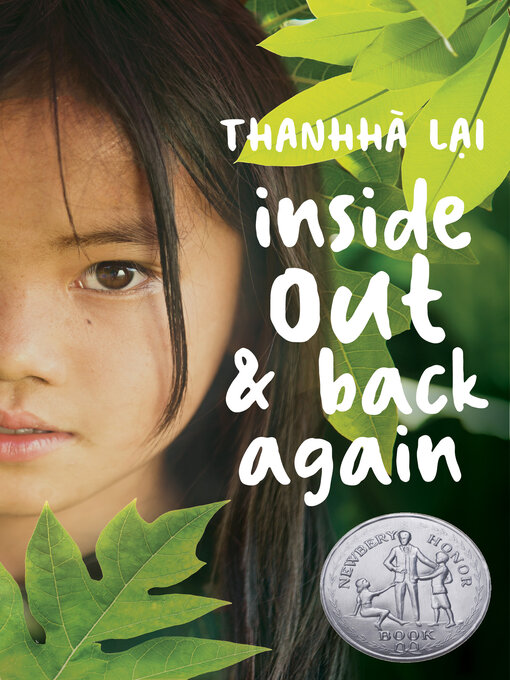 Inside out & back again
Format:

Kindle Book

2013

2013

Adobe EPUB ebook

OverDrive Read

Availability:

Unavailable

0 of 1 copy
Summary
Winner of the 2011 National Book Prize for Young People's Literature and 2012 Newbery Medal Honor Book, this stunning and engaging verse novel will captivate readers of all ages. Moving to America turns Ha's life inside out. For all the ten years of her life, Ha has only known Saigon: the thrills of its markets, the joy of its traditions, the warmth of her friends close by ... and the beauty of her very own papaya tree. But now the Vietnam War has reached her home. Ha and her family are forced to flee as Saigon falls, and they board a ship headed toward hope. In America, Ha discovers the foreign world of Alabama: the coldness of its strangers, the dullness of its food, the strange shape of its landscape ... and the strength of her very own family. This is the moving story of one girl's year of change, dreams, grief, and healing as she journeys from one country to another, one life to the next.

Published Reviews
Booklist Review:
"*Starred Review* After her father has been missing in action for nine years during the Vietnam War, 10-year-old Hà flees with her mother and three older brothers. Traveling first by boat, the family reaches a tent city in Guam, moves on to Florida, and is finally connected with sponsors in Alabama, where Hà finds refuge but also cruel rejection, especially from mean classmates. Based on Lai's personal experience, this first novel captures a child-refugee's struggle with rare honesty. Written in accessible, short free-verse poems, Hà's immediate narrative describes her mistakes both humorous and heartbreaking with grammar, customs, and dress (she wears a flannel nightgown to school, for example); and readers will be moved by Hà's sorrow as they recognize the anguish of being the outcast who spends lunchtime hiding in the bathroom. Eventually, Hà does get back at the sneering kids who bully her at school, and she finds help adjusting to her new life from a kind teacher who lost a son in Vietnam. The elemental details of Hà's struggle dramatize a foreigner's experience of alienation. And even as she begins to shape a new life, there is no easy comfort: her father is still gone.--Rochman, Hazel Copyright 2010 Booklist"
From Booklist, Copyright (c) American Library Association. Used with permission.
Publisher's Weekly Review:
"Narrating in sparse free-verse poems, 10-year-old Ha brings a strong, memorable voice to the immigrant experience as her family moves from war-torn South Vietnam to Alabama in 1975. First-time author Lai, who made the same journey with her family, divides her novel into four sections set in Vietnam, "At Sea," and the last two in Alabama. Lai gives insight into cultural and physical landscapes, as well as a finely honed portrait of Ha's family as they await word about Ha's POW father and face difficult choices (awaiting a sponsor family, "...Mother learns/ sponsors prefer those/ whose applications say ¿Christians.'/ Just like that/ Mother amends our faith,/ saying all beliefs/ are pretty much the same"). The taut portrayal of Ha's emotional life is especially poignant as she cycles from feeling smart in Vietnam to struggling in the States, and finally regains academic and social confidence. A series of poems about English grammar offer humor and a lens into the difficulties of adjusting to a new language and customs ("Whoever invented English/ should be bitten/ by a snake"). An incisive portrait of human resilience. Ages 8-12. (Mar.) (c) Copyright PWxyz, LLC. All rights reserved."
(c) Copyright PWxyz, LLC. All rights reserved
Additional Information