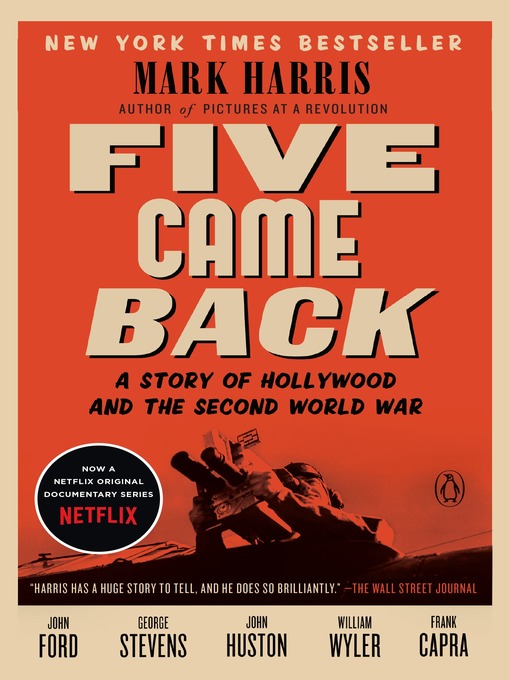 Five came back a story of Hollywood and the Second World War
Format:

Kindle Book

2014

2014

Adobe EPUB ebook

OverDrive Read

Availability:

Available from OverDrive

1 of 2 copies
Summary
Looks at the World War II experiences of five legendary directors--John Ford, William Wyler, John Huston, Frank Capra, and George Stevens--to assess the transformative impact of the war and period beliefs on Hollywood

Published Reviews
Booklist Review:
"*Starred Review* It's hardly news that the movies affect and are affected by the broader canvas of popular culture and world history, but Harris perhaps more successfully than any other writer, past or present manages to find in that symbiotic relationship the stuff of great stories. He turned that unlikely trick in Pictures at a Revolution (2008), about the five Best Picture nominees in 1967 and how they defined a sea change in Hollywood and in society at large, and he does it again here. The number is once more five, but this time it's five acclaimed directors who went to war in the 1940s to make propaganda films and came home changed by what they saw and what they did. The stories of what John Ford, George Stevens, John Huston, William Wyler, and Frank Capra did in the war are dramatic (Ford filming the opening salvo in the Battle of Midway from a rooftop; Wyler riding along on bombing missions over Germany; Stevens filming the horrific scenes at Dachau), but they are also stories of personal redemption, frustration, and even dishonesty (Huston receiving acclaim for the authenticity of his documentary San Pietro, which was made up almost entirely of reenactments). Every chapter contains small, priceless nuggets of movie history (Joseph Goebbels thought Wyler's Mrs. Miniver was an exemplary propaganda film and hoped the Germans could copy it), and nearly every page offers an example of Harris' ability to capture the essence of a person or an event in a few, perfectly chosen words (describing Huston as a last-call bon vivant ). Narrative nonfiction that is as gloriously readable as it is unfailingly informative.--Ott, Bill Copyright 2014 Booklist"
From Booklist, Copyright (c) American Library Association. Used with permission.
Publisher's Weekly Review:
"American filmmakers undergo their baptism of fire in this insightful if sometimes chaotic war saga. Journalist Harris (Pictures at a Revolution) profiles five leading directors-John Ford, Frank Capra, William Wyler, John Huston, and George Stevens-who ditched stellar careers to join the military and craft propaganda, battle documentaries and training films. (Ford's first Navy assignment was an explicit primer on venereal disease.) Harris's story is often simply Hollywood on steroids: generals and political strictures replace studio moguls and the Hays code; location hardships include getting shot at; the blurring together of authenticity and fakery deepens (some of the most acclaimed and innovative combat "documentaries" were staged reenactments). The fog of war sometimes obscures the big picture here; even more than civilian making-of epics, the author's narrative of military movie production is a welter of confusion and misfires, turf struggles, budget constraints, and grand artistic impulses thwarted by philistine bureaucracies and petty happenstance. Still, Harris pens superb exegeses of the ideological currents coursing through this most political of cinematic eras, and in the arcs of his vividly drawn protagonists-especially Stevens, whose camera took in the liberation of Paris and the horror of Dachau-we see Hollywood abandoning sentimental make-believe to confront the starkest realities. (Mar. 3) (c) Copyright PWxyz, LLC. All rights reserved."
(c) Copyright PWxyz, LLC. All rights reserved
Additional Information
Subjects
Ford, John, 1894-1973
Wyler, William, 1902-1981
Huston, John, 1906-1987
Capra, Frank, 1897-1991
Stevens, George, 1904-1975
Motion picture producers and directors United States Biography
Motion picture industry California Los Angeles History
Motion pictures United States History
World War, 1939-1945 Motion pictures and the war
Nonfiction
History
Performing Arts
Electronic books.
1894-1973.
1902-1981.
1906-1987.
1897-1991.
1904-1975.

Publisher

New York :Penguin Group US,2014




Penguin Publishing Group2014



Contributors
OverDrive, Inc.

Language

English



System Details

Mode of access: World Wide Web.




Format: Adobe EPUB eBook




Format: Kindle Book




Format: OverDrive READ




Requires Adobe Digital Editions or Amazon Kindle



Description

1 online resource



Bibliography Notes

Includes bibliographical references and index.



ISBN
9780698151574
9780698151574

Other
Classic View