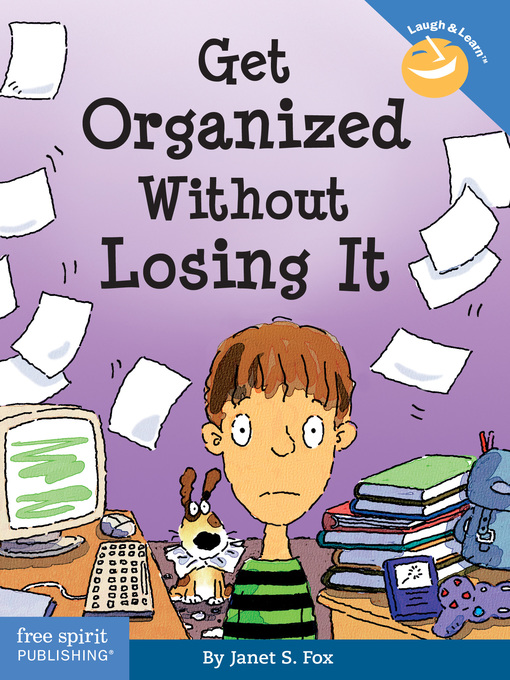 Get organized without losing it
Format:

Adobe PDF eBook

2006

2006

OverDrive Read

Availability:

Available from OverDrive

2 of 2 copies
Summary
Kids today have a lot to keep track of;and keep organized. Schoolwork, friends, activities, chores...rooms, backpacks, lockers, desks...and what about fun? Here's friendly, practical, humorous help for kids who want to manage their tasks, their time, and their stuff;without going overboard or being totally obsessed. Tips, techniques, strategies, and examples empower kids to conquer clutter, prioritize tasks, handle homework, prepare for tests, plan projects, stop procrastinating, and start enjoying the benefits of being organized: less stress and more success. Lists and steps make it doable; jokes and cartoons make it enjoyable. Recommended for any kid who's frustrated, overwhelmed, and sick of hearing "Clean your room!" "Where's your homework?" and "You're going to be late AGAIN!"

Contents
Basic tools for getting organized
The curse of the too-heavy backpack
My get-organized shopping list
Desk disasters, locker shockers, and other major messes
How to survive a desk disaster
How to handle a locker shocker
Pssst
How to manage other major messes
Give yourself regular checkups
Plan for school success
Use a student planner
9 great reasons to use a student planner
Plan to manage your time
After-school scheduler
Plan for homework
Homework checklist
Deal with distractions
Plan to be ready for school each day
Is that your lunch box or a garbage can?
Plan for long-term projects
Long-term project planer
Plan to learn
Pssst
Memory tips and tricks
Plan to stay organized day-by-day
Is it worth it to get organized?
A note for parents and teachers
Helpful resources
For kids
For parents and teachers.
Additional Information
Series
Laugh & learn.
Subjects
Study skills Handbooks, manuals, etc. Juvenile literature
Students Time management Handbooks, manuals, etc. Juvenile literature
Students Life skills guides Handbooks, manuals, etc. Juvenile literature
Time management Handbooks, manuals, etc. Juvenile literature
Study skills Handbooks, manuals, etc
Time management Handbooks, manuals, etc
Life skills guides Handbooks, manuals, etc
Self-Improvement
Study Aids & Workbooks
Children
Juvenile Nonfiction
Electronic books.

Publisher

Minneapolis :Free Spirit Publishing,2006




Free Spirit Publishing2006



Contributors
OverDrive, Inc.

Audience

Grade 3-grade 4.




770L



Language

English



System Details

Mode of access: World Wide Web.




Format: Adobe PDF eBook.




Format: Kindle Book.




Requires Adobe Digital Editions or Amazon Kindle.



Description

1 online resource.



Bibliography Notes

Includes bibliographical references (pages 99-101) and index.



ISBN
9781575428178
1575428172
9781575425382

Other
Classic View