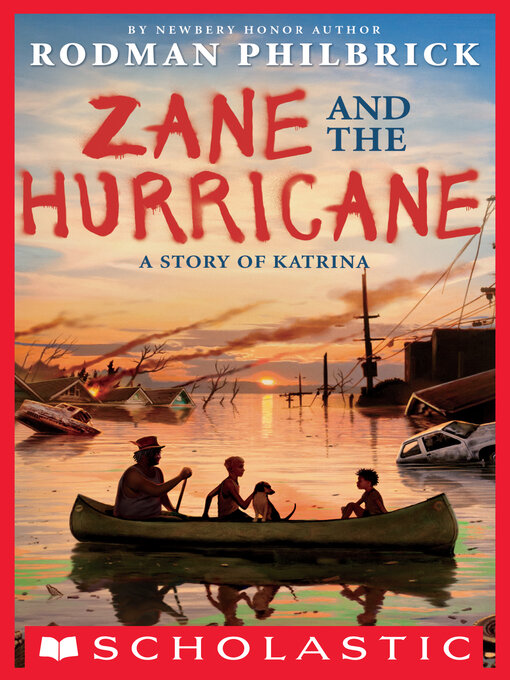 Zane and the hurricane a story of Katrina
Format:

Kindle Book

2014

2014

Adobe EPUB ebook

OverDrive Read

Availability:

Available from OverDrive

1 of 1 copy
Summary
A twelve-year-old boy and his dog become trapped in New Orleans during the horrors of Hurricane Katrina.

Published Reviews
Booklist Review:
"Thirteen-year-old Zane Dupree and his trusted dog, Bandy, travel from their home in New Hampshire to New Orleans to visit his great-grandmother, Miss Trissy, the only link to the father who died before he was born. But almost as soon as they arrive, they are caught up in the turmoil of Hurricane Katrina, separated from family, and left on their own to survive. The pair weathers the storm in Miss Trissy's attic, and they are rescued, via canoe, by Mr. Tru, a celebrated brass player, and his young charge, Malvina, with a story of her own. Together they face difficulties both natural and human, from terrifying swirls of snakes in the putrid floodwater to organized militia protecting affluent neighborhoods from looters. Philbrick examines issues of race and class with a deft hand (Zane is of mixed race himself), letting the story unfold directly and leaving moralizing to the reader. Though the convenience of a few plot points strains credibility, the tight prose, harrowing pace, and resonant relationships will appeal to a broad audience.--Barthelmess, Thom Copyright 2014 Booklist"
From Booklist, Copyright (c) American Library Association. Used with permission.
Publisher's Weekly Review:
"In August 2005, 12-year-old Zane Dupree reluctantly travels to New Orleans with his dog Bandy to visit Miss Trissy, his paternal great-grandmother. Zane is biracial and knows nothing about his late father's side of the family; he acquires some pieces of the puzzle-that his father ran away from home, and his uncle "got hissef killed"-but gaps remain. Hurricane Katrina arrives, and mandatory evacuation is announced, but on a bus out of town, Bandy escapes and Zane follows him back to Miss Trissy's house. They are rescued from the surging water and relentless heat by Malvina Rawlins, a girl Zane's age with a stream of corny jokes at her disposal, and her elderly guardian, musician Trudell Manning. Zane's first-person account is tense and authentically youthful as the group paddles through the flooded streets of New Orleans seeking refuge. Philbrick (The Mostly True Adventures of Homer P. Figg) vividly portrays the destruction and multitude of threats facing citizens stuck in the city, along with undercurrents of racial and social tension that didn't wash away with the levees. Ages 10-14. Agent: Dominick Abel, Dominick Abel Literary Agency. (Feb.) (c) Copyright PWxyz, LLC. All rights reserved."
(c) Copyright PWxyz, LLC. All rights reserved
Additional Information