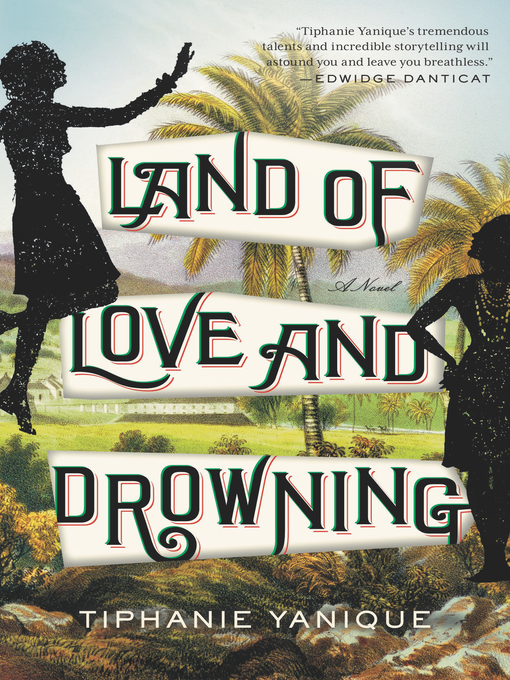 Land of love and drowning a novel
Format:

Kindle Book

2014

2014

Adobe EPUB ebook

OverDrive Read

Availability:

Available from OverDrive

1 of 1 copy
Summary
" A major debut from an award-winning writer-an epic family saga set against the magic and the rhythms of the Virgin Islands. In the early 1900s an important ship sinks into the Caribbean Sea, just as the Virgin Islands are transferred from Danish to American rule. Orphaned by the sunk vessel are two sisters and their half-brother, now faced with an uncertain identity and future. Each of them is unusually beautiful, and each is in possession of a particular magic that will either sink or save them. Chronicling three generations of an island family from 1916 to the 1970s, Land of Love and Drowning is a novel of love and magic, set against the emergence of Saint Thomas into the modern world. Wholly unique, with echoes of Toni Morrison, Gabriel Garcia Marquez, and the author's own Caribbean family history, the story is told in a language and rhythm that evokes an entire world and way of life and love. Following the Bradshaw family through sixty years of fathers and daughters, mothers and sons, love affairs, curses, magical gifts, loyalties, births, deaths, and triumphs, Land of Love and Drowning is a gorgeous, vibrant debut by an exciting, prize-winning young writer"--

Published Reviews
Booklist Review:
"The Bradshaws had a proud place in the history of the Virgin Islands even before the Dutch transferred control to the Americans in the early 1900s. Captain Owen Arthur Bradshaw was the patriarch, a seafarer and, even on land, a wanderer who fathered a son outside his marriage that produced two daughters. When he dies, and his wife, Antoinette, follows not long after, the daughters, Eeona and Annette, must navigate a tangle of family history, secrets, and mysterious powers. In a style that evokes Toni Morrison and Gabriel García Márquez, Yanique alternates between the first-person accounts of the characters and a narrator who keeps the truth straight beneath the occasional imaginings and justifications of the characters. Yanique chronicles the lives of three generations of the Bradshaws, with family intrigues, magic spells and curses, triumphs and tragedies related against the backdrop of world events that touched the Caribbean between 1916 and the 1970s. This is a beautifully conceived and written tale of frustrated and forbidden love, beauty, aging, and family secrets.--Bush, Vanessa Copyright 2014 Booklist"
From Booklist, Copyright (c) American Library Association. Used with permission.
Publisher's Weekly Review:
"For her debut novel, Yanique (author of the story collection How to Escape from a Leper Colony) has written an epic multigenerational tale set in the U.S. Virgin Islands that traces the ambivalent history of its inhabitants during the course of the 20th century. The story follows two sisters whose genteel prospects are shattered after the sudden death of their father, Owen Arthur Bradshaw, a descendent of West African slaves and owner of a cargo ship. Eeona, the older of the two, is a famous beauty who terrifies men with her radiance and high-caste pretensions, while her younger sister, Anette, is sensuous and passionate, holding on to her local dialect and identity. Ever recalling memories of her father, Eeona struggles to escape St. Thomas and achieve a measure of freedom. Anette, meanwhile, falls desperately in love with Jacob, who, unbeknownst to her, is actually her half-brother. The novel shows how global conflicts, including World War II, and America's legacy of racism shape the lives of Jacob and other islanders. As Anette becomes a mother and Eeona becomes a spectral embodiment of the islands' mystery, American tourism gradually upends the local economy and deprives the natives of land, beaches, and freedom. Amid the devastation of hurricanes and exploitation by wealthy American entrepreneurs, the sisters struggle to understand their history, their place in the modern world, and the fatal attraction of the islands' magical beauty. Through the voices and lives of its native people, Yanique offers an affecting narrative of the Virgin Islands that pulses with life, vitality, and a haunting evocation of place. (July) (c) Copyright PWxyz, LLC. All rights reserved."
(c) Copyright PWxyz, LLC. All rights reserved
Additional Information