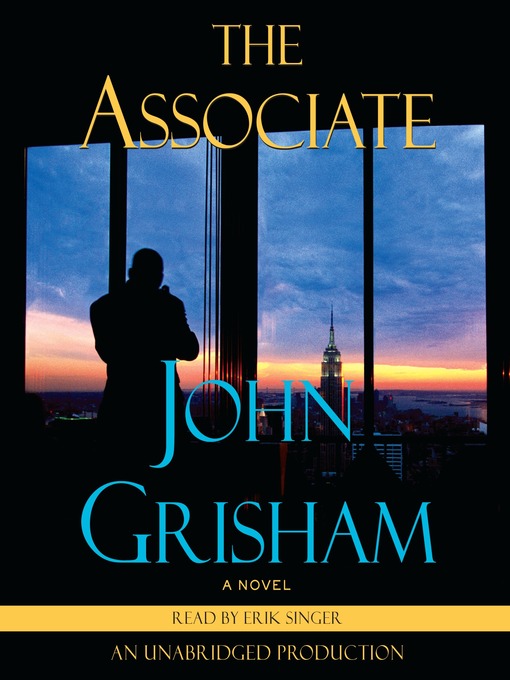 The associate
Format:

OverDrive MP3 Audiobook

2009

2009

OverDrive Listen

Availability:

Available from OverDrive

1 of 1 copy
Summary
Kyle McAvoy is one of the outstanding legal students of his generation: he's good looking, has a brilliant mind and a glittering future ahead of him. But he has a secret from his past, a secret that threatens to destroy his fledgling career and, possibly, his entire life.

Published Reviews
Booklist Review:
"Editor of the Yale Law Journal, recipient of job offers from the best Wall Street firms, a wonderful (but not too serious) girl by his side Kyle McAvoy is ready to take on the world. Until, that is, Bennie Wright, an unsavory private investigator, walks into his life and announces that Kyle will be doing Bennie's bidding for the foreseeable future. Why would Kyle put his fate into the hands of Bennie and his unsavory crew? Because they know a secret about Kyle an incident involving a fraternity party gone bad that Kyle thought was buried and forgotten. If the story gets out, Kyle's career could be ruined, so he does as Bennie demands and accepts a position with one of Wall Street's two largest firms. Kyle's assignment is to spy on his new employer on behalf of Bennie's client, the other premier Wall Street firm, as the two legal giants face off in the largest case involving defense contracts in U.S. history. Kyle must play along if he wants to get out alive. Just like Mitch McDeere in Grisham's break-out novel, The Firm (1991), Kyle is at once too naive and too cocky, daring to try to outwit forces much more powerful than he. Grisham knows how to produce a page-turner, that's for sure, and while his plot this time stretches believability a bit, he'll hook readers with the David-against-Goliath angle.--Wilkens, Mary Frances Copyright 2009 Booklist"
From Booklist, Copyright (c) American Library Association. Used with permission.
Publisher's Weekly Review:
"Bestseller Grisham's contemporary legal thriller offers an action-and-suspense plot reminiscent of that of his breakout book, 1991's The Firm, in contrast to 2008's didactic The Appeal, which served as a platform for his concerns about the corrupting effects of judicial elections. Kyle McAvoy, a callow Yale Law School student, dreams of a public service gig on graduation, until shadowy figures blackmail him with a videotape that could revive a five-year-old rape accusation. Instead of helping those in need, McAvoy accepts a position at a huge Wall Street firm, Scully & Pershing, whose clients include a military contractor enmeshed in a $800 billion lawsuit concerning a newly-designed aircraft. McAvoy can avoid exposure of his past if he feeds his new masters inside information on the case. Readers should be prepared for some predictable twists, an ending with some unwarranted ambiguity and some unconvincing details (the idea that a secret file room in a high stakes litigation case would be closed from 10:00 p.m. to 6:00 a.m. every night stretches credulity to the breaking point). Still, Grisham devotees should be satisfied, even if this is one of his lesser works. (Jan.) Copyright 2009 Reed Business Information."
Additional Information