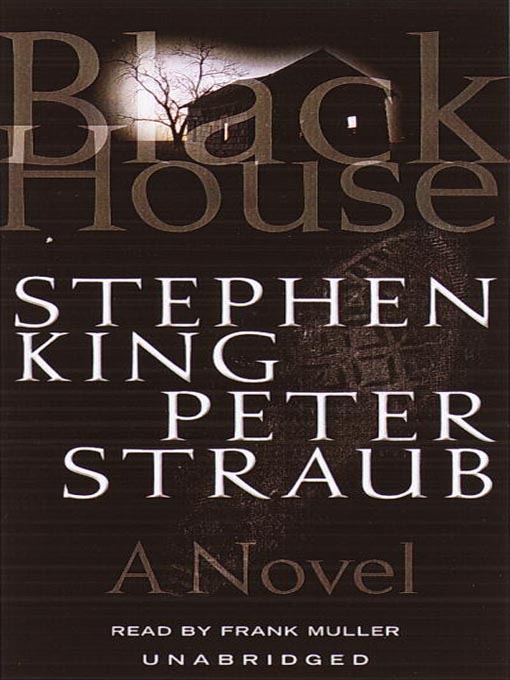 Black house a novel
Format:

OverDrive MP3 Audiobook

2007

2007

OverDrive Listen

Availability:

Unavailable

0 of 1 copy
7 people on waitlist
Summary
When a series of gruesome murders occur that are reminiscent of those committed several decades earlier by a madman dubbed The Fisherman, the local police chief begs Jack Sawyer, a retired homicide detective, to help his inexperienced force find him. But is this merely the work of a disturbed individual or has a mysterious and malignant force been unleashed? Twenty years ago, Jack traveled to a parallel universe called the Territories. He has no recollections of his adventures there, yet what causes Jack's inexplicable waking dreams? It's almost as if someone is trying to tell him something. As the messages become increasingly impossible to ignore, Jack is drawn back to the Territories and to his own hidden past.

Published Reviews
Booklist Review:
"Some 20 years after the events of King and Straub's The Talisman (1984), Jack Sawyer, its 12-year-old hero, is 35 and retired (thanks to inherited wealth) from being the LAPD's whiz-kid homicide sleuth. He lives near a southwestern Wisconsin town in which a serial killer is abducting young children and, in imitation of early-twentieth-century fiend Albert Fish (see Harold Schechter's riveting biography, Deranged, 1990), dismembering and cannibalizing them. Dubbed the Fisherman, the killer comes from the Territories, the parallel world Jack visited when a boy, and possesses a gaga old man to commit its atrocities. Ultimately, it and its boss are after Jack, whom they recognize as a threat, and eventually Jack has to face them down in an abandoned house that is a gateway between this world and the Territories. Of course, Jack doesn't do this solo. A large cast--a blind radio DJ; the mother of the last missing child, who has an alter ego in the Territories; five brawny brewers who look like Hell's Angels but read and discuss Jacques Derrida and John Dominic Crossan; the decent-guy sheriff who calls Jack in on the case; and more--helps and hinders him. The auxiliaries are more colorful than Jack, and their eccentricities compensate for the hackneyed plot; verbose, wisenheimer wordplay; and annoyingly self-conscious, "floating camera" -style narration. The King-Straub nightmare-team clearly strains to entertain this time. --Ray Olson"
From Booklist, Copyright (c) American Library Association. Used with permission.
Publisher's Weekly Review:
""In D18, there are no end tables, hutches, overstuffed chairs... No pictures of children and grandchildren stand atop the chest, and no crayon drawings of blocky houses and stick figures decorate the walls." King and Straub's gift of describing someone by what's not in his bedroom requires understated narration, and Frank Muller adroitly supplies it, providing appropriate pacing, tone, and pitch throughout this horror sequel to the authors' first collaboration, The Talisman. In Western Wisconsin, a string of murders draws former homicide detective Jack Sawyer out of retirement and back into his forgotten past. Muller understands that narrating the fantastic often requires subtlety, and his delivery is spot on, making this twisted tale of murder and a parallel universe an engaging and chilling listen. A Pocket paperback. (Nov.) © Copyright PWxyz, LLC. All rights reserved."
Additional Information