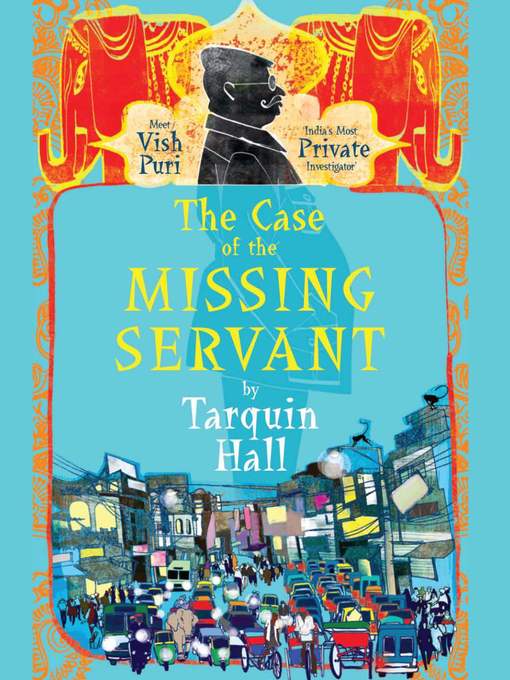 The case of the missing servant from the files of Vish Puri, India's most private investigator
Format:

OverDrive MP3 Audiobook

2009

2009

OverDrive Listen

Availability:

Available from OverDrive

1 of 1 copy
Summary
Meet India's answer to Hercule Poirot: Vish Puri, a fastidious private eye with a penchant for fast food and dangerous disguises. Puri and his team of undercover operatives are investigating the missing and possibly murdered maidservant of a public litigator, but how will he track down an unknown girl in a population of more than one billion? His search will reveal modern India in all its seething complexity.

Published Reviews
Booklist Review:
"*Starred Review* Author of To The Elephant Graveyard (2000), a compelling nonfiction account of the hunt for a man-killing elephant in India, Hall turns to fiction with the debut of what promises to be an outstanding series. Vish Puri, a somewhat overweight (and reluctantly dieting) middle-aged man, is owner and founder of Most Private Investigations (if you're thinking Mma Ramotswe, you're right on the mark). Puri heads a large cast of employees, friends, and family members, each of whom is realistically portrayed and thoroughly distinctive, from the slow-to-start Tubelight, through undercover woman Facecream, and on to Mummy-ji, Puri's obstinate but intelligent mother. Set in modern-day Delhi, the novel is dense with atmosphere, creating a delightful mix of the exotic and familiar through wildly idiomatic American English dialogue and nicely integrated references to food, customs, and clothing. Puri takes on the case of the missing servant after an old friend is accused of his servant's murder. At the same time, more routine matrimonial investigations continue, with Puri working for an old army officer determined to stop his granddaughter's marriage to a successful young businessman. (After Puri is shot at on his balcony, Mummy-ji takes over the investigation, using the Most Usual Suspects file.) An excellent, delightfully humorous mystery with an unforgettable cast of characters, The Case of the Missing Servant immediately joins the No. 1 Ladies' Detective Agency as representing the best in international cozies.--Moyer, Jessica Copyright 2009 Booklist"
From Booklist, Copyright (c) American Library Association. Used with permission.
Publisher's Weekly Review:
"Vish Puri, the head of Delhi's Most Private Investigators Ltd., tackles a rather prosaic domestic case in this first of a projected series, the fiction debut of British author Hall (Salaam Brick Lane). Ajay Kasliwal, a lawyer who has brought cases against corrupt government officials, retains Puri to find a maid, Mary, who has gone missing from his household. Rumor has it that Kasliwal killed Mary because he got her pregnant, and when Mary turns up dead, the authorities arrest Puri's client. While the 51-year-old married detective, who could lose some weight and is affectionately called "Chubby," has a certain quirky charm, the resolution of the mystery of Mary's murder is less than satisfying. Hopefully, a future installment will go into what sounds like a more unusual matter, "the Case of the Missing Polo Elephant," for which Puri won the fictional "Super Sleuth" award in 1999. (June) (c) Copyright PWxyz, LLC. All rights reserved"
(c) Copyright PWxyz, LLC. All rights reserved
Additional Information