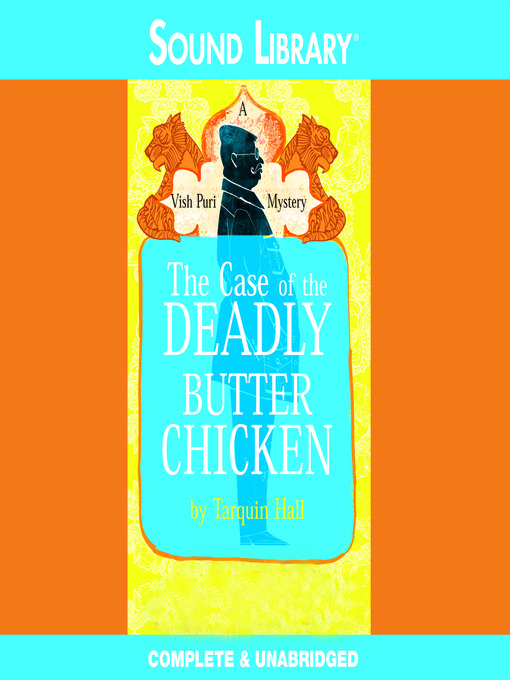 The case of the deadly butter chicken
Format:

OverDrive MP3 Audiobook

2012

2012

OverDrive Listen

Availability:

Available from OverDrive

1 of 1 copy
Summary
Dubbed "a wonderfully engaging P.I." (The Times, London), Tarquin Hall's irresistible protagonist Vish Puri has become an international favorite through a series that "splendidly evokes the color and bustle of Delhi and the tang of contemporary India" (The Seattle Times). Now the gormandizing, spectacularly mustachioed sleuth finds himself facing down his greatest fears in an explosive case involving the Indian and Pakistani mafias...

Published Reviews
Booklist Review:
"*Starred Review* Hall, a British writer and journalist based in Delhi, has a gift for conveying the rich stew of competing cultures in contemporary India with a wonderful economy of image. For example, he deftly shows India at a crossroads of old and new through a cricket match, in which many of the owners are Bollywood stars; the giant screens flash British slang like STUNNER ; and the high-kicking, scantily clad cheerleaders suggest those of the Dallas Cowboys. Hall's hero, detective Vish Puri, who bills himself as India's Most Private Investigator, appears for the third time in this thoroughly engaging series. Puri is a foodie, constantly battling his diet-conscious (for Puri) wife with a series of desperate maneuvers. Hall's descriptions of the food Puri craves provide a great way of serving up the rich heritage of India. And this is a food-centered book butter chicken, served to the father of a Pakistani member of the Indian cricket team at a celebratory banquet, is the murder weapon. Puri's investigation takes him deep into the worlds of Indian and Pakistani organized crime, and into Pakistan itself, where many members of Puri's family were killed during the 1947 partition of India. Hall presents a complex hero in a complex country with a great deal of history, humor, and panache.--Fletcher, Connie Copyright 2010 Booklist"
From Booklist, Copyright (c) American Library Association. Used with permission.
Publisher's Weekly Review:
"The opening of Hall's outstanding third mystery featuring PI Vish Puri (after 2010's The Case of the Man Who Died Laughing) sets the tone nicely as Puri tinkers with the bathroom scale to prevent his wife, who refers to him as Chubby, from learning that he's gained weight. Soon after, a representative of the Moustache Organization of Punjab (MOP) asks him to find the fiend who cut off half of the record-setting long whiskers of one of its members. This case fades as he looks into a more serious matter-the poisoning of a guest at a dinner following a high-stakes cricket match. A resourceful and dogged investigator, Puri follows a twisting trail that connects with corruption in the sport and illegal gambling. Well-drawn colorful characters bolster a whodunit sure to appeal to those who enjoy a dash of humor with their crime. Agent: Christy Fletcher, Fletcher & Co. (July) (c) Copyright PWxyz, LLC. All rights reserved."
(c) Copyright PWxyz, LLC. All rights reserved
Additional Information