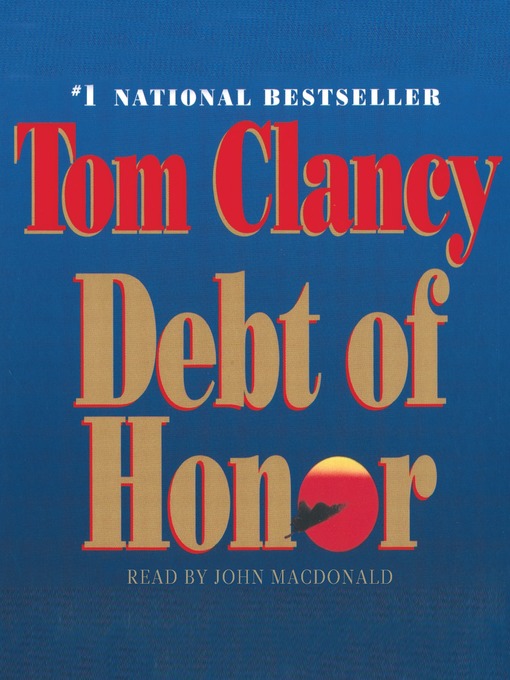 Debt of honor
Format:

OverDrive MP3 Audiobook

2010

2010

OverDrive Listen

Availability:

Unavailable

0 of 2 copies
7 people on waitlist
Summary
A deadly enemy has our country in its sights. Can Jack Ryan, the National Security Advisor, get the untested President up to speed?

Published Reviews
Publisher's Weekly Review:
"Jack Ryan, now the President's National Security Adviser, finds himself embroiled in the buildup to a new world war-one in which the stock market and national economic policy are as critical as advanced weaponry. A power-hungry Japanese financier, still blaming America for his parents' deaths in WWII, plans to use his immense wealth to purchase his revenge. A fatal auto accident in the U.S., caused by faulty gas tanks in two Japanese cars, leads to the breakdown of U.S.-Japanese trade agreements. Spies track each other; nuclear weapons are built and hidden; Ryan and an assortment of his old colleagues maneuver ships, planes and spies into harm's way. As always, the author of Patriot Games and Clear and Present Danger spins out story threads in a rich but bewildering tangle of plot and setting, then vigorously weaves them together. Here, the heart-stopping climax is unexpected, but oddly appropriate. As always, Clancy instructs (sometimes didactically) as he entertains, teaching us about currency trading, Asian business etiquette and the daily life of an American politician. Without taking up Japan-bashing, as Michael Crichton did in Rising Sun, or partisan politics, Clancy warns that recent downsizing in the defense establishment has so depleted our military resources that the country is vulnerable to aggression that can arise anywhere, anytime. 2 million first printing; BOMC selection. (Aug.) (c) Copyright PWxyz, LLC. All rights reserved"
(c) Copyright PWxyz, LLC. All rights reserved
Additional Information