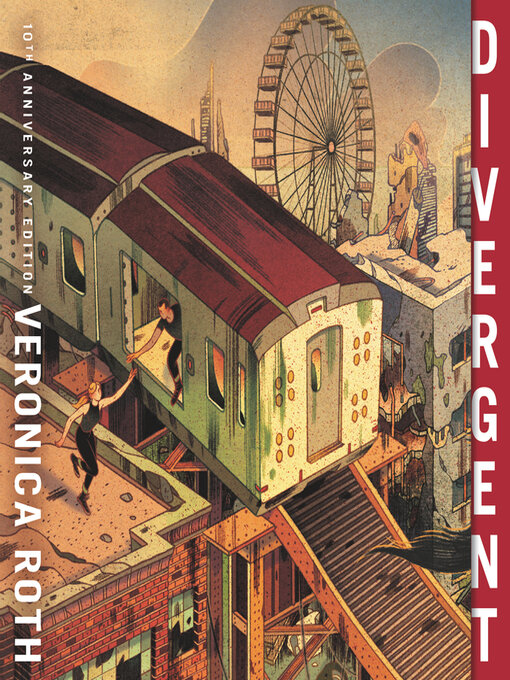 Divergent
Format:

OverDrive MP3 Audiobook

2011

2011

OverDrive Listen

Availability:

Unavailable

0 of 9 copies
9 people on waitlist
Summary
In a future Chicago, sixteen-year-old Beatrice Prior must choose among five predetermined factions to define her identity for the rest of her life, a decision made more difficult when she discovers that she is an anomoly who does not fit into any one group, and that the society she lives in is not perfect after all.

Published Reviews
Booklist Review:
"In the future, you are born into one of five factions, each of which has its strength and focus: Abnegation (service), Candor (truth), Erudite (intellect), Amity (friendship), or Dauntless (fearlessness). But on your sixteenth birthday, you can choose a new faction if you are so compelled, and that's what happens to Tris, who shocks everyone by exchanging the drab gray robes of Abnegation for the piercing and tattoo stylings of Dauntless. What follows is a contest, where only the top 10 initiates are accepted into the final group. This framework of elimination provides the book with a built-in tension, as Tris and her new friends and new enemies go through a series of emotional and physical challenges akin to joining the marines. Roth is wisely merciless with her characters, though her larger world building is left fuzzy. (Is there a world beyond this dystopian version of Chicago?) The simplistic, color-coded world stretches credibility on occasion, but there is no doubt readers will respond to the gutsy action and romance of this umpteenth spin on Brave New World.--Kraus, Daniel Copyright 2010 Booklist"
From Booklist, Copyright (c) American Library Association. Used with permission.
Publisher's Weekly Review:
"In this edgy debut (definitely not for the fainthearted), first in a trilogy, promising author Roth tells the riveting and complex story of a teenage girl forced to choose, at age 16, between her routinized, selfless family and the adventurous, unrestrained future she longs for. Beatrice "Tris" Prior lives in crumbling dystopian Chicago, where citizens are divided into five factions¿Candor, Abnegation, Dauntless, Amity, and Erudite¿depending on their beliefs, passions, and loyalties. When Tris forsakes her Abnegation family to become one of the wild, fearless Dauntless, she must confront her deepest fears, learn to trust her fellow initiates, and guard the ominous secret that she is actually a Divergent, with the strengths of multiple factions, and is therefore a target of dangerously controlling leaders. Roth's descriptions of Tris's initiation process are as spellbinding as they are violent, while the tremulous romance between Tris and her protective and demanding instructor, Four, unfurls with heart-stopping tenderness. For those who loved The Hunger Games and are willing to brave the sometimes sadistic tests of strength and courage Tris must endure, the reward is a memorable, unpredictable journey from which it is nearly impossible to turn away. Ages 14¿up. (May)."
(c) Copyright PWxyz, LLC. All rights reserved
Additional Information