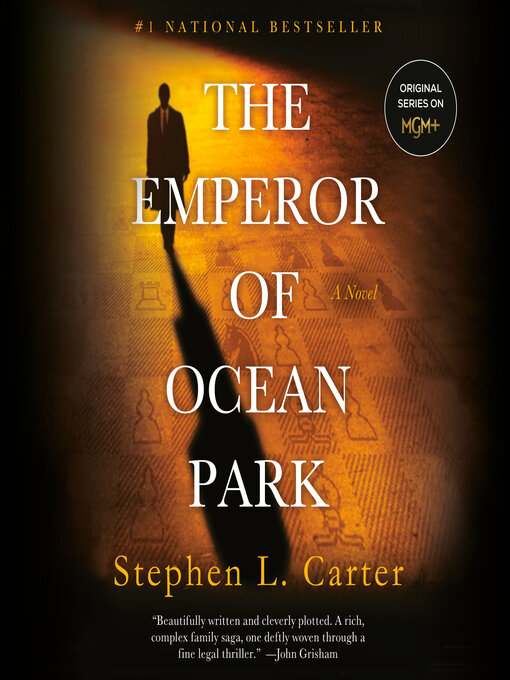 The emperor of Ocean Park
Format:

OverDrive MP3 Audiobook

2007

2003

OverDrive Listen

Availability:

Unavailable

0 of 1 copy
Summary
Set in the era of the Nixon and Reagan presidencies, this novel examines the American conscience while inviting us into the glittering world of the East Coast legal community. Carter's book follows black Ivy League law professor Talcott Garland as he investigates the death of his father, Judge Oliver Garland, the eponymous Emperor. When Judge Garland received a Supreme Court nomination, a nationally televised humiliation forced his withdrawal, a scandal from which he never recovered. Now his sudden death hints at an even more terrible scandal that links this privileged Martha's Vineyard family to the shadowlands of crime. To follow the clues left by his father, Tal risks everything, and uncovers a tapestry of ambition, family secrets, and justice gone terribly wrong.

Published Reviews
Booklist Review:
"Freed from the constraints of nonfiction, Yale law professor Carter offers scathing social commentary in his first novel. This suspenseful tale of ambition, revenge, and the power of familial obligations is set in the privileged environs of an Ivy League law school, Martha's Vineyard, and Washington, D.C. Oliver Garland is the demanding but emotionally distant patriarch of an elite, affluent African American family used to special privileges and close relationships with the powerful in government, business, and the criminal underworld. Oliver's death sparks renewed interest in his political career--as a vitriolic conservative, embittered by a failed bid for the U.S. Supreme Courtconcern in many quarters about "arrangements" he has made in the event of his demise. Garland's son Talcott, a law professor, is very reluctantly drawn into the intrigue. If he pursues the enticing mystery set in motion by his father, Tal risks his marriage, his career, even his life. And in the course of discovering his father's shortcomings, Tal must own up to his own. Legal minds and powerbrokers debate race, class, economics, feminism, abortion rights, morality, and religion as they jockey for position in the academy and on the bench and either foil or further Tal's efforts to solve the mystery of his and his father's lives. Despite Carter's disclaimer, some readers are sure to suspect this is a roman aclef with fascinating insights into the behind-the-scenes machinations of racial and power politics. An elegantly nuanced novel, with finely drawn characters, a challenging plot, and perfect pacing. --Vanessa BushAdult Books Young adult recommendations in this issue have been contributed by the Booklist staff and by reviewers Nancy Bent, John Charles, Tina Coleman, Patty Engelmann, Roberta Johnson, Judy King, John Mort, Shelley Mosley, Renee Saito, Regina Schroeder, Karen Simonetti, Candace Smith, and Beth Warrell. Titles recommended for teens are marked with the following symbols: YA, for books of general YA interest; YA/C, for books with particular curriculum value; YA/L, for books with a limited teenage audience; YA/M, for books best suited to mature teens."
From Booklist, Copyright (c) American Library Association. Used with permission.
Publisher's Weekly Review:
"Carter, a Yale law professor and distinguished conservative African-American intellectual known for his nonfiction (The Culture of Disbelief), has written a first-rate legal thriller guaranteed to broaden his audience. The narrator, Talcott Garland, is a law professor at Elm Harbor University whose occasional Carteresque editorializing about politics and justice are saved from didacticism by his abiding existential loneliness. The mystery at the heart of the novel stems from Tal's father's disgrace: Judge Oliver Garland (a Robert Bork meets Clarence Thomas type) was nominated by Ronald Reagan for a Supreme Court seat, but brought down in the Senate hearings when it was revealed that he had a friendship with Jack Ziegler, a wild-card former CIA agent now rumored to be an organized crime kingpin. When the judge dies of what looks like a heart attack and Ziegler turns up at his funeral, Tal is initiated into a quest to uncover mysterious "arrangements" his father made in the event of his untimely demise. Various shady entities observe Tal chasing down the judge's clues, which include a cryptic note ("you have little time.... Excelsior! It begins!") and derive from chess strategy. Meanwhile, Talcott is going through a rough patch: his wife, Kimmer, a high-powered attorney, is probably cheating on him, his Elm Harbor law school colleagues are suspicious of him and a fake FBI man is following him around. As Talcott digs deeper, he uncovers a vein of corruption that runs all the way to the top, and his own life becomes threatened. This thriller, which touches electrically on our sexual, racial and religious anxieties, will be the talk of the political in-crowd this summer. (June) Forecast: A dual main selection of BOMC, a main selection of QPB and an alternate selection of the Literary Guild, Mystery Guild and Black Expressions, this title should bring Carter the wide recognition he deserves as a novelist. (c) Copyright PWxyz, LLC. All rights reserved"
(c) Copyright PWxyz, LLC. All rights reserved
Additional Information