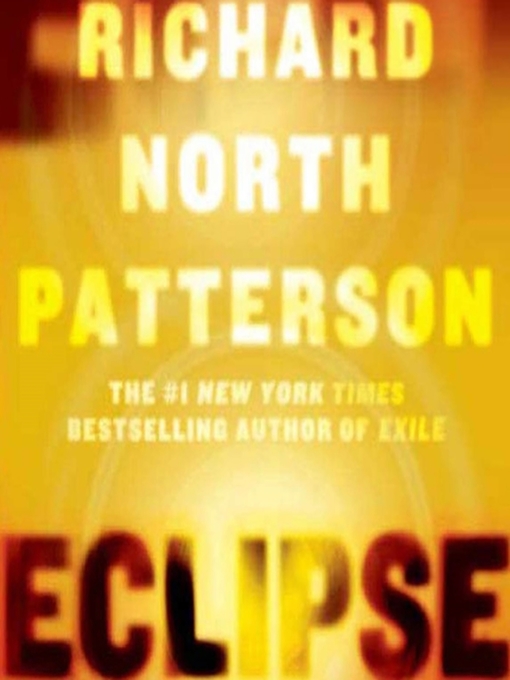 Eclipse
Format:

OverDrive MP3 Audiobook

2009

2009

OverDrive Listen

Availability:

Available from OverDrive

1 of 1 copy
Summary
Damon Pierce's life has just reached a defining moment: a gifted California lawyer, he's being divorced by his wife, and his work often seems soulless. Then he receives an urgent email from Marissa Brand Okari--a woman he loved years ago--and decides to risk everything to respond to her plea for help. Marissa's husband, Bobby Okari, is the leader of a freedom movement in the West African nation of Luandia. Bobby's opposition to the exploitation of his homeland by PetroGlobal--a giant American oil company with close ties to Luandia's brutual government--has enraged the country's autocratic ruler. After Bobby leads a protest rally during a full eclipse of the sun, everyone in his home village is massacred by government troops. And now Bobby has been arrested and charged with the murder of three PetroGlobal workers. Pierce agrees to defend Bobby, hoping to save both Bobby and Marissa from almost certain death. But the lethal politics of Luandia may cost Pierce his life instead.

Published Reviews
Booklist Review:
"Patterson veers away from American politics in his latest and takes readers to the fictional African country of Luandia. California lawyer Damon Pierce responds to a cry for help from Marissa Brand Okari, who he fell in love with years ago but lost to another man, when her activist husband is arrested in Luandia. After Bobby Okari holds a peaceful demonstration in the town of Goro against the oil company PetroGlobal Luandia, he's framed for the murder of three PGL employees. The government's response is swift and appalling: soldiers slaughter civilians in Goro and arrest and torture Bobby.Damon agrees to defend Bobby before a tribunal, despite the extreme personal danger he faces in Luandia and the near certainty that Bobby will be killed. Patterson has done his research, modeling his tale on the execution in Nigeria of the activist Ken Saro-Wiwa. If the result isn't quite edge-of-your-seat thrilling, his descriptions of the complex internal and external politics of Luandia are fascinating. Though most of the time it does feel like Pierce is wielding a paper sword (as one character aptly describes his efforts), Bobby's plight and Pierce's efforts in the face of insurmountable odds should engage Patterson fans.--Huntley, Kristine Copyright 2008 Booklist"
From Booklist, Copyright (c) American Library Association. Used with permission.
Publisher's Weekly Review:
"This stellar legal thriller from bestseller Patterson (Exile) both informs and entertains. On the eve of getting a divorce, Damon Pierce, a 40-year-old partner in a huge San Francisco, Calif., law firm, who specializes in international litigation, e-mails Marissa Brand, a woman he was once in love with in college, to update her on his life. Marissa is married to Bobby Okari, a firebrand reformer whose Nigeria-like country, Luandia, is awash in oil. With these riches come the usual scenarios: ecological disasters, a brutal dictator with murderous henchmen, a rapacious foreign oil company and an oppressed populace. After everyone in Okari's village is slaughtered, Bobby is arrested for the lynching of three oil workers. Damon, because he's a good man and because he's still in love with Marissa, signs on to defend Bobby from the bogus charge. Patterson has exerted all his considerable skill in creating a nightmare atmosphere that will cling to readers long after the last page is turned. Author tour. (Jan.) (c) Copyright PWxyz, LLC. All rights reserved"
(c) Copyright PWxyz, LLC. All rights reserved
Additional Information