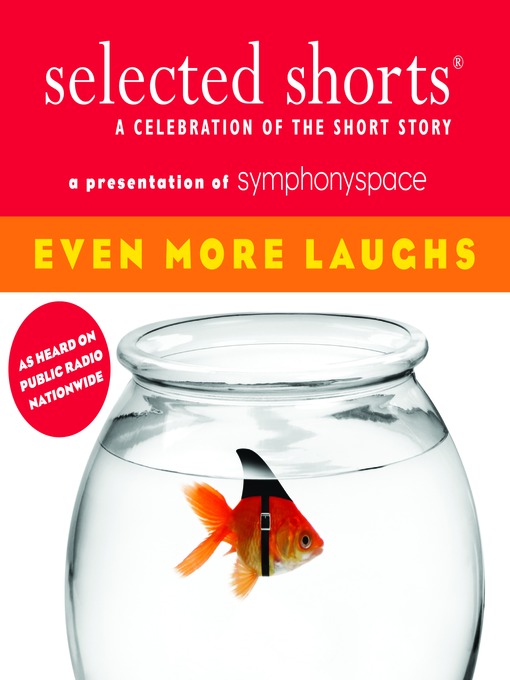 Selected shorts. a celebration of the short story.
Format:

OverDrive MP3 Audiobook

2010

2010

OverDrive Listen

Availability:

Available from OverDrive

1 of 1 copy
1 person on waitlist
Summary
From silly chuckles to rueful ironic glee to deep cosmic laughter, this new volume of humorous tales samples the best of recent seasons of the popular public radio series Selected Shorts.T...

Contents
The lie / T. Coraghessan Boyle
The spray / Jonathan Lethem
The swim team / Miranda July
The Schartz-Metterklume method / Saki
Country cooking from central France: roast boned rolled stuffed shoulder of lamb (farce double) / Harry Mathews
Yma dream / Thomas Meehan
Covered / Julia Slavin
The conversion of the Jews / Philip Roth.
Published Reviews
Publisher's Weekly Review:
"Symphony Space and its distinguished cast bring these favorite humorous short stories to the world of recorded audio. This compilation blends classics, such as Saki's "The Schartz-Metterklume Method" (performed with sly humor by Marian Seldes) and Philip Roth's "The Conversion of the Jews" (read with verve by Jerry Zaks) with more recent works, including Miranda July's "The Swim Team" (milked for every laugh by Parker Posey). Thomas Mehan's "Ima Dream" (performed with perfect timing by Christine Baranski) and Harry Mathews's "Country Cooking from Central France" (given rather too much weight by Isaiah Sheffer) are one-line jokes that go on for too long. These entertaining stories will provide much-needed comic relief to combat winter's coming chill. and other adversities. (Oct.) (c) Copyright PWxyz, LLC. All rights reserved."
(c) Copyright PWxyz, LLC. All rights reserved
Additional Information
Subjects
Short stories, American
Short stories
Short Stories
Fiction
Humor (Fiction)
Short stories.
Audiobooks.

Publisher

New York :Symphony Space, Inc,2010




Symphony Space, Inc2010



Other Titles
Selected shorts (Radio program)
Lie.
Spray.
Swim team.
Schartz-Metterklume method.
Country cooking from central France: roast boned rolled stuffed shoulder of lamb.
Yma dream.
Covered.
Conversion of the Jews.
Even more laughs

Contributors
Colbert, Stephen, 1964-
Leonard, Robert Sean, 1969-
Posey, Parker, 1968-
Seldes, Marian.
Sheffer, Isaiah.
Baranski, Christine.
Baldwin, Alec, 1958-
Zaks, Jerry, 1946-
Boyle, T. Coraghessan. Lie.
Lethem, Jonathan. Spray.
July, Miranda, 1974- Swim team.
Saki, 1870-1916. Schartz-Metterklume method.
Mathews, Harry, 1930-2017. Country cooking from central France: roast boned rolled stuffed shoulder of lamb.
Meehan, Thomas. Yma dream.
Slavin, Julia. Covered.
Roth, Philip. Conversion of the Jews.
OverDrive, Inc.

Participants/Performers

Performed by Stephen Colbert, Robert Sean Leonard, Parker Posey, Marian Seldes, Isaiah Sheffer, Christine Baranski, Alec Baldwin, Jerry Zaks.



Language

English



System Details

Mode of access: World Wide Web.




Format: OverDrive MP3 Audiobook




Format: OverDrive WMA Audiobook




Requires OverDrive Media Console 3.0 (Windows) / 1.0 (Mac) / 1.0 (Windows Mobile) or OverDrive Media Console 1.0 / 1.0 (Windows Mobile)



Description

1 audio file : digital



ISBN
9781934033142

Other
Classic View