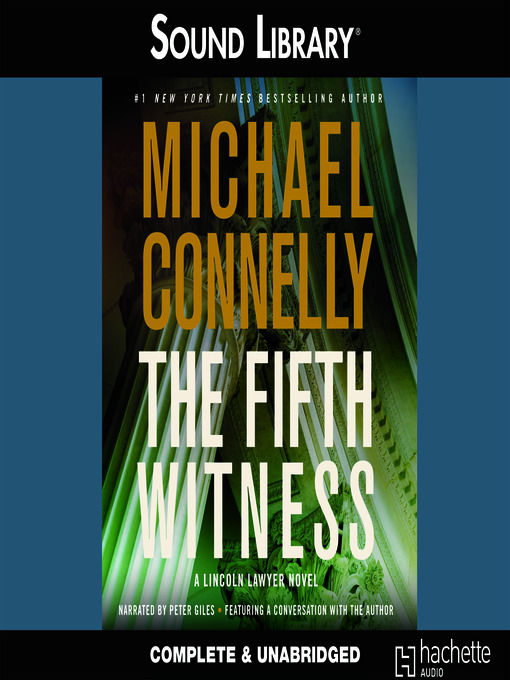 The fifth witness a novel
Format:

OverDrive MP3 Audiobook

2011

2011

OverDrive Listen

Availability:

Available from OverDrive

1 of 3 copies
2 people on waitlist
Summary
Mickey Haller has fallen on tough times, and must expand his business into foreclosure defense. One of his new clients is accused of killing the banker she blames for trying to take away her home. Despite the danger, he mounts the best defense of his career in a trial with as many switchbacks as there are seats on the jury, with the last surprise coming after the verdict is in.Mickey Haller has fallen on tough times...

Published Reviews
Booklist Review:
"*Starred Review* Crime-fiction megastar Connelly can always be counted on to try something a little different. In The Reversal (2010), his last Mickey Haller novel, starring the L.A. lawyer who prefers to work out of his Lincoln Town Car, Connelly offered a tour de force of plotting on multiple levels. Here, he narrows the focus considerably, concentrating almost exclusively on what happens inside the courtroom but bringing to the traditional give-and-take of prosecutor, defender, judge, and jury an altogether more complex commingling of personality and legal strategy than is typically on view in legal thrillers. He accomplishes this with a particularly rich first-person narration in which Haller takes us through the courtroom drama as it happens, noting his blunders and praising himself for quick-thinking improvisations. It doesn't hurt, either, that the plot is meaty: a woman whom Haller was representing in a suit against the bank attempting to foreclose on her mortgage is accused of killing the bank official in charge of foreclosures. Combining ripped-from-the-headlines information on the mortgage crisis with a cast of characters that defies stereotypes at every turn of the plot, Connelly shows once again that he will never simply ride the wave of past success. And, neither, apparently, will Mickey Haller, as he reveals a shocking change of direction in the novel's final pages. HIGH-DEMAND BACKSTORY: Connelly's latest Mickey Haller novel will benefit from the release in March of a movie version of The Lincoln Lawyer, the first Haller novel, starring Matthew McConaughey. 750,000 first printing.--Ott, Bill Copyright 2010 Booklist"
From Booklist, Copyright (c) American Library Association. Used with permission.
Publisher's Weekly Review:
"Connelly's compelling fourth legal thriller featuring Mickey Haller (after Reversal) finds the maverick L.A. lawyer who uses his Lincoln town car as an office specializing in "foreclosure defense." Haller's first foreclosure client, Lisa Trammel, is fighting hard to keep her home, maybe too hard. The bank has gotten a restraining order to stop Trammel's protests, and she becomes the prime suspect when Mitchell Bondurant, a mortgage banker, is killed with a hammer in his office parking lot. A ton of evidence points to Trammel, but Haller crafts an impressive defense that includes "the fifth witness" of the title. Connelly has a sure command of the legal and procedural details of criminal court, and even manages to make the arcane, shady world of foreclosure interesting. While the prose may lack some of the poetic nuance of his early novels, the plot is worthy of a master storyteller. The film of The Lincoln Lawyer, the first Mickey Haller novel, releases in March. (Apr.) (c) Copyright PWxyz, LLC. All rights reserved."
(c) Copyright PWxyz, LLC. All rights reserved
Additional Information