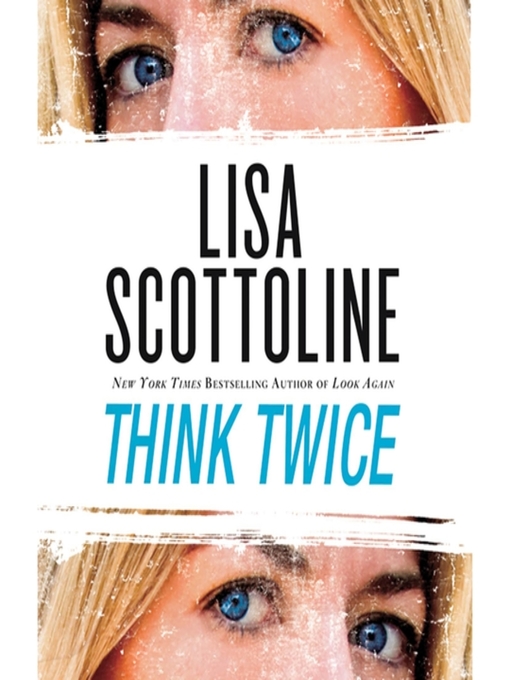 Think twice
Format:

OverDrive MP3 Audiobook

2010

2010

OverDrive Listen

Availability:

Unavailable

0 of 1 copy
Summary
On the run from drug dealers, Alice Connelly spikes her twin sister Bennie's drink in an attempt to steal her identity and money. The plan works perfectly, and Bennie is left to explain her situation to the police. When her pleas fall on deaf ears, she teams up with another of Alice's victims to reclaim her identity.

Published Reviews
Booklist Review:
"It was bound to happen: after legal eagle Bennie Rosato saved her sinister twin sister, Alice, from a murder rap in Mistaken Identity (1999) and discovered Alice impersonating her in Dead Ringer (2003), Alice decides to up the stakes. She invites Bennie over for dinner, drugs her, and buries her alive, intent on taking over her twin's life for a few days and stealing her fortune. As Bennie struggles to break out of the casket, Alice, pretending to be Bennie, gets a restraining order against her dangerous twin and sets into motion the transfer of Bennie's money to a bank in the Bahamas. In order to throw Mary DiNunzio, a sharp lawyer at Bennie's firm, off the track, Alice promotes her to partner. A few curveballs get thrown Alice's way, including the reappearance of Grady Wells, Bennie's ex-boyfriend, who has come to regret their breakup. Bennie manages to fight her way out of the coffin but finds that reclaiming her life is no easy matter. A subplot involving Mary's search for a house and her fears about her father's infidelity detracts from the novel's energy, but overall, Scottoline's latest is a pulse-pounding thriller, certain to please fans of her Rosato & Associates series.--Huntley, Kristine Copyright 2010 Booklist"
From Booklist, Copyright (c) American Library Association. Used with permission.
Publisher's Weekly Review:
"Bestseller Scottoline's 13th novel centered on the all-female Philadelphia law firm headed by Bennie Rosato (after Lady Killer) offers contrived situations and paper-thin characters on top of a premise that strains credibility. After Bennie's evil identical twin sister, Alice Connelly, drugs her and leaves her to die, buried in a remote farm field, Alice takes advantage of her physical resemblance to Bennie to assume her identity at the law firm as well as gain access to her wealth and, eventually, her ex-boyfriend. Many will wonder why the ruthless Alice didn't kill Bennie outright, leaving open the possibility that her victim will escape and attempt to foil her scheme. With authors like Lisa Unger proving that intelligent plotting and page-turning aren't incompatible, this tired effort is unlikely to win Scottoline new converts. 500,000 first printing; author tour. (Mar.) (c) Copyright PWxyz, LLC. All rights reserved"
(c) Copyright PWxyz, LLC. All rights reserved
Additional Information