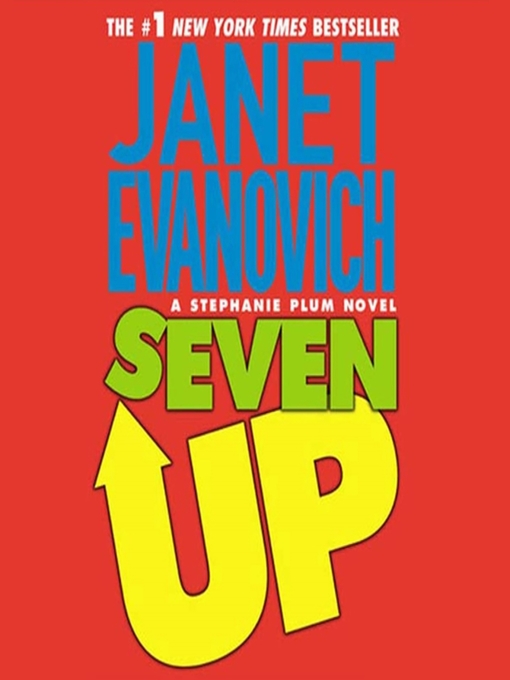 Seven up
Format:

OverDrive MP3 Audiobook

2005

2005

OverDrive Listen

Availability:

Unavailable

0 of 1 copy
2 people on waitlist
Summary
Bounty hunter Stephanie Plum must haul in the elderly bail jumper Eddie DeChooch--but she'll need the help from Ranger, her mentor. Ranger's agreed to cooperate--if Stephanie fulfills his desires.

Published Reviews
Booklist Review:
"The secret to Stephanie Plum's success is revealed on the very first page: her childhood desire to be an intergalactic princess, wear sexy footgear, and carry a cool weapon. She's done it--not the princess part, but she works for her cousin Vinnie as a bail bondswoman, making enough to pay the rent, catch up to the car payments, and afford those sexy shoes and cool guns. The Burg in Trenton, New Jersey, is full of the characters and low-lifes with whom Stephanie grew up (see "Story behind the Story" on the opposite page); this time Stephanie is trying to bring in one of those neighborhood characters, Eddie DeChooch, for his court date. Choochy is old, nearly blind, and close to incontinent, but he manages to evade Stephanie and his various other pursuers until the very end. Subplots abound: Stephanie's perfect sister, Valerie, comes home with her perfect marriage in tatters; Dougie and Mooner, sweet, befuddled fences, get into horrific trouble; Grandma Mazur discovers the, er . . . good vibrations of a Harley. And our heroine's erotic tango with hunkbar Morelli is complicated not only by the order of a wedding dress but also by the scary and irresistible Ranger, her mentor in bounty hunting, who makes her a bargain she can't refuse. Almost every chapter has a laugh-out-loud moment, but Stephanie has some time to think, too: she knows how complicated the feelings are between her and Morelli, and she knows that Ranger is complicated, too. Even Stephanie's mother gets a real moment. Funny, sexy, scary--how can we wait till next year? --GraceAnne A. DeCandido"
From Booklist, Copyright (c) American Library Association. Used with permission.
Publisher's Weekly Review:
"It's always a treat to go out on a case with Stephanie Plum, the sassy, adventurous, but not always successful Trenton, N.J., bounty hunter. In her seventh outing (after 2000's Hot Six), Stephanie's employer, her bailbondsman cousin, Vinnie, gives her an easy job: pick up vicious senior citizen Eddie DeChooch, who is constantly sighted racing around Trenton in a borrowed white Cadillac, but whom no one can grab. While in Virginia picking up the cigarettes he's charged with smuggling into New Jersey, he stole the heart from the recently dead body of his enemy, Louis DeStephano. The heart's whereabouts define the darkly hilarious trajectory of the plot. The usual characters inhabit the novel: Steph's former high school buddies, the zonked-out Dougie and Mooner; and Evanovich's best creation, feisty Grandma Mazur. Stephanie's much-resented sister Valerie returns from California with her two daughters, her "perfect" marriage ended, and moves in with her parents, to their dismay. Steph and her lover Joe Morelli almost set a wedding date, but again she avoids commitment, still attracted to fellow bounty hunter Ranger. At times the plot meanders: Stephanie and pal Lula spend too much time running from house to house in the inbred Burg neighborhood, while two semi-retired crooks looking for DeChooch keep breaking into her apartment for little reason. All in all this is another zesty Evanovich read, but one that doesn't quite hit the high marks of her last two. (June 19) Forecast: Evanovich has developed a loyal following among mystery fans and her ascendancy to the bestseller lists has introduced her to a large new readership. Despite not being up to her usual standard, this will hit the lists, too, and hard. (c) Copyright PWxyz, LLC. All rights reserved"
(c) Copyright PWxyz, LLC. All rights reserved
Additional Information