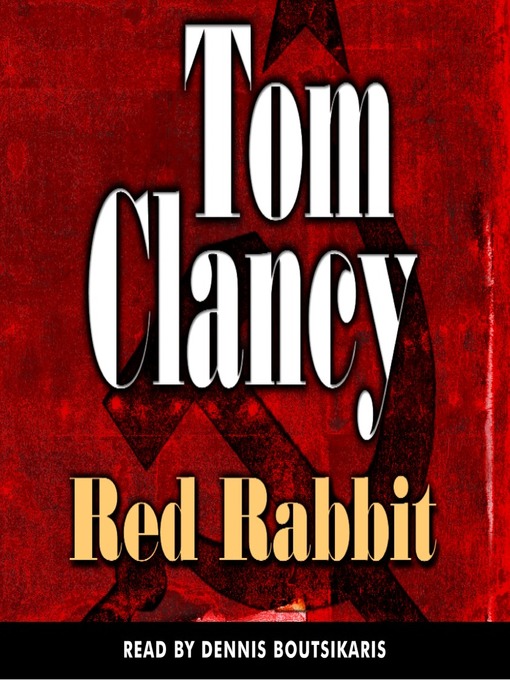 Red rabbit
Format:

OverDrive MP3 Audiobook

2006

2003

OverDrive Listen

Availability:

Unavailable

0 of 4 copies
1 person on waitlist
Summary
It is very early in Jack Ryan's career -- so early that he has not yet even become an analyst for the CIA. But a series of nasty encounters with an IRA splinter group has brought Ryan to the attention of the CIA's Deputer Director and his British counterpart. They offer him his first job as a freelance analyst, and he readily accepts. Debriefing a high-level Russian defector, however, he comes across an unbelievable plot; top Soviet officials, including Yuri Andropov, are planning to assassinate Pope John Paul II. Ryan must battle first to verify the plot, and then to stop it. But what chance does a novice CIA analyst have against a cat-and-mouse game between the world's two great superpowers?

Published Reviews
Booklist Review:
"Set in 1981, this surefire best-seller features Jack Ryan as a novice CIA analyst."
From Booklist, Copyright (c) American Library Association. Used with permission.
Publisher's Weekly Review:
"There's not a shot fired until page 602 in Clancy's lumbering new thriller, and readers up on their history will know the outcome of that shot on page 17. What comes in between is a slow-moving but, given Clancy's astonishing flair for fly-on-the-wall writing, steadily absorbing imagining of the back story behind Mehmet Ali Agca's (real-life) failed attempt on the life of Pope John II in 1981. By going back 21 years, Clancy provides a fresh adventure for a young Jack Ryan, but Ryan fans (and presumably Ben Affleck) may be surprised to learn that Ryan is, until the final scenes, only a supporting player here. The book's main heroes are the husband-and-wife team of Ed Foley, CIA station chief in Moscow, and his agent-wife, Mary Pat, and Oleg Zaitzev (code-named Rabbit), the mid-level employee in the KGB communications department who for conscience's sake decides to defect to America when he's asked to encrypt messages that reveal a plot, under the auspices of then-KGB chief Yuri Andropov, to kill the pope in response to the pontiff's secret letter threatening to resign the papacy and to return to Poland to resist Soviet domination. In real life, the pope wrote such a letter, and analysts have long speculated that the Soviets, via Bulgarian controllers, dispatched Agca to kill him. It's utterly fascinating to read Clancy's playing out of that likely scenario is there a writer in the world who brings so much verisimilitude to scenes both high (Politburo meetings) and low (details of spy craft and everyday Soviet life)? But while Clancy delivers a believable and encyclopedic version of real-life events, the suspense is minimal (Rabbit's defection goes off without a hitch) a disappointment when other writers (Forsyth in Day of the Jackal, for one) have shown that there can be enough tension in a fated-to-fail assassination plot to give a stroke to a yoga master. (Aug. 5) Forecast: That this will hit #1 is obvious; the guessing game is, for how many weeks? We predict through Labor Day, at least. (c) Copyright PWxyz, LLC. All rights reserved"
(c) Copyright PWxyz, LLC. All rights reserved
Additional Information