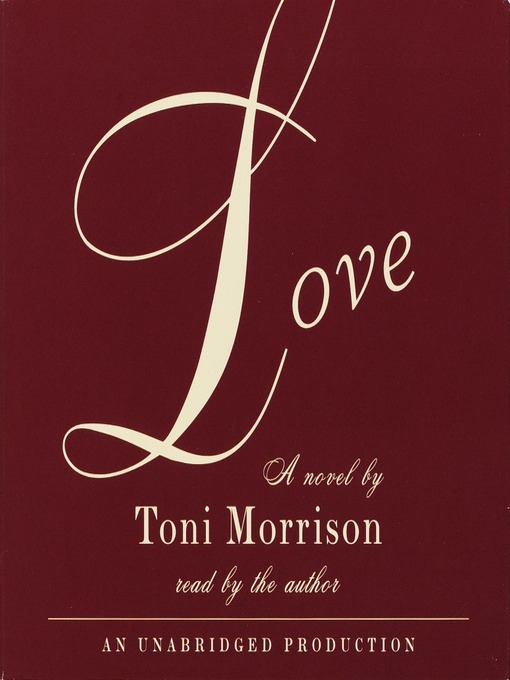 Love
Format:

OverDrive MP3 Audiobook

2007

2003

OverDrive Listen

Availability:

Available from OverDrive

10 of 10 copies
Summary
May, Christine, Heed, Junior, Vida--even L: all women obsessed with Bill Cosey. The wealthy owner of the famous Cosey's Hotel and Resort, he shapes their yearnings for father, husband, lover, guardian, and friend, yearnings that dominate the lives of these women long after his death. Yet while he is either the void in, or the center of, their stories, he himself is driven by secret forces--a troubled past and a spellbinding woman named Celestial.

Published Reviews
Booklist Review:
"Despite the simplicity of its title, Love is a profound novel. A Nobel laureate must feel considerable pressure to keep performing on a higher level than other writers. With her latest novel, Morrison slaps our face with the fact that she is better than most. The book has the tone of an elegy, for it emerges as a remembrance of and yearning for past times and past people in a black seaside community. There were days, back in the 1940s and 1950s, when the Cosey Hotel and Resort was the place for blacks to vacation, dance, and dine. Bill Cosey, a charismatic figure greatly attractive to women, ran the resort. But now Bill is dead, and the story is, as we see, not only a paean to past good times but also a portrait of Bill Cosey's power. Unusual for blacks at the time, Bill did enjoy power, both economic and social, for as far as the boundaries of his coastal town reached--his kingdom by the sea. Now, in his absence, the women in his life jockey for their own power in the vacuum he left behind; their world now revolves around his will, scribbled many years ago on a dirty menu. The novel's section headings tell the tale of the different roles Bill played in these women's lives: friend, benefactor, lover, and husband, among others. At least in her later novels, Morrison can stand to be criticized for obscurantism, which is also the case, to a certain degree, here; in fact, readers may want to compose a chart as they read, to keep characters and their relationships to each other straight. But as a vivid painter of human emotions, Morrison is without peer, her impressions rendered in an exquisitely metaphoric but comfortably open style. --Brad Hooper Copyright 2003 Booklist"
From Booklist, Copyright (c) American Library Association. Used with permission.
Publisher's Weekly Review:
"More a tapestry than a novel, Morrison's newest weaves the past into the present using perspectives as threads and voices as color. The author's soft voice forces listeners to pay close attention; even so, the novel's complex construction, coupled with her hushed tones, will have listeners reaching for "rewind" to capture the subtle details so important in Morrison's compositions. This audiobook is best suited for those prepared to concentrate closely and wait patiently as layer builds upon layer. The story opens in the 1930s on the Florida coast when L, who narrates the story from beyond the grave, sees Cosey holding his wife, Julia, in the ocean; L feels such waves of tenderness radiating off him that she signs on to his life forever and becomes both maid and chef at his hotel. The novel winds through the lives of Cosey's other women, including his granddaughter Christine and her best friend, Heed the Night Johnson. Cosey twirls them all around his little finger, abruptly and unapologetically marrying the 12-year-old Heed. Thread by thread, the novel builds as Cosey's women glitter around him, even after his death. Morrison leaves readers with the powerful realization: neither good nor evil, Cosey was simply a man. Simultaneous release with the Knopf hardcover (Forecasts, Sept. 1, 2003). (Oct.) (c) Copyright PWxyz, LLC. All rights reserved"
(c) Copyright PWxyz, LLC. All rights reserved
Additional Information