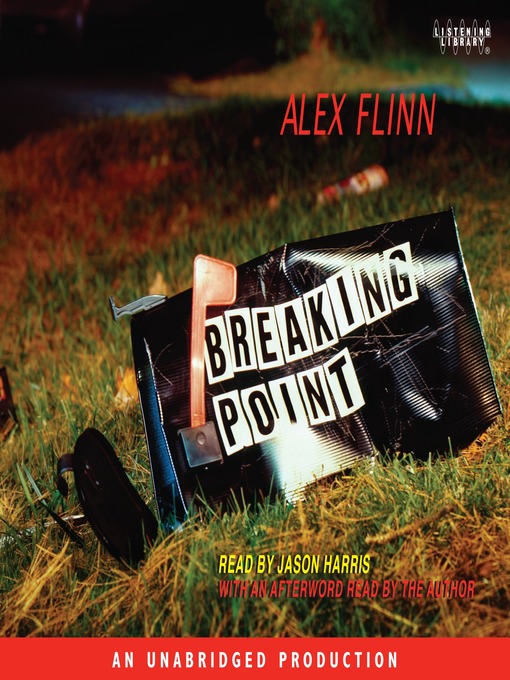 Breaking point
Format:

OverDrive MP3 Audiobook

2009

2002

OverDrive Listen

Availability:

Available from OverDrive

1 of 1 copy
Summary
Paul is new to Gate, a school whose rich students make life miserable for anyone not like them. And Paul is definitely not like them. Then, one day something incredible happens. Charlie Good, a star student and athlete, invites Paul to join his elite inner circle. All Charlie wants is a few things in return-- small things that Paul does willingly. And then, one day, Charlie wants something big--really big. Now Paul has to decide how far he'll go to be one of the gang ...

Published Reviews
Booklist Review:
"Gr. 7-10. Handicapped by his compromised status at a rich kids' private high school--he is new and his mother works at the school--Paul longs for social acceptance. His estranged father won't return his phone calls. His emotionally fragile mother relies on him in spite of his youth. Eventually, Charlie, one of the most prestigious kids on campus, seems to court him as a friend. Paul's escapades with Charlie, however, have a distinctly dangerous side; there's a mailbox-bashing incident followed by hacking into the school computer. Paul feels suspicious about some campus events, and he is particularly sickened by the school's response to a suicide. A final conflagration brings Charlie's motives into clear focus, but by then, it's too late. Flinn returns to themes of abusive teen relationships that she explored in her debut novel Breathing Underwater (2001). Grim and emotional, this is cathartic reading for teens who wonder how anyone could have a worse set of circumstances than their own. Francisca Goldsmith"
From Booklist, Copyright (c) American Library Association. Used with permission.
Publisher's Weekly Review:
"Heavy-handed writing undermines Flinn's (Breathing Underwater) stated goal for her second novel, namely, to "stimulate discussion" among teens about why kids commit violent acts. When geeky ex-homeschooler Paul Richmond enrolls as a sophomore at an exclusive Miami private school, he is immediately targeted for harassment. Living in a shabby apartment with his needy, newly divorced mother (her job in the school office lowers Paul's tuition), Paul would feel miserable even if the jocks weren't calling him "faggot" and trashing his locker. Then popular Charlie Good suddenly befriends him outside of school, that is and Paul seems willing to do anything to stay in favor. First Paul vandalizes mailboxes, then he hacks into the school computer system to change Charlie's transcript. Charlie's hold on Paul intensifies until he persuades Paul to plant a bomb in the school. Characterizations are stock, and no one, particularly not the all-powerful Charlie, seems convincing. The boys' reasons for wanting to blow up the school remain murky, and many of Flinn's devices, like the school sermons that parallel the plot, are contrived. For a more developed treatment of similar themes, readers may appreciate Gail Giles's Shattering Glass, reviewed Feb. 11. Ages 13-up. (May) (c) Copyright PWxyz, LLC. All rights reserved"
(c) Copyright PWxyz, LLC. All rights reserved
Additional Information