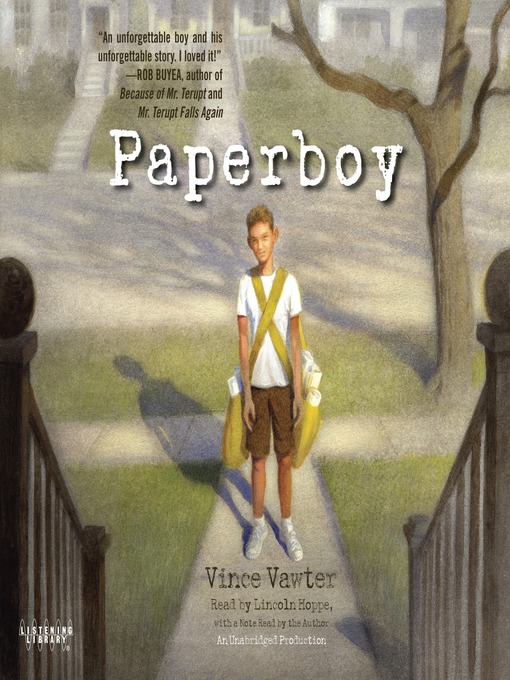 Paperboy
Format:

OverDrive MP3 Audiobook

2013

2013

OverDrive Listen

Availability:

Available from OverDrive

1 of 1 copy
Summary
When an eleven-year-old boy takes over a friend's newspaper route in July, 1959, in Memphis, his debilitating stutter makes for a memorable month.

Published Reviews
Booklist Review:
"*Starred Review* It's hot in Memphis during the summer of 1959 in all kinds of ways. Things heat up for the book's 11-year-old narrator when he takes over his pal Rat's paper route; meeting new people is a horror for the boy because he stutters. He only really feels comfortable with Rat and Mam, the African American maid who takes care of him when his parents are away, which is often. But being the paperboy forces him to engage in the world and to ask for payments from customers, like pretty, hard-drinking Mrs. Worthington and Mr. Spiro, who gives the boy the confidence to voice his questions and then offers answers that wondrously elicit more questions. Others intrude on his life as well. In a shocking scene, Ara T, the dangerous, disturbing junk man tries to take something precious from the boy. In some ways, the story is a set piece, albeit a very good one: the well-crafted characters, hot Southern summer, and coming-of-age events are reminiscent of To Kill a Mockingbird. But this has added dimension in the way it brilliantly gets readers inside the head of a boy who stutters. First-time author Vawter has lived this story, so he is able to write movingly about what it's like to have words exploding in your head with no reasonable exit. This paperboy is a fighter, and his hope fortifies and satisfies in equal measure.--Cooper, Ilene Copyright 2010 Booklist"
From Booklist, Copyright (c) American Library Association. Used with permission.
Publisher's Weekly Review:
"The name of debut novelist Vawter's 11-year-old protagonist, Vincent Vollmer III, doesn't appear until the very end of this tense, memorable story-Vincent's stutter prevents him from pronouncing it. Vincent is an excellent listener and a keen observer, and the summer of 1959 presents him with the challenge of taking over a friend's paper route in segregated Memphis. He engages with several neighborhood customers and characters while on the job, gaining new awareness of varied adult worlds, racial tension, and inequality, as well as getting into some dangerous situations. Vawter draws from his own childhood experience at a time "when modern speech therapy techniques were in their infancy," he writes in an endnote, calling the story "more memoir than fiction." The story unfolds as Vincent's typewritten account of the summer, and inventive syntax is used throughout. Commas and quotation marks are verboten-Vincent isn't a fan of the former, since he has enough extra pauses in his life already-and extra spaces appear between paragraphs, all subtly highlighting his uneasy relationship with the spoken word. Ages 10-up. Agent: Anna Olswanger, Liza Dawson Associates. (May) (c) Copyright PWxyz, LLC. All rights reserved."
(c) Copyright PWxyz, LLC. All rights reserved
Additional Information