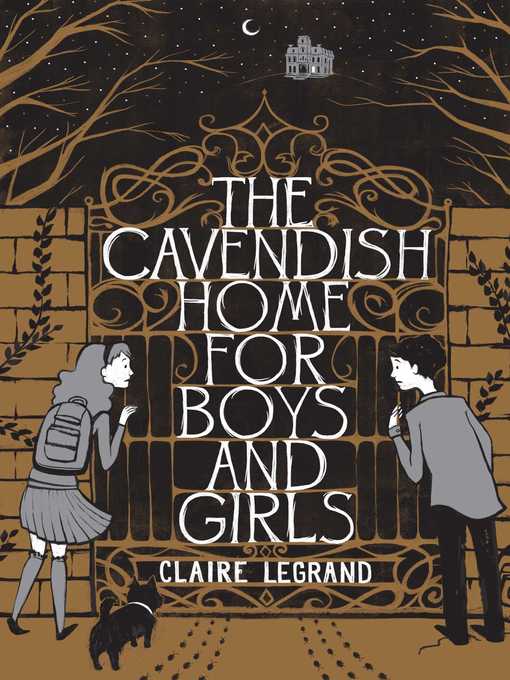 The Cavendish Home for Boys and Girls
Format:

Kindle Book

2012

2012

Adobe EPUB ebook

OverDrive Read

Availability:

Available from OverDrive

1 of 1 copy
Summary
Practically-perfect twelve-year-old Victoria Wright must lie, sneak, and break the rules when her investigation of the disappearance of her best--and only--friend, Lawrence, reveals dark secrets about her town and the orphanage run by the reclusive Mrs. Cavendish.

Published Reviews
Booklist Review:
"The town of Belleville likes things to be perfect, and no one is more in agreement than 12-year-old Victoria: perfect student, perfect daughter. She takes on a fellow classmate the imperfect Lawrence as a project, but he's also her only friend, so when he disappears, the determined Victoria sets out to find him. She knows where to look, too: the home for orphan boys and girls run by the seemingly sweet but truly diabolical Mrs. Cavendish. First-time author Legrand sets everything up beautifully, but once Victoria gets scooped up by Mrs. Cavendish, the story descends into something more ugly than scary, especially when Victoria is thrown into the hanger to be assaulted with disgusting bugs and sad visions. Nor do the reasons for Mrs. Cavendish's actions ever make much sense. Even sadists usually have a story they tell to justify themselves. Still, this has many of the elements that endeared readers to books like Roald Dahl's Matilda (1988) and Lemony Snicket's A Series of Unfortunate Events titles. It's also a handsome piece of bookmaking, with the art adding much to the package.--Cooper, Ilene Copyright 2010 Booklist"
From Booklist, Copyright (c) American Library Association. Used with permission.
Publisher's Weekly Review:
"The too-serene-to-be-true town of Belleville harbors some creepy secrets in Legrand's debut, a sinister and occasionally playful tale of suspense. Twelve-year-old perfectionist Victoria Wright has bouncy curls, a fixation on achieving straight As, and just one friend-unkempt, artistic Lawrence, who she considers her "personal project." But when Lawrence disappears, and Victoria launches an investigation to find him, she discovers more frightening trouble than she imagined. Victoria unravels the mystery behind the titular home for children, which is run by the ageless Mrs. Cavendish and a fiendish gardener/assistant. Hair-raising adventures involving slimy hidden passageways, pinching swarms of cockroaches, mystery meat, and the wrath of cruel Mrs. Cavendish fill the pages. Legrand gives Victoria's mission a prickly energy, and her descriptions of the sighing, heaving home-a character in itself-are the stuff of bad dreams. Watts's b&w illustrations of spindly characters, cryptic shadows, and cramped corridors amplify the unsettling ambiance, and her roach motif may have readers checking their arms. Ages 10-up. Agent: Diana Fox, Fox Literary. (Sept.) © Copyright PWxyz, LLC. All rights reserved."
Additional Information