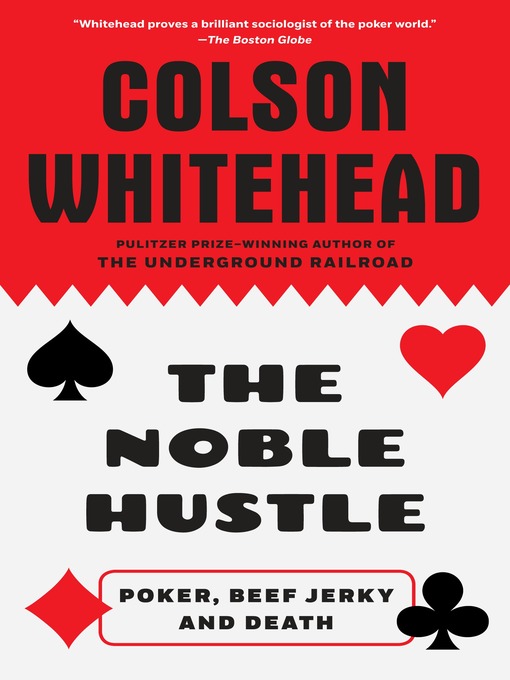 The noble hustle poker, beef jerky, and death
Format:

Kindle Book

2014

2014

Adobe EPUB ebook

OverDrive Read

Availability:

Available from OverDrive

1 of 1 copy
1 person on waitlist
Summary
"In THE NOBLE HUSTLE Colson Whitehead does for participatory journalism what he did for zombie novels in ZONE ONE: Take one literary genius, add $10,000 and a seat at the World Series of Poker, and stir. On one level, Colson Whitehead's THE NOBLE HUSTLE is a familiar species of participatory journalism - a longtime neighborhood poker player, Colson was given a $10,000 stake and an assignment from the online ESPN offshoot Grantland to see how far he could get in the World Series of Poker. But since it stems from the astonishing mind of Colson Whitehead (MacArthur Award-endorsed!), the book is a brilliant, hilarious, weirdly profound and ultimately moving portrayal of - yes, it sounds overblown and ridiculous, but really! - the human condition"--

Contents
The Republic of Anhedonia
Making the nature scene
The poker chips is filth
Wretch like me
How are you going to break it to Cujo?
Every ante is a soul
M.
Published Reviews
Booklist Review:
"*Starred Review* This is not one of those poker books about a gang of math whizzes from Harvard who go to Vegas and win a gazillion dollars. About those guys, Whitehead says, The part of the brain they used for cards, I used to keep meticulous account of my regrets. And, yet, Whitehead has some personality quirks that make him a decent poker player: I have a good poker face because I am half dead inside. A self-described citizen of the Republic of Anhedonia, whose residents are unable to experience pleasure, Whitehead, author of Zone One (2011) and other novels, agrees to enter the World Series of Poker in Las Vegas and see how far his half-dead poker face and a $10,000 stake can take him. Not very far, as it turns out, despite reading countless poker books and working with a coach and physical trainer. Yes, he learns a little, but in the end, people, as ever, are the problem. Specifically, those nine other people at the table, their weathered faces showing the underlying narrative of their decay. Yes, Whitehead's account may seem at first like just another sad story about a pair of Jacks, but it's really something very different, much sadder and much, much funnier. He calls his book Eat, Pray, Love for depressed shut-ins, and that pretty much says it, if you remember that the eating part is mostly about beef jerky and the praying is for aces. If you're looking for read-alikes, forget other poker books and pick up Geoff Dyer's Out of Sheer Rage: Wrestling with D. H. Lawrence (1998).--Ott, Bill Copyright 2014 Booklist"
From Booklist, Copyright (c) American Library Association. Used with permission.
Publisher's Weekly Review:
"The eternal tension between good luck and remorseless odds animates this loose-limbed jaunt through the world of high-stakes poker. Novelist Whitehead (Zone One) was staked to a berth in the World Series of Poker by Grantland magazine, a mission for which he frankly declares himself unqualified, owing to his rather desultory pick-up games, haphazard training regimen featuring yoga lessons, deep and semi-baffled immersion in the arcana of poker-playing manuals, and bus trips to Atlantic City for seedy practice tournaments. His journey unfolds in a series of jazzy, jokey riffs on the cultural detritus of poker: the take-over of the game by young "Robotrons" honed by online gaming; Vegas's "Leisure-Industrial Complex," a terrain of soulful soullessness where "your true self is laid bare with all its hungers and flaws and grubby aspirations." Along the way, poker emerges as the national sport of "the Republic of Anhedonia," his habitually depressive, fatalistic State of mind that recognizes that "eventually, you will lose it all"-and that playing it safe is therefore the ultimate sucker's strategy. Whitehead serves up an engrossing mix of casual yet astute reportage and hang-dog philosophizing, showing us that, for all of poker's intricate calculations and shrewd stratagems, everything still hangs on the turn of a card. (May 6) (c) Copyright PWxyz, LLC. All rights reserved."
(c) Copyright PWxyz, LLC. All rights reserved
Additional Information