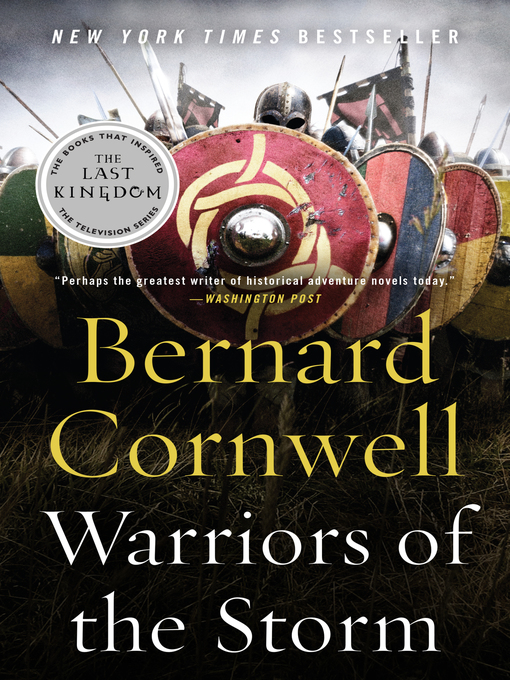 Warriors of the storm a novel
Format:

Kindle Book

2016

2016

Adobe EPUB ebook

OverDrive Read

Availability:

Available from OverDrive

1 of 1 copy
Summary
A fragile peace governs the kingdoms of Wessex, East Anglia, under the rule of the late King Alfred's son, King Edward, and Mercia, under his daughter Aethelflaed. Uhtred, her formidable champion and greatest warrior, controls the northern parts from the strongly fortified city of Chester. But no one can prepare them for the storm that is about to descend. The Northmen, allied to the Irish, come in force under the cover of night, up the Mersey, perhaps to attack Chester, perhaps to rage and pillage through Mercia, perhaps to take the troubled kingdom of Northumbria. They are led by the terrifying Viking warrior Ragnall Ivarson, a fierce fighter and ruthless leader. He and his army are formidable enough but worse still, his brother is married to Uhtred's daughter. With his passionate determination, Uhtred will stop at nothing to take back his corner of Northumbria and secure the future of Bebbanburg. But for Aethelflaed and the Mercians, doubt must arise to where his loyalty lies. In the struggle between family and loyalty, between oaths given and political demands, there is no easy solution. And the clash between the Vikings and the Saxons will resound across the land.

Published Reviews
Booklist Review:
"Cornwell (The Empty Throne, 2015) continues his epic rendering of the long and brutal path toward the unification of Britain, in appropriately bloody fashion. As in the previous eight installments of the Saxon Tales, the indomitable Uhtred of Bebbanburg narrates as he moves from one spectacular battle to the next. Though the late King Alfred's son, Edward, rules Wessex and East Anglia, and his daughter, Aethelflaed, holds a tenuous grip on Mercia, with Uhtred's assistance in the north, the Vikings are not content with the status quo. When Uhtred's old enemy, Ragnall the Cruel, cobbles together a formidable coalition of Vikings, Irishmen, and Northumbrians, Uhtred, despite his somewhat divided loyalties, reacts to the threat of invasion in order to preserve the Saxon strongholds. Though this is a Cornwell novel and, therefore, the combat scenes are paramount, the tangled politics and social mores of the day are intricately interwoven into the plot, placing the frenzied action firmly into historical context.--Flanagan, Margaret Copyright 2015 Booklist"
From Booklist, Copyright (c) American Library Association. Used with permission.
Additional Information
Series
Cornwell, Bernard. Last kingdom.
#1 - The Last Kingdom
#2 - The Pale horseman
#3 - Lords of the north
#4 - Sword song
#5 - The Burning land
#6 - Death of kings
#7 - The Pagan lord
#8 - The Empty throne
#9 - Warriors of the storm
#10 - The Flame bearer
#11 - War of the wolf
#12 - Sword of kings
#13 - War lord

Subjects
Edward, King of England, -924 Fiction
Ethelfled, -918 Fiction
Ragnall ua Ímair, -921 Fiction
Saxons Fiction
Vikings England History Fiction
Literature
Historical Fiction
Thriller
Fiction
Mercia (Kingdom) Fiction.
Northumbria (Kingdom) Fiction.
Great Britain History Edward the Elder, 899-924 Fiction.
Great Britain History Anglo-Saxon period, 449-1066 Fiction.
Electronic books.
Historical fiction.
-924
-918
-921
Edward the Elder, 899-924
Anglo-Saxon period, 449-1066

Publisher

New York :HarperCollins,2016




HarperCollins2016



Contributors
OverDrive, Inc.

Language

English



System Details

Mode of access: World Wide Web.




Format: Adobe EPUB eBook




Format: Kindle Book




Format: OverDrive Read




Requires Adobe Digital Editions



Description

1 online resource.



ISBN
9780062250964
9780062250964

Other
Classic View