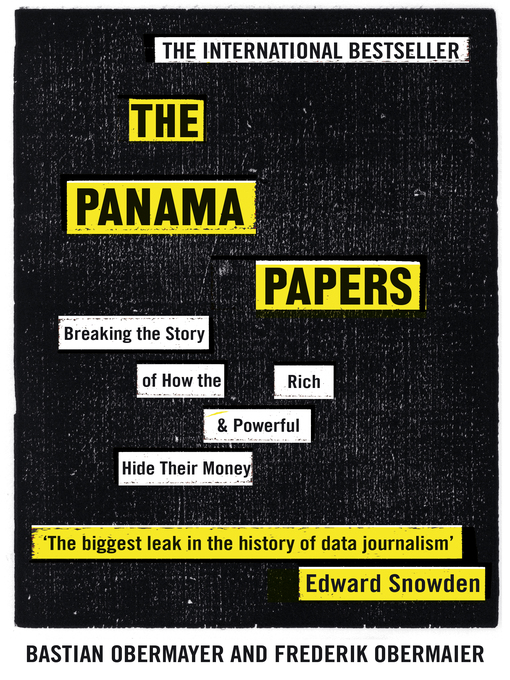 The Panama papers breaking the story of how the rich & powerful hide their money
Format:

Adobe EPUB ebook

2016

2016

OverDrive Read

Availability:

Available from OverDrive

1 of 1 copy
Summary
"Late one evening, investigative journalist Bastian Obermayer receives an anonymous message offering him access to secret data. Through encrypted channels, he then receives documents revealing how the president of Argentina has sequestered millions of dollars of state money for private use. This is just the beginning. Obermayer and fellow Süddeutsche journalist Frederik Obermaier find themselves immersed in the secret world where complex networks of letterbox companies help the super-rich to hide their money. Faced with the contents of the largest data leak in history, they activate an international network of journalists to follow every possible line of inquiry. Operating in the strictest secrecy for over a year, they uncover cases involving European prime ministers and international dictators, emirs and kings, celebrities and aristocrats. The real-life thriller behind the story of the century, The Panama Papers is an intense, unputdownable account that proves, once and for all, that there exists a small elite living by a different set of rules and blows their secret world wide open."--Back cover.

Published Reviews
Publisher's Weekly Review:
"A reporter at Munich's Süddeutsche Zeitung newspaper gets an anonymous text message that asks, "Interested in data?" So begins the saga of the Panama Papers, the largest leak of information to journalists in history. Obermayer encourages his contact, "John Doe," whose disclosures pull back the curtain on the dealings of Panamanian law firm Mossack Fonseca, which, over several decades, helped set up hundreds of thousands of shell companies for a global array of famous-and infamous-clients. The resulting investigation into 11.5 million documents, assisted by the International Consortium for Investigative Journalists, topples multiple political figures, including Iceland's prime minister, and implicates public figures and major companies from around the world. Despite the challenge of summing up the work of over 320 reporters from over 70 countries, the coauthors, both Süddeutsche Zeitung reporters, present a straightforward account that involves German banks, soccer superstar Lionel Messi, African dictators, China's new elite, and Vladimir Putin's inner circle. This book is a fascinating first look at a scandal that may be the beginning of the end of the opaque and dodgy offshore finance industry. (July) © Copyright PWxyz, LLC. All rights reserved."
Additional Information