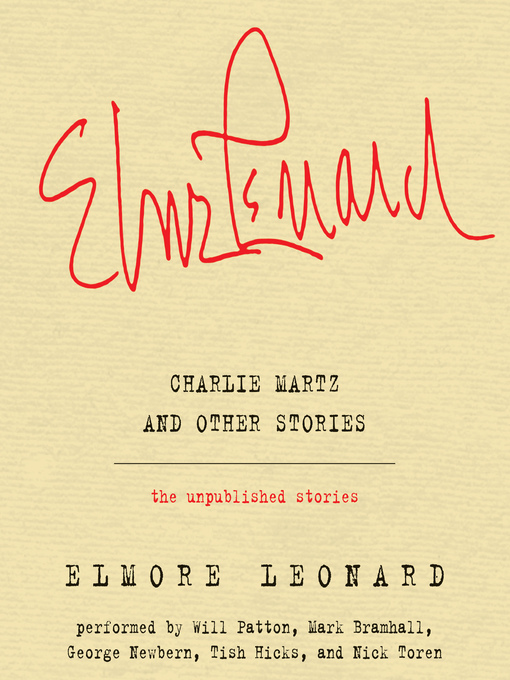 Charlie Martz and other stories the unpublished stories
Format:

OverDrive MP3 Audiobook

2015

2015

OverDrive Listen

Availability:

Available from OverDrive

1 of 1 copy
1 person on waitlist
Summary
A collection of fifteen stories, eleven of which have never been previously published, from the early career of bestselling American master Elmore Leonard.

Contents
One, horizontal
Charlie Martz
Siesta in Paloverde
Time of terror
A happy, lighthearted people
Arma virumque cano
Confession
Evenings away from home
For something to do
The Italian cut
The only good Syrian foot soldier is a dead one
The line rider
The trespassers
The bull ring at Blisston
Rebel on the run.
Published Reviews
Booklist Review:
"Leonard, whose 10 Rules of Writing became a famous touchstone for authors, breaks many of his own edicts in this collection of 15 early, mostly unpublished stories from the 1950s but, to be fair, even the guy who writes the rules first needs to decide what they are. Here we see a master craftsman in his apprenticeship, his influences more apparent than his influence as he tries his hand at crime fiction (One, Horizontal); westerns (Charlie Martz, First Western Siesta in Paloverde); general magazine fiction (A Happy, Light-Hearted People, Evenings Away from Home); and more (Time of Terror, a tale of terrorism in Malaysia). Already Leonard's imagination is pulled between present and past, between Midwest, West, and abroad, interests that would define his career. Are they good stories? Well, pretty good. They contain both the promise and the problems of all such early work, and readers will have to decide whether their time would be better spent revisiting the products of the writer at his peak. Die-hard fans will find this one difficult to resist.--Graff, Keir Copyright 2015 Booklist"
From Booklist, Copyright (c) American Library Association. Used with permission.
Publisher's Weekly Review:
"Written while Leonard (Perfidia) held a day job as an advertising copywriter at Chevrolet, this posthumous collection showcases the early writing of the author of westerns and crime stories, revealing his particular genius in embryonic, pulpish form. Fans of Justified's Deputy U.S. Marshal Raylan Givens will recognize his roots in straight-shooting Charlie Martz, a lawman in the New Mexico Territory who is featured in several stories. Aficionados of the classic movie westerns 3:10 to Yuma and The Tall T, both adapted from Leonard's short stories, will find a familiar narrative in "Confession," in which a Catholic priest defends his church against two cold-blooded outlaws. Readers familiar with the mean streets of Leonard's Detroit will feel right at home with "One, Horizontal," as a man seeks revenge on the mobsters responsible for crippling his brother. Tough guys, another Leonard constant, clash in "For Something to Do," in which a veterinarian squares off against a jealous boxer over a woman. Leonard's trademark pitch-perfect ear for dialogue is on full display with the battling husband and wife of "The Italian Cut." And lovers of his movie-business satire, Get Shorty, will laugh knowingly at the antics of an overlooked American film extra making a sword-and-sandals epic in Spain in "The Only Good Syrian Footsoldier Is a Dead One." Despite the occasional dips into purple prose, the 16 stories in this collection are an enjoyable illustration of a writer taking his first halting steps toward greatness. (June) © Copyright PWxyz, LLC. All rights reserved."
(c) Copyright PWxyz, LLC. All rights reserved
Additional Information
Subjects
Short stories Fiction
Short stories
Mystery
Short Stories
Fiction
Audiobooks.

Publisher

New York :HarperCollins,2015




HarperAudio2015



Edition
Unabridged.
Contributors
Patton, Will, narrator.
Bramhall, Mark, narrator.
Newbern, George, 1964- narrator.
Hicks, Tish, narrator.
Toren, Nick, narrator.
OverDrive, Inc.

Participants/Performers

Read by Will Patton, Mark Bramhall, George Newbern, Tish Hicks and Nick Toren.



Language

English



System Details

Mode of access: World Wide Web.




Format: OverDrive Listen




Format: OverDrive MP3 Audiobook




Requires OverDrive app 3.0 (Windows) / 1.0 (Mac) / 1.0 (Windows Mobile)



Description

1 audio file : digital



ISBN
9780062395443
0062395440

Other
Classic View