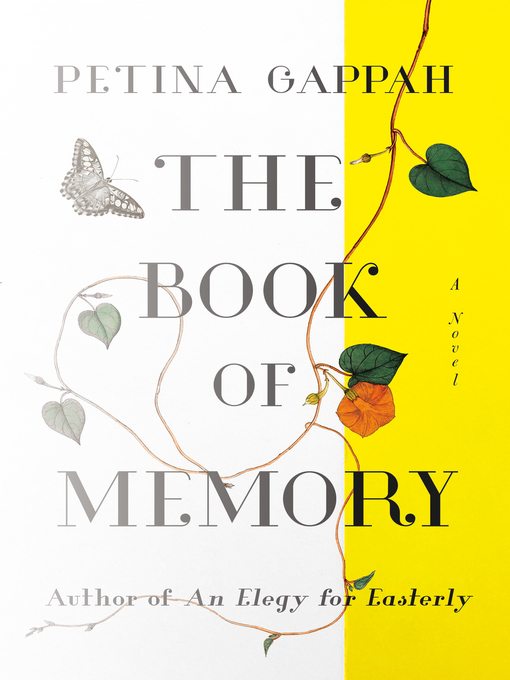 The book of memory
Format:

Kindle Book

2016

2016

Adobe EPUB ebook

OverDrive Read

Availability:

Unavailable

0 of 1 copy
Summary
Convicted of murdering her adopted father, Memory, an albino woman languishing in Chikurubi Maximum Security Prison in Harare, Zimbabwe, as part of her appeal, writes down what happened as she remembers it, in this dramatic story of love, obsession, fate and the treachery of memory. By the author of An Elegy for Easterly.

Published Reviews
Booklist Review:
"Gappah's vivid first novel, which follows the story collection, An Elegy for Easterly (2009), is an exploration into the mysterious grip of memory and perception. The narrator, significantly named Memory, is a young albino woman on death row in Zimbabwe's Chikurubi prison, charged with the murder of her white legal guardian, Lloyd. Memory documents her life leading up to her conviction, narrating a nonlinear tale that alternates between her childhood and her incarceration. Growing up in dusty Mufakose Township, Memory is haunted by her mother's unpredictable outbursts and the death of her younger sister, events further complicated by feelings of alienation due to her unusual appearance. Memory's fate is indelibly altered when, at nine, she recalls being sold to Lloyd and thus thrust into a completely new world of privilege. As Memory mines her past, she must also navigate Zimbabwe's tricky political landscape and relationships with fellow prisoners and guards. Eventually, her recollections are challenged as realities come to light. Gappah offers a nuanced, engaging journey as Memory rights the balance between truth and long-held assumptions.--Strauss, Leah Copyright 2015 Booklist"
From Booklist, Copyright (c) American Library Association. Used with permission.
Publisher's Weekly Review:
"Gappah's first novel (after the story collection An Elegy for Easterly) chronicles the death row missives written to an international journalist by a prisoner named Memory in present-day Zimbabwe. Memory, an albino woman, begins by talking about life in incarceration, the litany of inmates at Chikurubi Prison (a real prison in Harare known for its poor conditions) and the guards in charge, who are led by a bully named Synodia. Gappah crafts ample suspense regarding Memory's past and the circumstances of the incident that sent her to prison. She's charged with the murder of her guardian, Lloyd Hendricks, a white man whom Memory suspects bought her from her parents when she was nine. Hints are dropped about how the arrival of a man named Zenzo ruined Memory's life with Lloyd. Gappah also recounts Memory's childhood under her protective father and mentally unstable mother, the latter of whom subjected her albino daughter to a myriad of dubious healers for their spiritual cures. Certain aspects of the incident at the center of the story remain far-fetched, though the narrative works as a cautionary tale of how superstition and prejudice can shape one's destiny. The result is a beguiling mystery. (Feb.) © Copyright PWxyz, LLC. All rights reserved."
(c) Copyright PWxyz, LLC. All rights reserved
Additional Information