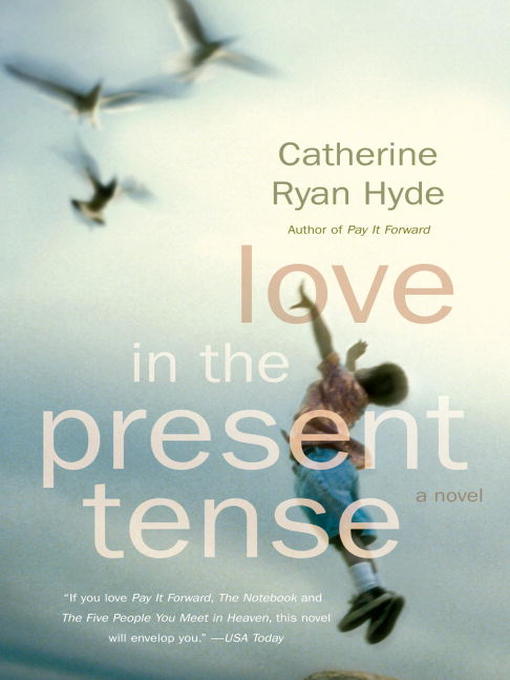 Love in the present tense
Format:

Kindle Book

2007

2007

Adobe EPUB ebook

OverDrive Read

Availability:

Available from OverDrive

1 of 1 copy
Summary
From the bestselling author of Pay It Forward comes a moving novel about the bond between a five year old abandoned by his mother and the man who raises him. After accidentally killing a police office five years ago, Pearl has managed to protect her bright, frail young son Leonard from her violent past. Then one day, Pearl drops him off with their neighbor Mitch, and never returns. Mitch is far from the ideal caretaker—he's having an affair with a client's wife—but he and Leonard must find a way to bridge the gap between them as they bond as parent and child.Gritty but big-hearted, Love in the Present Tense is an inspiring story of love and the surprising forms it can take.

Published Reviews
Booklist Review:
"Pearl was only 13 when she got pregnant and gave birth to her baby boy, Leonard. It was also on her thirteenth birthday when she killed her baby's father. She spends the next five years moving from place to place, trying to keep under the radar of the police and Leonard safe. But her past eventually catches up to her. Forced by a cop to confront what she did, Pearl leaves Leonard with the one person she trusts, her neighbor Mitch. Only Pearl never comes back. Without a parent, Leonard looks to Mitch to take care of him, and Mitch finds that taking care of Leonard is the best thing in his life. Pearl, Leonard, and Mitch each tell their versions of the story, and what unfolds is an exploration of the meaning of family and whether the bonds of love can truly transcend time and space. Although the switching back and forth between narrators occurs too often--every couple of pages--Hyde tells a rich and engaging story through the voices of three extraordinary people. --Carolyn Kubisz Copyright 2006 Booklist"
From Booklist, Copyright (c) American Library Association. Used with permission.
Publisher's Weekly Review:
"Uniting vivid, needy characters in unlikely relationships is Hyde's specialty (Pay It Forward), evidenced in her emotional sixth novel. Featuring a tough teen, her sweet son, and their flawed but sincere neighbor, each take turns narrating their story in fresh, distinct voices. At thirteen, Pearl lives with a kind prostitute while her mom copes with a crippling drug addiction. In one tragic night, Pearl gets herself pregnant and accidentally kills the father, a police officer; on the run, Pearl decides that she and her son, Leonard, will share a "forever love," an unbreakable and unconditional bond. Pearl protects Leonard like a lioness, shielding him from the dangerous world and the tragic story of his father. At five, Leonard-smart, loving and saddled with a degenerative eye disease-stays with 25-year-old next-door neighbor Mitch while Pearl works; when Pearl disappears, Mitch must assume responsibility for Leonard-not easy to do while maintaining a home business and an affair with a client's wife. Despite Pearl's mysterious departure, Leonard stays true to her "forever love," denying that he has been abandoned. Mitch isn't so sure, and when Leonard begins having his own doubts, they both must re-examine their beliefs. Hyde excels in sentimental, utopian storytelling, and though it isn't as sharp a hook as "paying it forward," her story of a love that transcends time, place and human weakness is a worthy successor. (May) (c) Copyright PWxyz, LLC. All rights reserved"
(c) Copyright PWxyz, LLC. All rights reserved
Additional Information