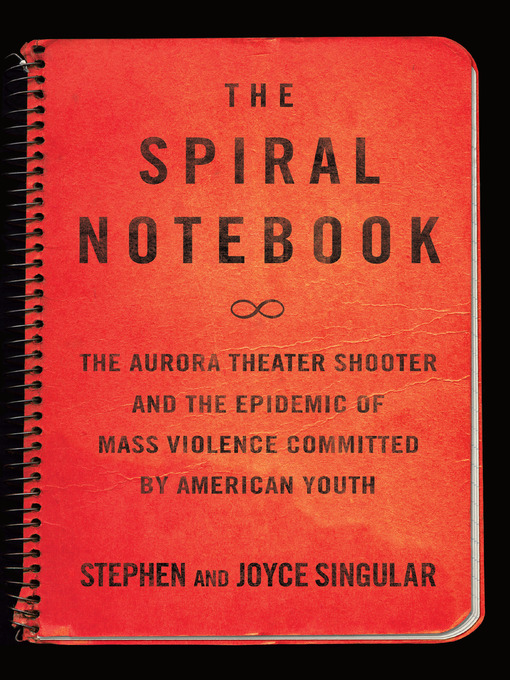 The spiral notebook the Aurora Theater shooter and the epidemic of mass violence committed by American youth
Format:

Kindle Book

2015

2015

Adobe EPUB ebook

OverDrive Read

Availability:

Available from OverDrive

1 of 1 copy
Summary
A provocative examination of the psychology behind recent mass killings in the United States argues that a socialized desensitization towards violence contributes to the events leading to such mass shootings as the Aurora theater incident.

Contents
AUTHORS' NOTE; THE SPIRAL NOTEBOOK; PROLOGUE; SUPERHERO; I; II; III; IV; Interlude; THE SIXTH FLOOR; V; VI; VII; VIII; IX; X; XI; Interlude; THE SPIRAL NOTEBOOK; XII; XIII; XIV; XV; XVI; XVII; XVIII; XIX; XX; Interlude; "JUSTICE IS DEATH"; XXI; XXII; XXIII; XXIV; XXV; Interlude; A HOUSE DIVIDED; XXVI; XXVII; XXVIII; XXIX; Interlude; MINDFULNESS; XXX; XXXI; XXXII; Interlude; EPILOGUE; ACKNOWLEDGMENTS
Published Reviews
Booklist Review:
"*Starred Review* Husband-and-wife investigative reporters and veterans of the crime beat, the Singulars were compelled to look at violence from their perspective as parents when James Holmes, a young man dressed as a commando, killed 12 people and injured 58 others in a movie theater in Aurora, Colorado, in 2012. The Singulars have a son about Holmes' age who, unlike them, was not so surprised by the shooter's actions. The Singulars offer a harrowing look at the crime and the courtroom drama. They explore the complex legal battles, particularly over the issue of Holmes' sanity and a spiral notebook that might hold the key to determining his state of mind. Was the notebook, mailed to his psychiatrist, protected by doctor-patient confidentiality, or, having been found in the course of the investigation before the doctor received it, was it game for use by the prosecution? They address the broader debate about whether publicizing Holmes' diary or the videotapes made by the Columbine shooters glorifies the killers or offers valuable insights into their behavior. Interspersed throughout are comments from a cross section of young adults about the cultural forces, from drugs to video games to social media, that may have contributed to Holmes' alienation and violent actions. This is a compelling look at gun control, mental-health treatment, and the underlying social issues that contribute to rising violence, especially that committed by young men, in our nation.--Bush, Vanessa Copyright 2010 Booklist"
From Booklist, Copyright (c) American Library Association. Used with permission.
Publisher's Weekly Review:
"The Singulars, a married couple, had a difficult conversation with their own 18-year-old son that raised concerns about the current generation of young men and women and led to this attempt to provide some way of understanding mass killers, specifically James Holmes, a former neuroscience grad student who shot up a Colorado movie theater in July 2012, killing people and wounding 58. The authors' goal is to explore "a new form of American terrorism," and thereby benefit "parents, educators, politicians, those in the media, and citizens young and old." But instead of memorable or new insights, they provide less than profound commentary on the usual suspects-the easy availability of firearms, unrelenting exposure to violence at an early age through popular culture, alienation. The quotes from Millenials that they sprinkle throughout the book, in an effort to make that demographic's voices heard, are often banal, and many readers will be uncomfortable at the categorization of "the mass shooting epidemic" as a "very loud and misdirected call from young people for change." (July) © Copyright PWxyz, LLC. All rights reserved."
(c) Copyright PWxyz, LLC. All rights reserved
Additional Information