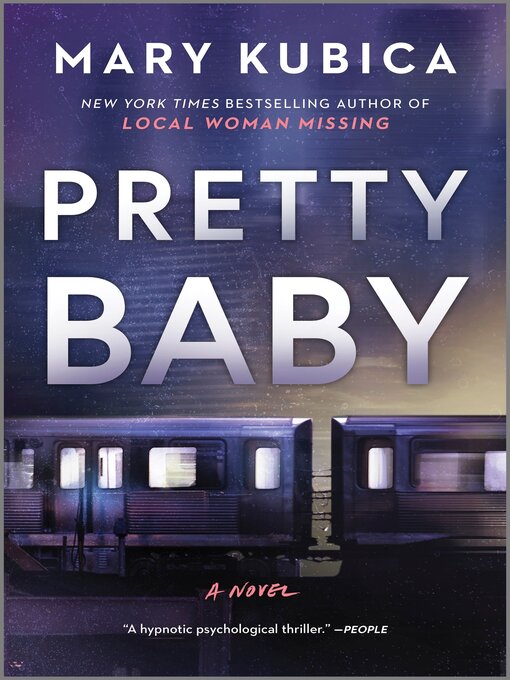 Pretty baby
Format:

Kindle Book

2015

2015

Adobe EPUB ebook

OverDrive Read

Availability:

Unavailable

0 of 2 copies
1 person on waitlist
Summary
She sees the teenage girl on the train platform, standing in the pouring rain, clutching an infant in her arms. She boards a train and is whisked away. But she can't get the girl out of her head... Heidi Wood has always been a charitable woman: she works for a nonprofit, takes in stray cats. Still, her husband and daughter are horrified when Heidi returns home one day with a young woman named Willow and her four-month-old baby in tow. Disheveled and apparently homeless, this girl could be a criminal--or worse. But despite her family's objections, Heidi invites Willow and the baby to take refuge in their home. Heidi spends the next few days helping Willow get back on her feet, but as clues into Willow's past begin to surface, Heidi is forced to decide how far she's willing to go to help a stranger. What starts as an act of kindness quickly spirals into a story far more twisted than anyone could have anticipated. Don't miss this thrilling follow-up to The Good Girl.

Published Reviews
Booklist Review:
"Kubica's second domestic thriller (following The Good Girl, 2014) opens with Chicago literacy tutor Heidi Wood speculating about a teen mother she sees huddled at her el stop. Days later, she finally approaches the girl and offers to buy her dinner. The girl, Willow, refuses to take her baby to a shelter, so Heidi invites them back to the condo she shares with her husband and teenage daughter. Chris, an investment banker, can't believe that Heidi would bring a complete stranger into their home. He wonders if this is retribution for the frequent business trips he's been taking with an attractive colleague. Then, the plot shifts gears as Willow's story slowly unravels from inside a holding cell. What did she do to end up there? And why does she think Heidi is being held somewhere wearing her own orange jumpsuit? As the perspective shifts again, readers see Heidi's interest in Willow's baby intensify and senses family tragedy on the way. And yet, the conclusion is a genuine surprise. Recommend for fans of the psychological suspense of Suzanne Berne or Laura Kasischke.--Keefe, Karen Copyright 2015 Booklist"
From Booklist, Copyright (c) American Library Association. Used with permission.
Publisher's Weekly Review:
"Kubica's psychological thriller (the follow-up to 2014's The Good Girl) focuses on Heidi Woods, a Chicago-based social worker who espies a homeless teenage waif, Willow Geer, on a train platform, clutching a crying baby. What initially seems to be a professional interest rapidly carries over to obsession for Heidi. Much to the dismay of her husband, Chris, and her moody 12-year-old daughter, Zoe, Heidi takes the possibly psychotic Willow and tot into their home. Kubica spins her disturbing tale using three present-tense points of view, performed here by a trio of readers. Heidi is the first to speak. Her voice, thanks to reader Campbell, is somewhat academic when describing the city's social problems, but quickly shifts to concern for the mother and child. Taylorson's Chris starts out weary from the travel-heavy rut he's in and annoyed by Heidi's new insistence on meatless menus, as well as her ceaselessly downbeat tales of society's ills. Though Heidi's and Chris's chapters include frequent flashbacks to the past, they follow a linked chronology. Reader Marie voices Willow's sections, which take place after her stay in the Woods' household. Sounding vaguely druggy, or maybe just without affect, she recalls events from her past. But she drops a few comments suggesting that some terrible fate has befallen Heidi. But as the novel's powerful and emotionally devastating ending makes clear, she doesn't understand what it is. A Mira hardcover. (July) © Copyright PWxyz, LLC. All rights reserved."
(c) Copyright PWxyz, LLC. All rights reserved
Additional Information