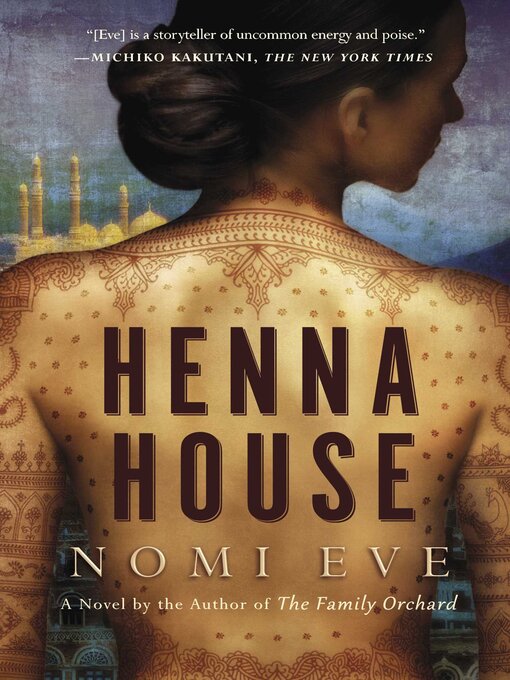 Henna house a novel
Format:

Kindle Book

2014

2014

Adobe EPUB ebook

OverDrive Read

Availability:

Available from OverDrive

1 of 1 copy
Summary
Desperately seeking a Jewish husband in 1920s Yemen, where unbetrothed orphans are adopted into Muslim communities, Adela is introduced to her eligible cousin and the powerful rituals of henna tattooing before her prospects are further imperiled by a prolonged drought and doubts about cherished traditions.

Published Reviews
Booklist Review:
"Adela is a young Jewish girl in early twentieth-century Yemen. In a house full of garrulous brothers, an ailing father, and a bitter mother, Adela seeks solace in a hidden cave where she can dream and, most of all, protect herself from the attentions of the Confiscator, a Muslim official who seizes Jewish children whose fathers have died. Racing against time and her father's illness, Adela's family makes an engagement with a distant cousin, Asaf, whom Adela invites into her cave and her heart. When Asaf and his father leave town, Adela is comforted by the arrival of her aunt, a henna artist, and her female cousins. As Adela grows, we follow her family and its community through their journey to the prosperous port of Aden; marriages and deaths; the establishment of Israel; and, finally, their departure for Israel in the famous airlift Operation On Wings of Eagles. Although somewhat generic in its depiction of female companionship and the hidden sensualities of traditional cultures, the novel is a welcome glimpse into this historical moment and little-known culture.--Weber, Lynn Copyright 2010 Booklist"
From Booklist, Copyright (c) American Library Association. Used with permission.
Publisher's Weekly Review:
"At first glance, Eve's follow-up to The Family Orchard appears to be an expansive historical novel about Yemeni Jews in the first decades of the 20th century, only to settle into a smaller-scale tale of women navigating the strictures and delights of their domestic lives. In 1920, Adela Damari, daughter of a kind Jewish cobbler and his shrewish wife, lives in the mountain village of Qaraah in the Kingdom of North Yemen, then ruled by the oppressive Imam Yahye. Because Adela's father is sickly, the family lives in terror that she will be forcibly adopted and converted by a Muslim family should he die-as allowed for by law. However, the family's attempts to avert this fate by marrying her off come to nothing. Adela's lonely life changes after the arrival in the village of members of her extended family, including her Aunt Rahel and cousin Hani, who introduce Adela to the art of henna. The heart of Eve's book lies here, amid Adela's tight-knit sisters-in-law, aunts, and cousins, as the women cook, bake bread, and minister to their husbands and brothers. What's missing from the touching coming-of-age story that ensues is a better sense of the historical forces acting on these Jews of the Saudi peninsula during a time frame that extends right up to the start of WWII. Agent: Amelia Atlas, ICM Partners. (Aug.) (c) Copyright PWxyz, LLC. All rights reserved."
(c) Copyright PWxyz, LLC. All rights reserved
Additional Information