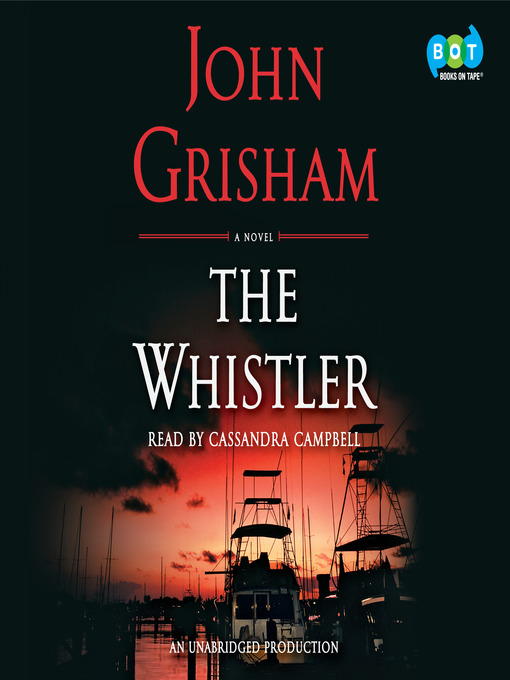 The whistler : a novel
Format:

OverDrive MP3 Audiobook

2016

2016

OverDrive Listen

Availability:

Available from OverDrive

12 of 25 copies
Summary
Lacy Stoltz, an investigator for the Florida Board on Judicial Conduct, takes on a case involving a corrupt judge, a Native American casino, and the mafia when a previously disbarred lawyer approaches her on behalf of a client who claims to know the truth.

Published Reviews
Booklist Review:
"Grisham suffers from the paradox that has bedeviled John Steinbeck and Tom Wolfe: he's very popular, and that's probably why nobody likes him. His books are all alike, we hear, and the law his legal thrillers are based on is mighty shaky. Grumps will find more of the same here, as they wonder why they can't put the book down. Lacy Stoltz is an investigator for the understaffed, underfunded, and overworked Florida Board on Judicial Conduct, looking into complaints against judges. She's pulled into a case that an informant says involves corruption at a level never before known in this country. The unfolding that follows is appropriately grandiose, featuring a judge who removes all legal roadblocks to a developer's crooked scheme and is made filthy rich in return. Grisham enjoys his crooks as much as his heroes, and his glee in detailing the minutiae of his characters' lives plus his restless, propulsive writing, punctuated with just a dab of irony draws one compulsively to the trumpets-blaring finale. Improbable? Who cares? It's hard not to surrender to storytelling on this level. HIGH-DEMAND BACKSTORY: In terms of commercial success and critical disdain (undeserved this time), Grisham is second only to James Patterson.--Crinklaw, Don Copyright 2016 Booklist"
From Booklist, Copyright (c) American Library Association. Used with permission.
Publisher's Weekly Review:
"Lawyer Lacy Stolz, the heroine of this tense legal thriller from bestseller Grisham (Rogue Lawyer), investigates complaints against judges for the Florida Board on Judicial Misconduct. In her nine years on the job, there has never been any danger in her assignments; the justices are often more incompetent than corrupt. Everything changes when Stolz and a colleague, Hugo Hatch, meet with a disbarred lawyer, who-eager to collect a whistleblower's reward-has evidence of corruption unlike anything they have ever handled. A judge in the pocket of the Coast Mafia has spent years skimming millions from a Native American-owned casino. At least three people have been murdered to cover up the graft, and an innocent man sits on death row, but few are willing to help Stolz and Hatch expose the corruption. The casino keeps the money flowing, and stepping forward could be deadly. A lead brings Stolz and Hatch onto tribal land, where they find themselves caught in a trap. A high-stakes game of gambling, greed, and murder plays out in another page-turner from a master storyteller. (Oct.) © Copyright PWxyz, LLC. All rights reserved."
Additional Information