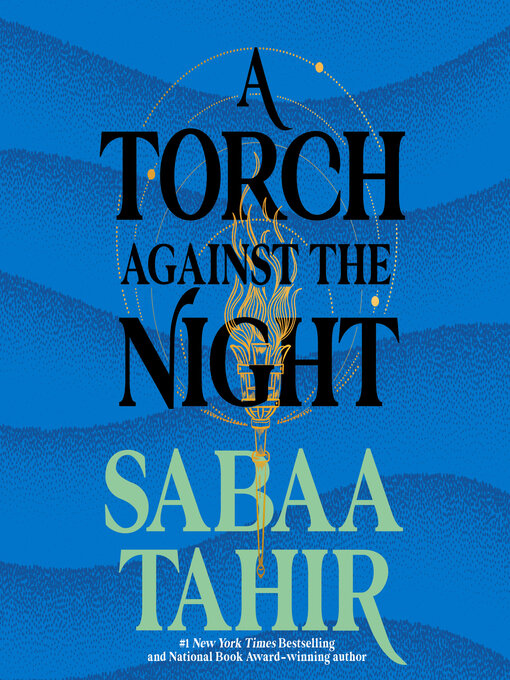 A torch against the night
Format:

OverDrive MP3 Audiobook

2016

2016

OverDrive Listen

Availability:

Available from OverDrive

3 of 3 copies
Summary
THE ASTONISHING SEQUEL TO THE INSTANT NEW YORK TIMES BESTSELLER, AN EMBER IN THE ASHES "[An] action-packed, breathlessly paced story."--Booklist, starred review "Even higher stakes than its predecessor ... thrilling ..."--Publishers Weekly, starred review "Excellent."--Kirkus Reviews "Most Spectacular Sequel"--Entertainment Weekly Summer 2016 Must List. Elias and Laia are running for their lives. Following the events of the Fourth Trial, an army led by Masks hunts the two fugitives as they escape the city of Serra and journey across the vast lands of the Martial Empire. Laia is determined to break into Kauf--the Empire's most secure and dangerous prison--and save her brother, whose knowledge of Serric steel is the key to the Scholars' future. And Elias is determined to stay by Laia's side ... even if it means giving up his own chance at freedom. But Elias and Laia will have to fight every step of the way if they're going to outsmart their enemies: the bloodthirsty Emperor Marcus, the merciless Commandant, the sadistic Warden of Kauf, and, most heartbreaking of all, Helene--Elias's former friend and the Empire's newest Blood Shrike. Helene's mission is horrifying, unwanted, and clear: find the traitor Elias Veturius and the Scholar slave who helped him escape ... and kill them both. Praise for An Ember in the Ashes: "This novel is a harrowing, haunting reminder of what it means to be human--and how hope might be kindled in the midst of oppression and fear."--The Washington Post "An Ember in the Ashes could launch Sabaa Tahir into JK Rowling territory ... It has the addictive quality of The Hunger Games combined with the fantasy of Harry Potter and the brutality of Game of Thrones."--Public Radio International "An Ember in the Ashes glows, burns, and smolders--as beautiful and radiant as it is searing."--Huffington Post "[An Ember in the Ashes] thrusts its readers into a world marred by violence and oppression, yet does so with simple prose that can offer moments of loveliness in its clarity. This complexity makes Ember a worthy novel--and one as brave as its characters."--The New York Times Book Review From the Hardcover edition.

Published Reviews
Booklist Review:
"*Starred Review* The sequel to Tahir's best-selling An Ember in the Ashes (2015) finds Elias and Laia on the run from Elias' mother aka the unspeakably evil Commandant and the vapid but vicious Emperor Marcus. Their destination: the Kauf Prison, where they hope to free Laia's brother, who knows the secret of serric steel, which just might save Laia's people, the Scholars, from extinction by the Empire. But Elias has been poisoned and his strength is ebbing, and their quest is further complicated by the presence of the rebel Keenan, who is Elias' rival for Laia's love. In the face of all this, how can they possibly succeed? Indeed, how can they survive? To answer these questions, Tahir tells her story from three first-person points of view, that of Laia, Elias, and interestingly Helene, once Elias' close friend but now, as the Blood Shrike, his sworn enemy, dispatched to capture him and Laia. Infusing her story with magic, Tahir proves to be a master of suspense and a canny practitioner of the cliff-hanger, riveting readers' attention throughout. As for her coprotagonists, they remain captivating characters who invite strong reader empathy, and their action-packed, breathlessly paced story is enthralling and surely thanks to unresolved loose ends to be followed by book three. HIGH-DEMAND BACKSTORY: Major conference promotion we've already started seeing the skyscraper-size banners might push this to greater heights than the first book.--Cart, Michael Copyright 2016 Booklist"
From Booklist, Copyright (c) American Library Association. Used with permission.
Publisher's Weekly Review:
"The sequel to Tahir's bestselling An Ember in the Ashes picks up where the last installment left off: Laia and Elias, fresh from the Trials that made them both traitors, barely escape the city of Serra with their lives as a Scholar rebellion tears the city apart. Elias is sworn to help Laia rescue her brother, Darin, from the prison of Kauf, held there for his knowledge of steelmaking secrets that could bring the end of the Martial empire. But Helene Aquilla, the new emperor's Blood Shrike and Elias's best friend from childhood, has orders to hunt down both of the fugitives or forfeit her own family's lives. Watching them all is the commandant of Blackcliff, ruthless in her hatred and hiding a sinister agenda of her own. The shifting network of alliances and betrayals can almost be too elaborate to follow at times, but Tahir's skill with her characters is more than enough to hold readers' attention. This sequel has a darker tone and even higher stakes than its predecessor, setting the stage for a thrilling conclusion. Ages 14-up. Agent: Alexandra Machinist, ICM Partners. (Aug.) © Copyright PWxyz, LLC. All rights reserved."
(c) Copyright PWxyz, LLC. All rights reserved
Additional Information